CII donates medical equipment to East Singhbhum
Oxygen concentrators, cylinders with O2 masks in consignment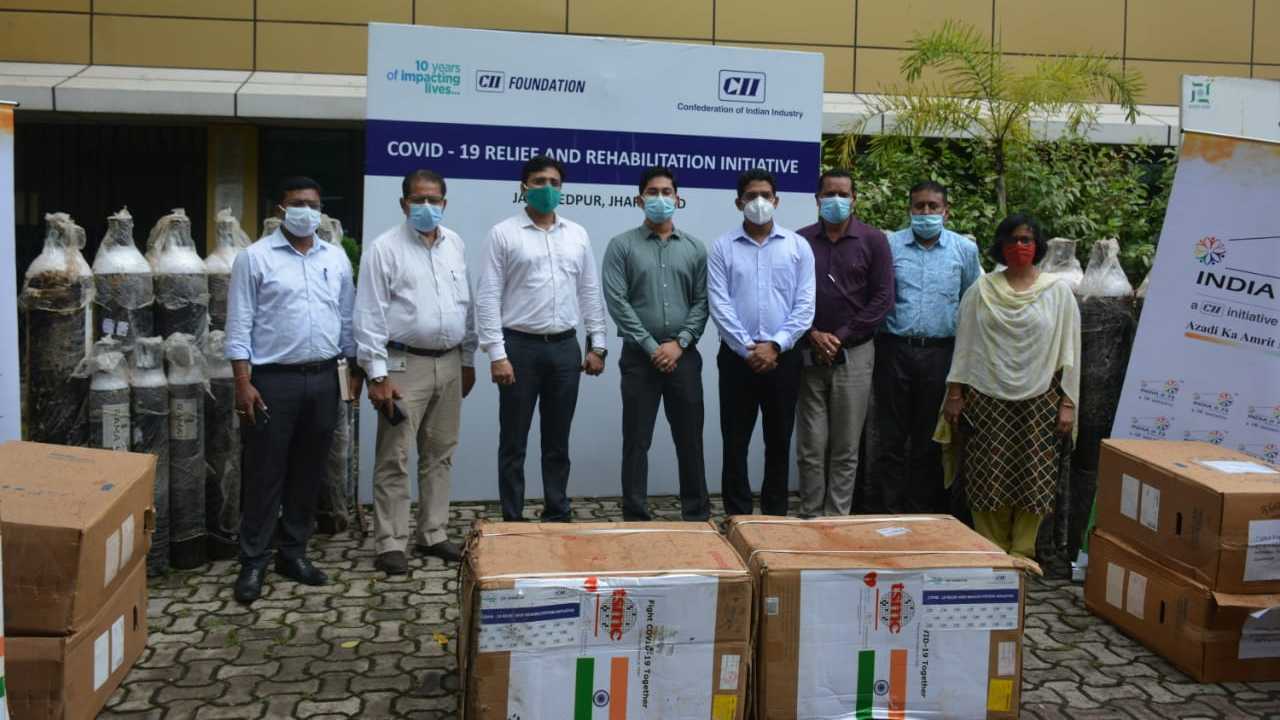 CII officials after handing over the medical equipment to East Singhbhum deputy commissioner Suraj Kumar ( centre ) at the district collectorate in Jamshedpur on Tuesday.
Bhola Prasad
---
Jamshedpur
|
Published 07.09.21, 07:09 PM
|
---
The Jharkhand state council of the Confederation of Indian Industry (CII) on Tuesday donated medical equipments worth several lakhs to the East Singhbhum district administration for combating Covid-19.
The consignment comprised 20 oxygen concentrators of 10 litre each, five oxygen concentrators of five litre each, oxygen cylinders (A - Type) with flowmeters and 15 pieces of oxygen masks and oxygen cylinders (B-Type) with flowmeters and 15 pieces of oxygen masks.
A CII team handed these over at a modest function organised on the premises of the district collectorate in Sakchi to East Singhbhum deputy commissioner Suraj Kumar.
The CII delegation was headed by Tapas Sahu, vice- chairman, CII Jharkhand State Council, and Vijay Bhuller, state head, CII.
The second wave of Coronavirus had tremendous strain on healthcare infrastructure as the number of patients rose rapidly.
Hospital beds, oxygen cylinders, ventilators and other necessary medical equipment and facilities were in short supply and people were often travelling great distances in the hope of getting medical support. While the government was taking several steps to increase and strengthen existing healthcare infrastructure, CII, CII Foundation, and its affiliates stepped in to augment existing Covid-care facilities.
"CII has been proactively engaging itself to support the government both in Centre and state in combating the second wave of COVID-19," said Sahu.
State head Vijay Bhuller said, "We need to be very cautious and follow Covid appropriate behaviour while getting vaccinated to carry on with our livelihoods and put growth back on track."
He explained that there is also an urgent need to augment the healthcare infrastructure in the state and this was the best time for CII members to step in and help.