Puff shops thrive outside Jharkhand schools, colleges
Cigarettes and other tobacco products are within reach of schoolchildren the moment they step out of their campuses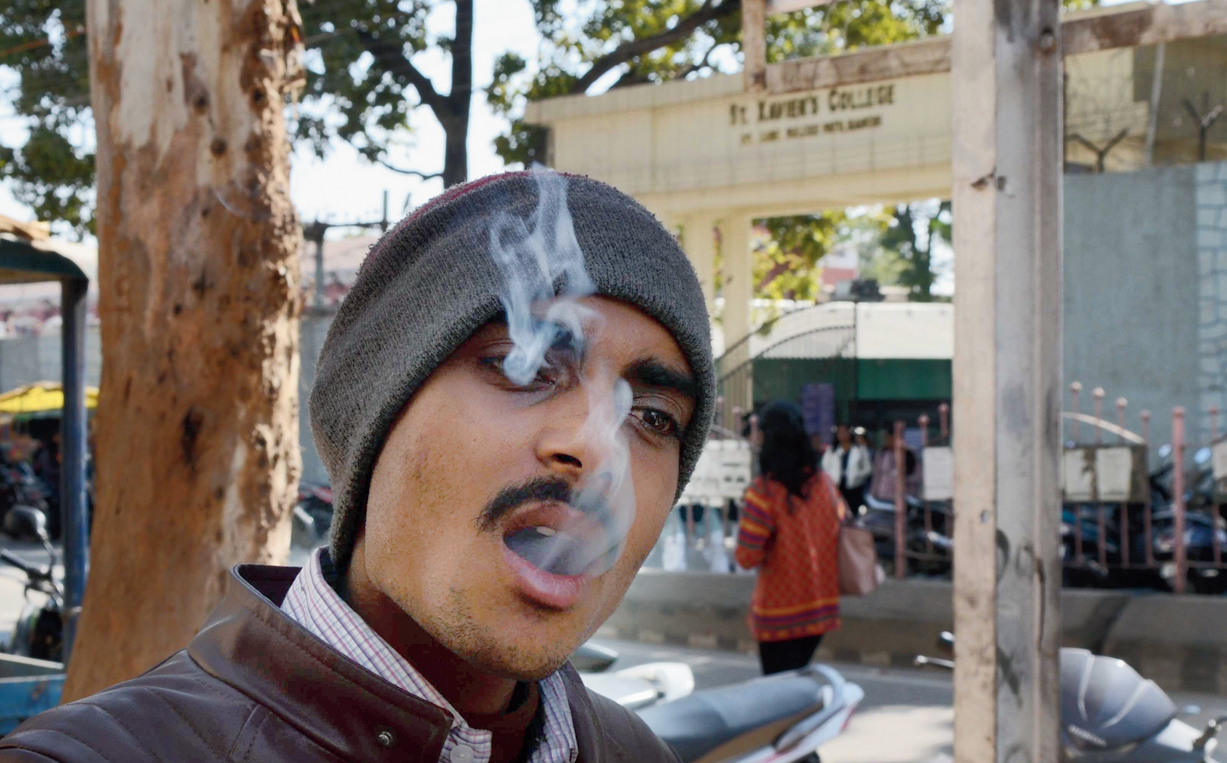 A man smokes at a tobacco shop near St Xavier's College on Purulia Road in Ranchi on Friday.
Pictures by Manob Chowdhary & Bhola Prasad
---
Ranchi/Jamshedpur
|
Published 18.01.19, 06:31 PM
|
--- Cigarettes are openly sold in the vicinity of most schools in the state, some of them right outside the gate, despite a ban on the sale of tobacco products within a 100-metre radius of any educational institution.
A 20-city survey by the Voluntary Health Association of India (VHAI) has found 233 out of 487 points of sale violating Section 6 of the Cigarettes and Other Tobacco Products (Prohibition of Advertisement and Regulation of Trade and Commerce, Production, Supply and Distribution) Act, 2003.
While the survey did not cover Ranchi, Dhanbad or Jamshedpur, the assessment indicated that a few municipalities in states like Jharkhand had implemented the licensing advisory. A reality check revealed that the action taken is clearly not enough. Cigarettes and other tobacco products are within reach of schoolchildren the moment they step out of their campuses.
Out of 70-odd academic institutions in the heart of Ranchi, puff shops are thriving a stone's throw from at least 15 reputable ones, including Oxford Public School (Old Hazaribagh Road), St Xavier's College and Ursuline Convent (Purulia Road), Surendranath Centenary School (Kokar), Kendriya Vidyalaya (Doranda) and Guru Nanak Higher Secondary School (Pepee Compound).
In Dhanbad, 10 out of 60 private cradles have shops selling tobacco products in their vicinity. The list includes De Nobili School (CMRI), Doon Public School (Kusum Vihar), Carmel School (Jharudih) and Delhi Public School (New Karmik Nagar Road).
In Jamshedpur, too, the killer stick is sold within 10 metres of 15 out of 60 reputable schools, including Loyola (CH Area), Dayanand Public School and Rajendra Vidyalaya (both in Sakchi), Modern Public School (Kalimati Road), Narbheram Hansraj English School (Dhatkidih) and DBMS English School (Kadma).
State tobacco control cell member Deepak Mishra said a Union health ministry advisory in September 2017 had categorically forbidden tobacco sale within a 100-metre radius of schools and colleges. "It had also said that no edible items such as biscuits must be sold from kiosks selling cigarettes. The advisory has not been seriously followed in Jharkhand," he conceded.
Mishra admitted that only a few urban local bodies in the state had issued mandatory licences to tobacco vendors.
"Former CEO of Ranchi Municipal Commissioner Shantanu Agrahari had issued a directive on April 25, 2018, asking tobacco retail shops and vendors to seek licences. But, the order was not implemented in letter and spirit as such shops continue to exist near schools and colleges," he added.
State urban development officials feigned ignorance over any such advisory, mirroring the lack of seriousness on the issue. "I will have to check the file and see if at all any such advisory was sent to the department. I cannot say anything at the moment," said special secretary (urban development) Arvind Kumar.
Jamshedpur Notified Area Committee (JNAC) special officer Krishna Kumar cited his busy schedule for being unable to adhere to the advisory. "I remember the directive, but I am caught with swachh survey preparations," he said.
Dhanbad municipal commissioner Chandra Mohan Kashyap was candid though. "Nothing concrete has been done so far," he admitted.
Shopkeepers feigned ignorance. "I have been selling tea, biscuits and cigarettes here for three decades. I have never heard about a licence from JNAC," said one near Dayanand Public School in Sakchi.