Church writes to Hemant demanding Sarna code for tribals
Archbishop Toppo asks CM to introduce and pass bill this session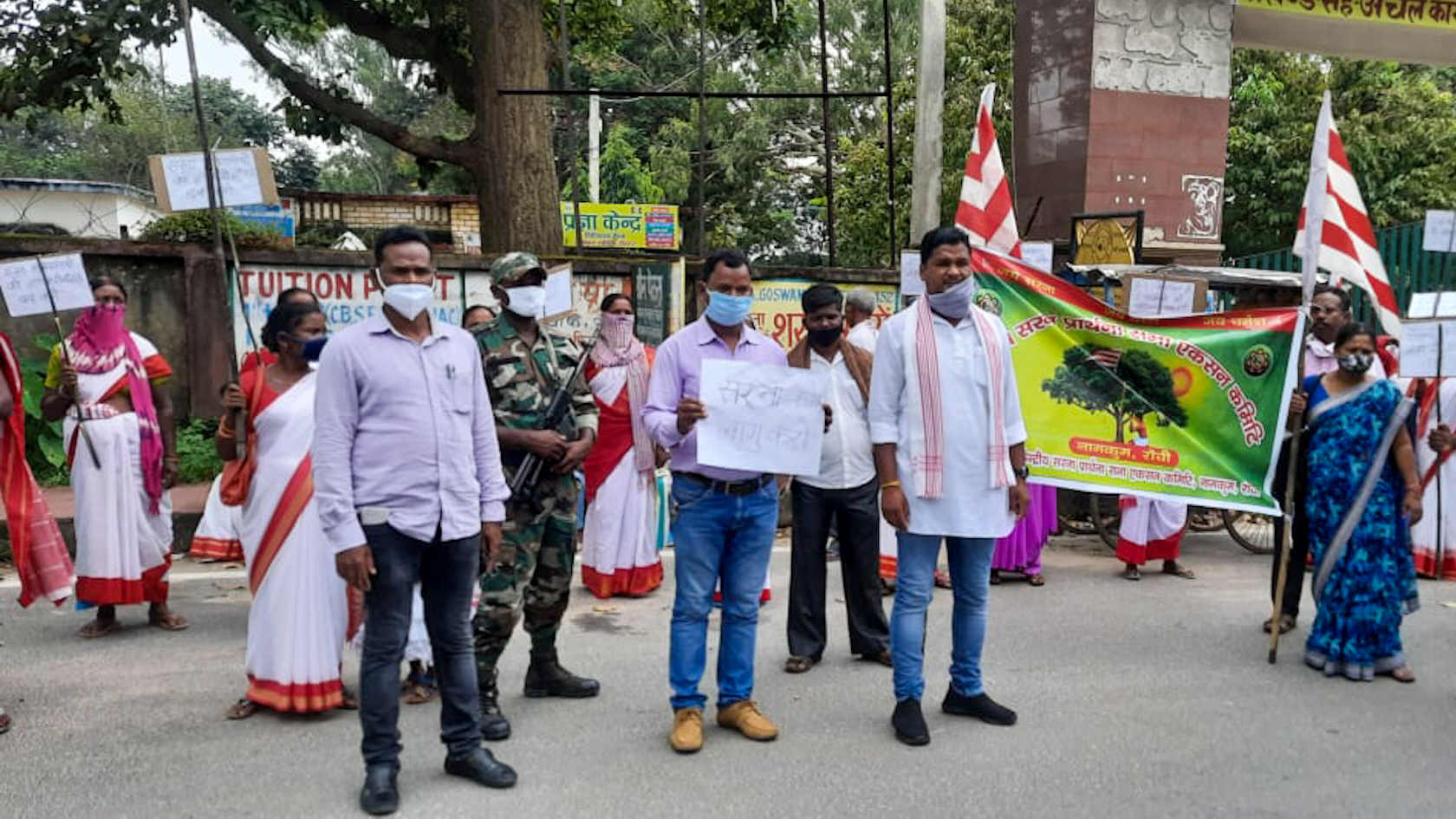 Sarna tribals join human chain to implement the Sarna Dharma Code in Ranchi.
Manob Chowdhary
---
Ranchi
|
Published 19.09.20, 08:31 PM
|
---
Heads of churches have thrown their weight behind a key demand of tribals, asking the Hemant Soren government to pass a bill in support of a separate Sarna code for adivasis during the ongoing monsoon session ahead of the 2021 Census.
In a letter to the chief minister on Saturday, Catholic bishops of Jharkhand, under the banner of Ranchi Catholic Archdiocese, reminded him that advisasis had been given special status under the Constitution. 
"Article 25, 29 and 342 talk about their (tribals) fundamental rights, safety and identity. Therefore, they must be provided a separate Sarna code, guaranteeing the rights of the tribal community to their language, religion, culture and a separate identity," the letter, signed by Archbishop Felix Toppo on behalf of all missionary heads, said.
"We demand the chief minister pass a bill in this connection to safeguard tribal identity and send the proposal to the Union government to formally press for inclusion of the Sarna code in the impending Census," the letter added.
The bishops have also demanded that the state government to pass a resolution not to implement the National Register of Citizens (NRC) in Jharkhand till such time the Centre grants a Sarna code to advisasis.
Two days back, JD(U)'s state president and convenor of Adivasi Senghal Abhiyan Salkhan Murmu staged a daylong sit-in to demand a separate code for advisasis in the Census. In January, Murmu had also written to President Ramnath Kovind.
According to Murmu, Jharkhand has about 32 tribal groups, of which eight are Particularly Vulnerable Tribal Group (PVTG). A few have converted to Christianity while others worship nature.
"Jains and Buddhist are less in number vis-a-vis the tribal population but they have a separate religious code. The tribals are still fighting for it for decades. By denying a separate religious code for tribals, the government wants to put tribals in the category of Hindus, Muslim and Christian category, which isn't right and logical because of advisasis' distinct identity," he said.
Murmu said that in the 2011 Census, around 42 lakh people from Jharkhand and about six crore across the country had mentioned their religion as Sarna, which was later included in the "others" section.
Notably, the JMM, Congress and RJD had promised to work towards a Sarna code for tribals in the run-up to last year's Assembly polls.
Missionaries were at odds with the previous BJP regime between 2014-2019 after the latter introduced an anti-conversion law accusing the Church of forcefully converting tribals and usurping their land. The former BJP-led government had also initiated probes against several NGOs run by missionaries and put curbs on their foreign funding, accusing them of duping poor tribals.