Chowk revamp as tribute to ex-Dhanbad SP
Late Randhir Prasad Verma died foiling a bank robbery 30 years ago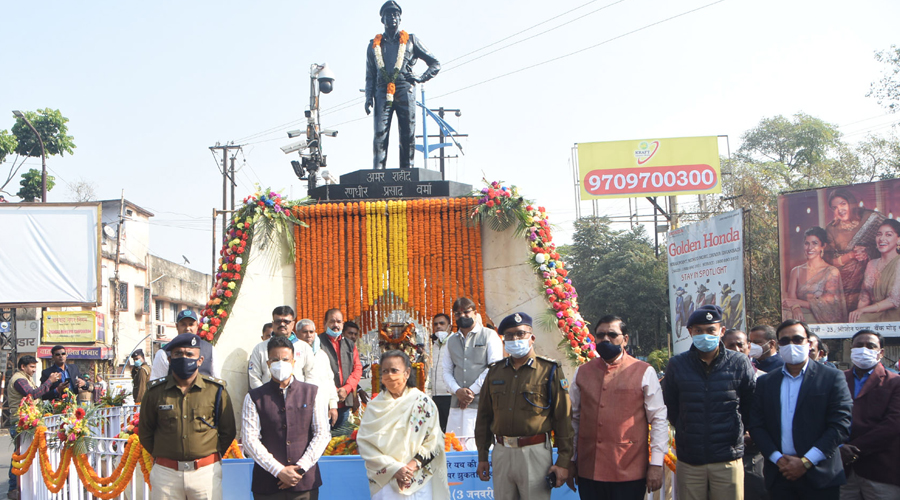 ---
Dhanbad
|
Published 03.01.21, 08:41 PM
|
---
Dhanbad deputy commissioner Uma Shankar Singh announced on Sunday the district administration plans to renovate the Randhir Verma Chowk situated near the district headquarters.
Singh made the announcement while talking to the media on the sidelines of a programme organised by Randhir Verma Memorial Society on the 30th death anniversary of former Dhanbad superintendent of police Late Randhir Prasad Verma at Randhir Verma Chowk on Sunday.
Randhir Prasad Verma, who sacrificed his life fighting with the terrorists foiling a bank robbery attempt 30 years ago on January 3, 1991, was awarded Ashok Chakra posthumously.
"The sacrifice made by Late Randhir Prasad Verma is a source of inspiration for not only for the people of Jharkhand but for youth across the country," said Singh.
"We appeal to the youth and also our officials to take inspiration from Late Randhir Prasad towards the duty and responsibilities," said Singh.
"As the square developed several years ago is lying in a dilapidated state, the district administration has decided to renovate the same and no dearth of fund would come in the renovation and beatification of the square bearing the statue of Randhir Prasad Verma," further said Singh and added the renovation would be completed within a few months.
Dhanbad SSP, Aseem Vikrant Minz who also paid tribute by garlanding the statue of Randhir Prasad Verma said, "The supreme sacrifice made by Randhir Prasad Verma sir is worth emulating for every policeman."
"The sacrifice made by him has further strengthened the credibility of police service among people police service is meant for the common people," added Minz.
Meanwhile, unlike the previous years when the programme used to be quite elaborate with the participation of large number of people including politicians, social workers and bureaucrats, the function this year was held in a simple manner due to Covid constrains but several dignitaries including Dhanbad MP, PN Singh; Dhanbad MLA, Raj Sinha, and Jharia MLA, Purnima Singh visited the chowk and paid floral tribute.
Meanwhile, a similar function was also held near IIT (ISM) gate during which tributes were paid to a non-teaching staff of IIT (ISM), Shyamal Chakraborty who died during the same incident after receiving gunshot injuries.
Talking to the media, after paying tribute to Shyamal Chakraborty, former Nirsa MLA, Arup Chakraborty said, "Though Randhir Prasad Verma fought the terrorists single-handedly and made the supreme sacrifice while foiling the bank robbery attempt, Shyamal Chakraborty who was also present in the bank as a customer resisted the bank dacoity and became a victim of the attack of the terrorists."
"We want the recognition of the sacrifice of Shyamal Chakraborty as unlike other customers he could have turned passive but he tried to save the public property and recognition of his sacrifice will inspire the common people towards the protection of public property," added Arup Chakraborty.