Chinese pitch apples, Israelis agri-tech
Delegates from China and Israel spoke on various issues at the Global Agriculture and Food Summit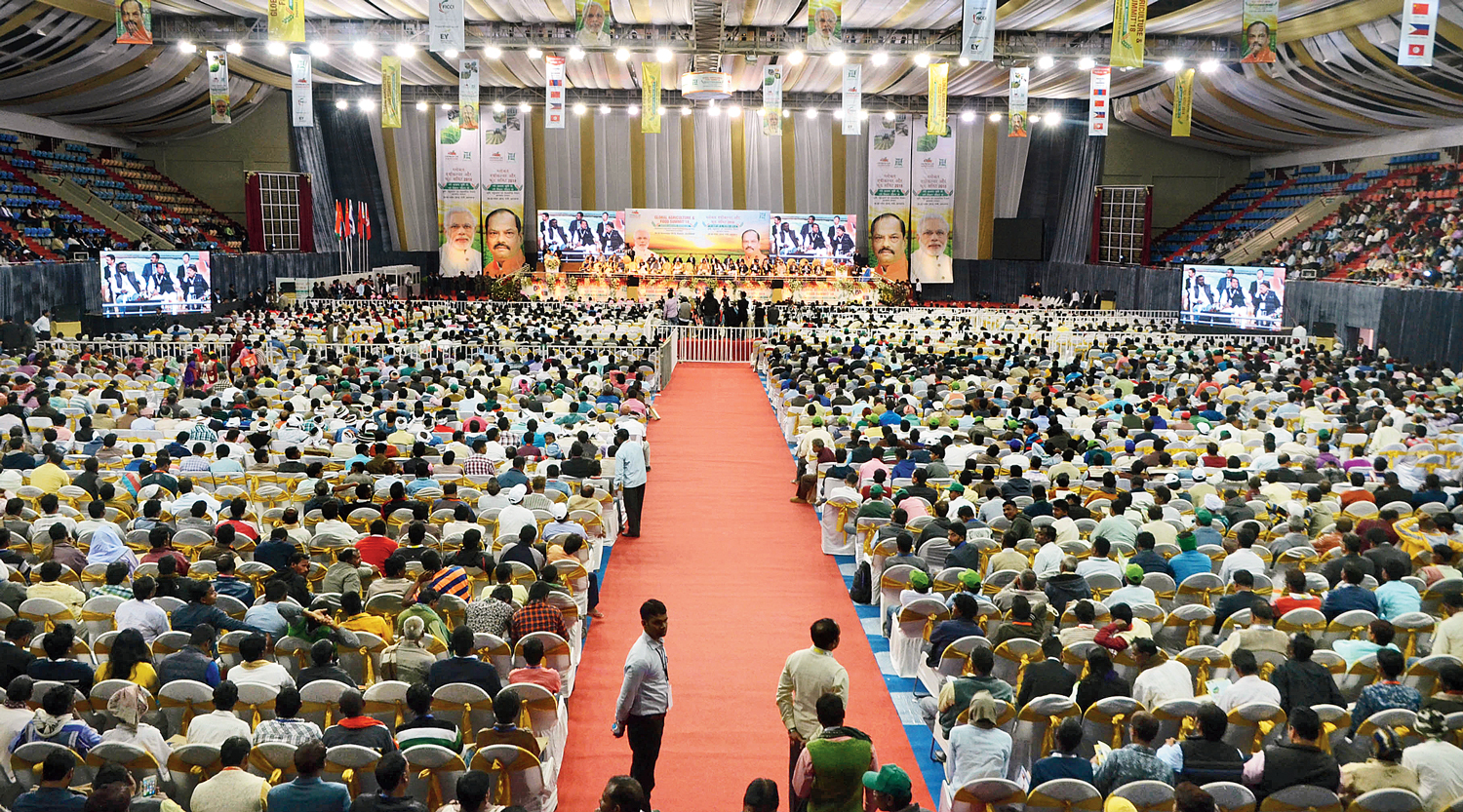 Participants at the Global Agriculture and Food Summit at Harivansh Tana Bhagat Stadium in Hotwar, Ranchi, on Thursday
Picture by Prashant Mitra
---
Ranchi
|
Published 29.11.18, 07:10 PM
|
---
Several foreign delegates, participating in the Global Agriculture and Food Summit at the mega sports complex at Hotwar on Thursday, highlighted the potential of mutual cooperation in the fields of food and farming.

There were two specific country-centred sessions in the afternoon, held at separate enclosures near the Tana Bhagat Indoor Stadium, where delegates from China and Israel spoke on various issues.
Song Juguo, deputy director general and deputy secretary general in the Chinese ministry of rural affairs, gave an overview of the measures taken by his country since the economic reforms of 1978 in that country. "The market became more open," he said, adding that their government negotiated with India for exchanges and cooperation in the spheres of agricultural and bio-technology.
"We are also interested in importing high quality agricultural products from India," he said.
Pan Dehui, chairman of Qixia Defieng Food Corporation, and Wang Mengjiao, general manager of Yamtai Yuyi Fruit and Vegetable Food Corporation, briefed the audience about apple production. "Apple is a sunrise industry," Mengjiao said, going on to explain how her company was maintaining organic standards and taking adequate measures for disease control of the produce.
Maayan Mulla, of Cirrus Clouds Ventures of Israel, was speaking at an adjacent hall. "There is a lot of scope for mutual cooperation between Israel and India," the co-founder of the company dealing in agri-tech and knowhow, told The Telegraph on the sidelines of the meet.
"There are methods and technologies that can be replicated here in India, may be with a little variation considering local factors," he said when asked what Indian farmers can learn from their country.
"They should learn the theory and see how that is applied on the ground. Then they can replicate it on their own land with some variations if needed," he said when asked about what farmers, who recently visited Israel, should do.