Chhath puja celebrations in full swing with restrictions
The festival was observed by devotees in over 20 ghats across the city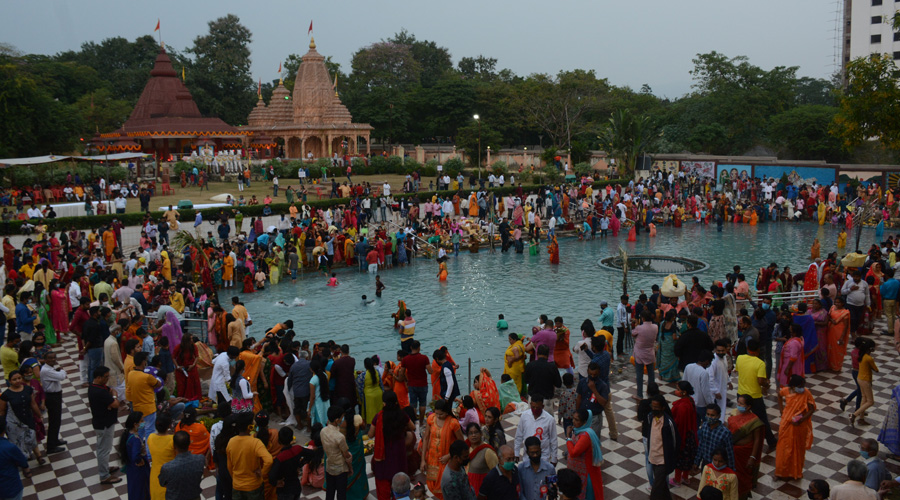 Devotees celebrate Chhath at the Surya Mandir on Friday evening.
Pic by Bhola Prasad
---
Jamshedpur
|
Published 20.11.20, 09:58 PM
|
---
The banks of river Subarnarekha and Kharkai witnessed a large turnout as devotees (chhath vratis) along with their families and friends gathered to offer the first arghya of Chhath Puja on Friday evening.
The first arghya is offered to the setting sun while chhath vratis will offer the second arghya (also known as bihaniya) to the rising sun on Saturday that brings to an end of the four-day Chhath festival.
The Subarnarekha ghat in Sakchi and Domuhani ghat in Sonari drew maximum devotees, while Sati ghat/Kapali ghat in Sonari and other ghats in Bhuiyandih, Birsanagar, Bagunnagar, Baridih and Bagbera also thronged with devotees.
There were over 20 ghats in the city where Chhath was celebrated.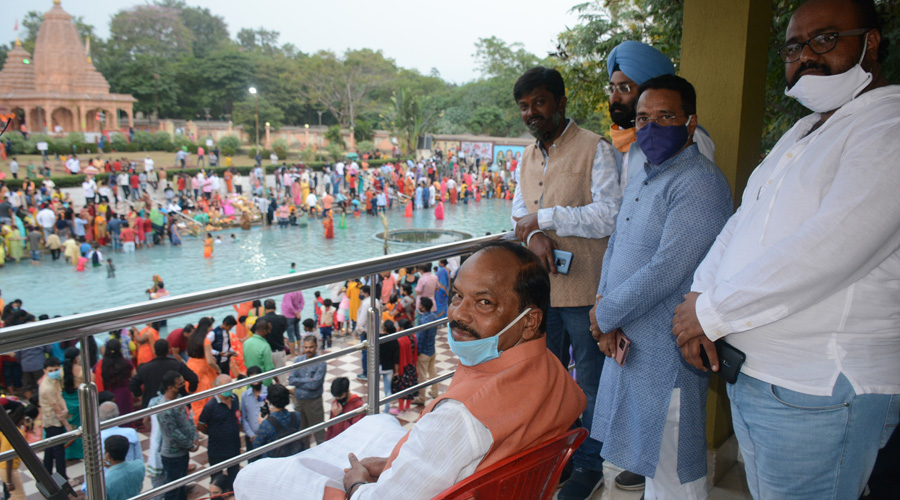 Due to the ongoing Covid-19 pandemic and safety reasons, many preferred to celebrate the festival at their homes. Be it Mango, Ghorabandha in Telco, Baridih, or Sakchi several devotees made rooftop tanks or made temporary tubs with knee-deep water at their gardens and courtyard of their homes for performing the Chhath rituals.
The traditional Chhath songs reverberated different localities and roads leading to various river ghats as women devotees followed men with the dalia (bamboo basket) perched on their heads.
The offerings included 'thekua' (balls made of rice powder), sugarcane, radish, sprouted gram, kidney bean, turmeric, coconut, orange, sweet lime, banana, sugarcane and other fruits.
The Surya Mandir in Sidhgora also witnessed a good turnout of devotees who had come to offer arghya at the two artificial reservoirs.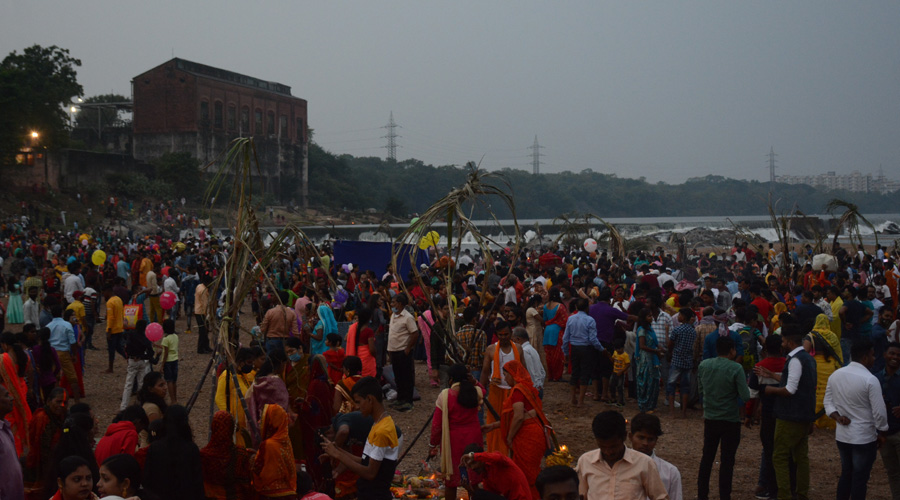 Every year the temple committee organizes a musical concert in the evening. But, this year the musical event did not take place due to the pandemic.
"This year was different because of the Covid-19 pandemic. We had taken all safety precautions and appealed to devotees to follow the safety norms. Chhath festival at the Surya Mandir has become one of the major attractions of late," said a member of the Surya Mandir Committee.
The cleaning of ghats was done by Jamshedpur Notified Area Committee (JNAC) and Jusco. Jusco also provided adequate lighting, barricading of the road leading up to the ghats, preparations of roads leading to all ghats, shamiyana and sitting arrangement for government officials, public address system for announcements and changing rooms for chhath vratis.