Chhath mess floats, Ranchi has fancy plans
Waste in water bodies will be cleaned in 'a day or two', official says and hints at Dal Lake model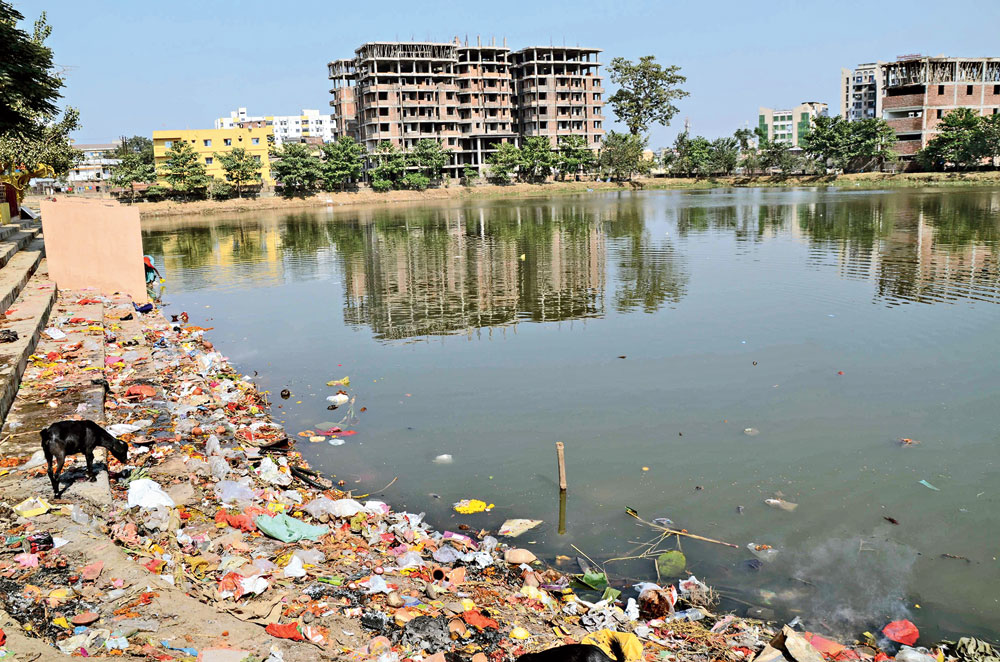 ---
|
Ranchi
|
Published 19.11.18, 05:45 PM
---
At least six large reservoirs in the capital have not been cleaned by Ranchi Municipal Corporation even five days after Chhath festivities ended while the civic authorities are hoping for mirror-finish water bodies soon with new equipment.
Landmark reservoirs Ranchi Lake, Chadri Talab and Jail Talab, all within 1km radius of the RMC office, are an eyesore with puja items — rotting coconuts, cloth pieces, flowers, plastic bottles, plastic and thermocol plates, earthen pots, polythene bags, bangles — floating in the water. At Ranchi Lake, wooden scaffolding used for the construction of idols is seen floating as well.
These three apart, this paper on Monday saw Argora Talab, Hatania Talab near Raj Bhavan and Banas Talab in Chutia were equally dirty.
Asked when mess left by Chhath festivities would be cleaned up, assistant medical officer of Ranchi Municipal Corporation Dr Kiran Kumari told this paper that it would be done in a day or so.
"Puja paraphernalia will be cleaned in a day or two," she said. "But from now, we won't limit our cleanliness efforts to Chhath and other festivals. We will regularly clean ponds and waters bodies in the city with the same equipment that is used to clean Dal Lake."
She added the equipment makers would come to Ranchi in a week or two for a demonstration at Ranchi Lake and Chadri Talab.
"Though I am not in a position to share details of the company and equipment, the company has claimed it would clean in a way that the bed of the water body would be seen clearly," Dr Kumari said.
This might sound far-fetched at a time most water bodies in the capital are choked with puja paraphernalia.
Also, reports suggest that The Lakes and Waterways Development Authority, which is the civic guardian for Dal Lake in Srinagar, and launches massive clean-up missions before the summer tourism season has not entirely succeeded in cleaning up the fabled water body with machinery alone. Traditional methods by shikarawallas (boatmen) — uprooting weeds manually for instance — are also used.