Altogether 53 migrant workers from Jharkhand were brought back from Doha in a chartered flight arranged by a socio-cultural organisation working for the welfare of expatriates in Qatar in cooperation with the Odisha government. The workers reached here on Tuesday.
The flight from Doha was arranged by the Indian Association of Bihar and Jharkhand, a socio-cultural organisation associated with the Indian Cultural Centre, an apex body of expatriates under the aegis of the Indian embassy in Qatar, which has been working for the development and welfare of the community at large and the people of Bihar and Jharkhand in particular.
"We are happy to see our brothers who were stranded overseas return safely. We are thankful to the Odisha government and also to IABJ for facilitating their safe return. Our Covid-19 response team also deserves praise for working tirelessly to coordinate with all stakeholders and ensuring the stranded migrants return to their home district adhering to all protocols of Covid-19," said Jharkhand chief minister Hemant Soren.
The flight carrying 53 people, including four infants and three senior citizens, from Jharkhand and 124 passengers from Odisha landed at Bhubaneswar airport on Monday evening. The 53 people from Jharkhand reached Jamshedpur in East Singhbhum district on Tuesday morning.
"We had coordinated with the East Singhbhum district administration to send buses for bringing the 53 migrant workers (all from the district) from Bhubaneswar, nearly 350km away. We had got in touch with IABJ representatives who had facilitated the flight through the Indian embassy.
"The migrant workers did not have to pay either for the flight or for the buses to East Singhbhum. The team from Utkalika in Qatar had arranged food for the migrants," said Johnson Topno, state head of Phia Foundation.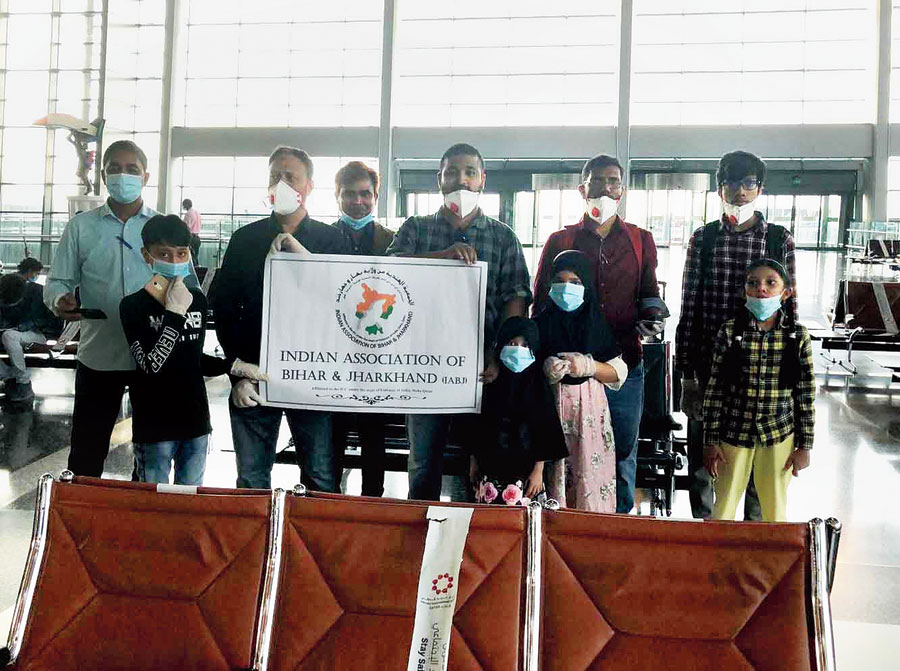 Some of the workers after arrival at Bhubaneswar airport on Monday evening
The foundation is managing the Covid-19 response team under the labour department in Ranchi and coordinating in bringing back migrant workers home from different parts of India and abroad.
Topno said the migrant workers stranded in Qatar had made several pleas through the toll-free number of the state government for bringing them back home.
East Singhbhum district transport officer Dinesh Ranjan said that two 54-seater buses had been sent to bring the 53 migrant workers from Bhubaneswar.
"We had to send two buses so that the passengers maintain social distance during the transit. The buses were sanitised before leaving Jamshedpur and again after coming back," said Ranjan.
All the migrant workers have been kept in hotels as part of the paid quarantine process.
"They have been kept in paid quarantine in different hotels and lodges till their Covid-19 test reports come. Only after they test negative will the workers be allowed to go to their homes," said East Singhbhum additional district magistrate (law and order), N.K. Lal.
Except one worker from Dhanbad, the remaining 52 are from different parts of East Singhbhum district.