Champ serves tips to win game called life in Jamshedpur
Gopichand speaks to steel city youngsters on raising the bar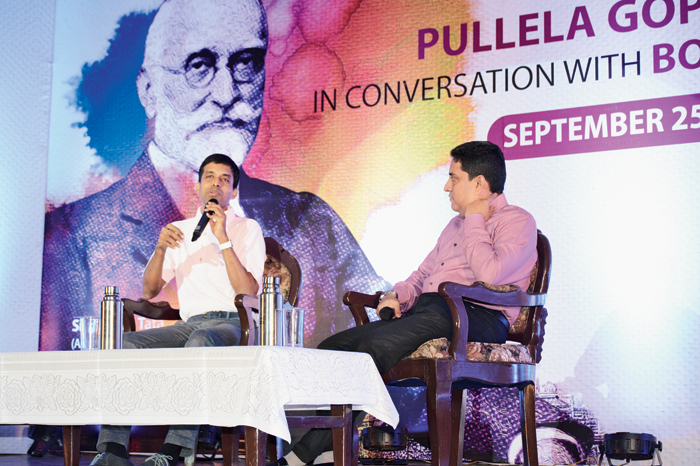 Pullela Gopichand (left) with Boria Majumdar at Loyola School in Jamshedpur on Wednesday
(Bhola Prasad)
---
Jamshedpur
|
Published 25.09.19, 07:24 PM
|
---
A shuttle cock cost Rs 6 back in the 1980s, but it was the "most precious possession" of a boy growing up in Hyderabad.
That boy grew up to become Pullela Gopichand, ace badminton player and now mentor, who's won virtually every award, from the Arjuna Award to Padma Bhushan.
On Wednesday, Gopichand, now 45, spoke his heart out at Loyola School here in the packed Fasy auditorium, in a friendly serve and volley with noted sports writer and historian Boria Majumdar on 'A Celebration of Sports' to commemorate Sir Dorabji Tata's immense contribution to sports.
Gopichand, who won the All England Open Badminton Championships in 2001 to become the second Indian to achieve this feat after Prakash Padukone, has also mentored star women shuttlers Saina Nehwal and P.V. Sindhu.
The chief coach of national badminton team who also runs the acclaimed Gopichand Badminton Academy in Hyderabad told parents and students in Jamshedpur that sports was essential for fitness.
"All of us cannot win medals but sport make all of us healthier. No matter if you win or lose, you are a champion just by playing a sport," Gopichand pointed out.
Recalling a happy but modest childhood, Gopichand spoke of the days when Hyderabadi biryani was an infrequent luxury, a Rs 6 shuttle cock his most prized possession and how his mother walked some distance and back to get his racquet repaired.
"Struggles apart, I loved my childhood," Gopichand added with a smile .
Speaking of his personal beliefs, he said: "Do what you believe in. Try to reverse failure if you don't succeed (at first). Try differently but don't lose your culture and values."
The champion explained how losses are a great teacher. "Losing teaches us a lot. If one experiences handling loss, he or she finds themselves in a position to endure setback again. It, in effect, transforms and pushes you to perform better," Gopichand, said, adding "one will never be a loser by playing a sport".
In response to a query from Majumdar on how the mentor handles the ego between top shuttlers, the star mentor who has produced two Olympic medallists Saina and Sindhu, said he had a simple formula: "Seniors should respect juniors. Juniors should challenge seniors. One must learn how to raise the bar. We have raised the bar and even Chinese shuttlers are finding themselves under it."
According to him, resources in sport don't ultimately matter if one "gives it one's all". "Giving it your all is what matters. God will also be forced to give his blessing to those who give their all," Gopichand said while replying to a question from an audience member.