Centre sets up committee to review Jharia rehabilitation project
Experts to carry out inspection of underground fire affected sites within a day or two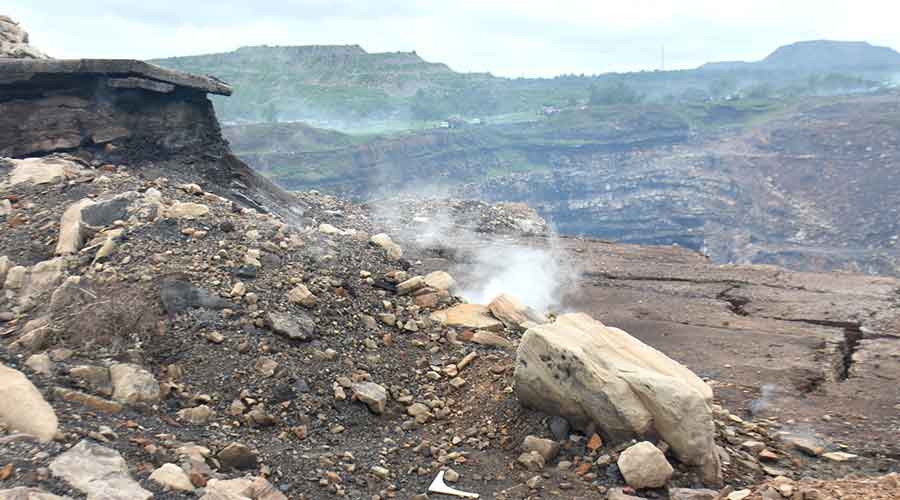 Smoke comes out from the underground fire near the Godhar Colliery locality in BCCL's Area VI of Jharia Coalfield in Dhanbad on Wednesday.
Gautam Dey
---
Dhanbad
|
Published 15.09.21, 06:43 PM
|
---
A nine-member technical committee constituted by the Union ministry of Coal  under the chairmanship of Coal Secretary Anil Kumar Jain, to find the way forward for accelerating the ongoing Jharia rehabilitation project has initiated the review in progress of the Jharia master plan.
The committee of chairman and Managing Director of BCCL, P.M. Prasad besides experts from other relevant institutions including, Central Institute of Mining and Fuel Research (CIMFR), Central Mine Planning and Design Institute (CMPDIL) and National Disaster Management Authority (NDMA) will carry out inspection of underground fire affected sites within a day or two to ascertain the ground realities of the  underground fire situation, condition of residents of subsidence prone areas as well as newly developed colony for rehabilitation at Belgarhia to make a long-term as well as short-term plan to accelerate the rehab project.
An introductory meeting of the technical committee was conducted on Tuesday at New Delhi during which the members were apprised by BCCL team led by its CMD PM Prasad about the activities of the ongoing rehabilitation work at 595 fire affected sites.
So far, only around 2666 families out of the total 1.04 lakh families have been shifted to safer places ever since the launch of rehabilitation work by Jharia Rehabilitation and Development Authority (JRDA), the agency constituted to carry out rehabilitation, comprising of officials of district administration, state government and district administration.
Talking to the Telegraph Online on Wednesday, a senior member of committee said, "No comprehensive technical review of the Jharia Rehabilitation Project has so far been carried out and the committee having experts from background of diverse areas like, Krishna S. Vatsa, member of NMDA; Ram Madhav Bhattacharjee of IIT (ISM); Shekhar, Sharan, retired CMD of CMPDIL will analyze the project based on their experience and provide fresh inputs."
The committee comprising of others, like Pramod Agarwal, chairman of Coal India Limited; Anandji Prasad, Project Advisor of Ministry of Coal;  Sukhdev Singh, Chief Secretary, Jharkhand; Humum Singh Meena, additional secretary, Department of Land Resources (DOLA) of Jharkhand will hold several rounds of meetings and carry out ground inspection and present a report within two months.
The committee will be preparing the report based on the ground inspection as well as deliberation with different people will suggest ways for ensuring constructive participation of the affected people of underground coal fire areas in the rehabilitation process and preparing rehabilitation schemes as the convenience.
PM Prasad, CMD BCCL while talking to The Telegraph Online said, "As many of members of committee have not witnessed the fire affected sites they were scheduled to carry out immediate inspection of fire zones immediately after the introductory meeting which was postponed for one or two days due to incessant rains but will take place soon."