Celebs swing to teen?s moves - 13-year-old bags bollywood offer
Read more below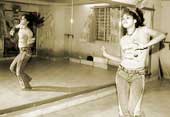 ---
Published 23.09.05, 12:00 AM
|
---
swinging to glory: Alisha Singh practises her moves after getting offers from choreographers in Bollywood. Picture by Ashok Karan
Alisha Singh is already a celebrity and she?s only 13-years-old. One of the most sought-after dancers in the city, Alisha has been selected in an all-India open freestyle dance competition called Kaboom organised by a production house in Mumbai.
The production house earlier produced the famous Boogie Woogie show that was a rage among youngsters. The show is aired on a private entertainment channel every Saturday.
What started as Alisha?s first dance programme in Ranchi Womens? College in 2002, later took her to the national platform. Alisha was selected for Boogie Woogie in 2003 where she became the first runner-up. This did not deter Alisha and she kept up with her practice sessions.
Then a phone call changed her life. After her performances in Kaboom, Alisha has received many offers as assistant to famous choreographers of the likes of Ahmed Khan.
?I even got an offer from Ahmed Khan but we agreed that I finish my studies first, as doors are always open for me,? said Alisha.
Alisha developed a taste for dance when she was a child. Later, when she was growing up, her relatives and friends insisted that she should be given proper training.
?I was not willing in the beginning. Then, one of our friends recommended Pazeb, a dancing institute famous for all types of dance training. Later, the director of the institute, Deepak Sinha, persuaded me that dance could be a good career,? said Alisha?s father, Raj Kumar Singh.
Alisha?s judges in Kaboom were none other than Prabhu Deva and Javed Jaffrey. Stars such as Samita Shetty, Shilpa Shetty, Vivek Oberoi, Isha Kopikar and Sridevi appeared as guests during the shows.
?Javedji boosted my confidence after my performance in the celebrity round, where I had to dance to a film number of my favourite star, Kareena Kapoor. He said he felt that I danced better than she did, and that my performance was mind boggling,? said Alisha.
?Alisha had always been a favourite of mine and we are working hard to shape more dancers like her,? said Deepak Sinha, director of Pazeb.
Alisha?s journey to tinsel town Mumbai has helped her in yet another way. She was provided a month?s training by choreographer Ahmed Khan.
Alisha is very sure of her future career, which would be a successful choreographer, but completing her education is this teen?s first priority for now.