'Callous' Shah effigy burnt
Heated slogans and smoke from effigies mark the day in Dhanbad as hundreds protest the attack on students in JNU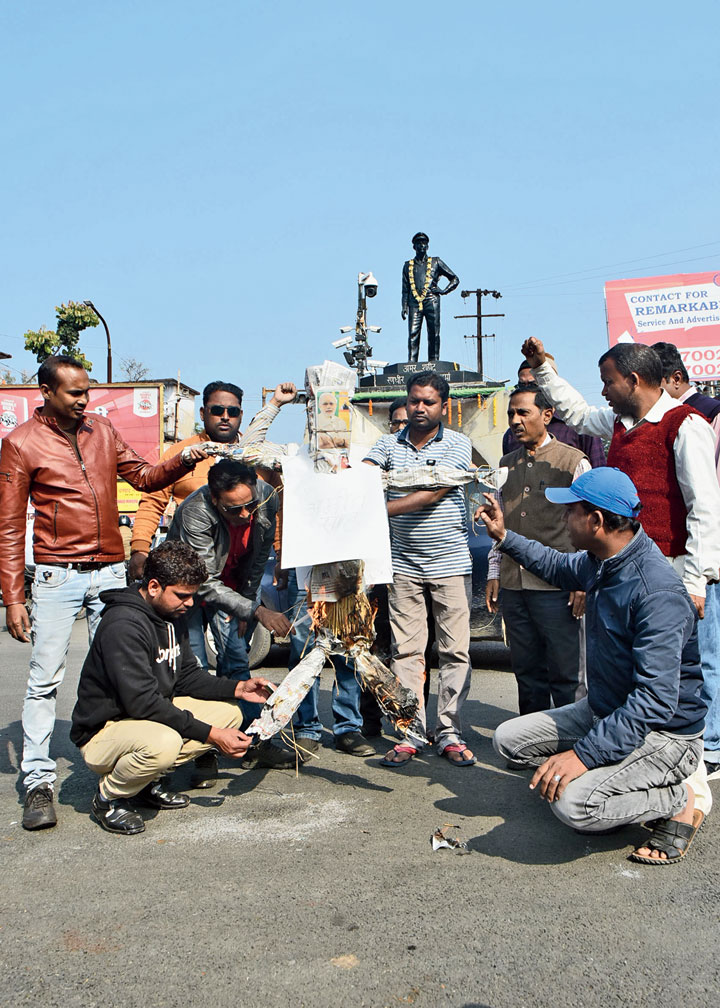 Members of Ravidas Samaj Sangharsh Samiti burns home minister Amit Shah's effigy at Randhir Verma Chowk in Dhanbad on Monday.
(Gautam Dey)
---
Dhanbad
|
Published 06.01.20, 10:27 PM
|
---
"JNU mein goondagardi bandh karo, ABVP ke goondo ko giraftaar karo". Heated slogans from dharnas and smoke from effigies made the coal town look different than usual on Monday.
Hundreds protested Sunday's attack on students on JNU campus. At Randhir Verma Chowk, less than 100m from district headquarters, leftwing students' organisations, including the All India Students' Federation, Students' Federation of India (SFI) and Marxist Students Federation, organised a dharna. A little away, social outfit Ravidas Samaj Sangharsh Samiti burnt effigies of home minister Amit Shah.
Talking to The Telegraph, Dilip Ram, founder of the Ravidas Samaj Sangharsh Samiti, said: "The attack on JNU students is an attempt to throttle democracy. JNU students were playing the role of the Opposition, raising voices against the anti-people and divisive politics of the BJP-led government. The saffron brigade always tried to establish ABVP at the prestigious JNU but when they failed, they unleashed violence on campus to intimidate the voices of protest against the fee hike."
Ram said home minister Shah should have immediately resigned taking responsibility for the attack but he didn't even condemn the attack. "That's why we burnt his effigy on Sunday to protest his callousness."
At the students' dharna, Biru Anand Singh, former students' union president of Vinoba Bhave University, who was present, said: "Sunday's attack was an attempt to gag voices of protest."
"At a time when the nation is reeling under anti poor policies of the government manifested through price rise, unemployment, industrial closure, economic slowdown, the government imposes its divisive agenda through the controversial CAA-NRC and NPR and attacks the students of a prestigious university," charged Singh.