A lot riding on Dumka, Bermo bypolls
Bypolls to test JMM's popularity as BJP tries to regain lost ground
Parties step up campaign, Hemant talks of adivasi pride while Marandi harps on fighting dynasts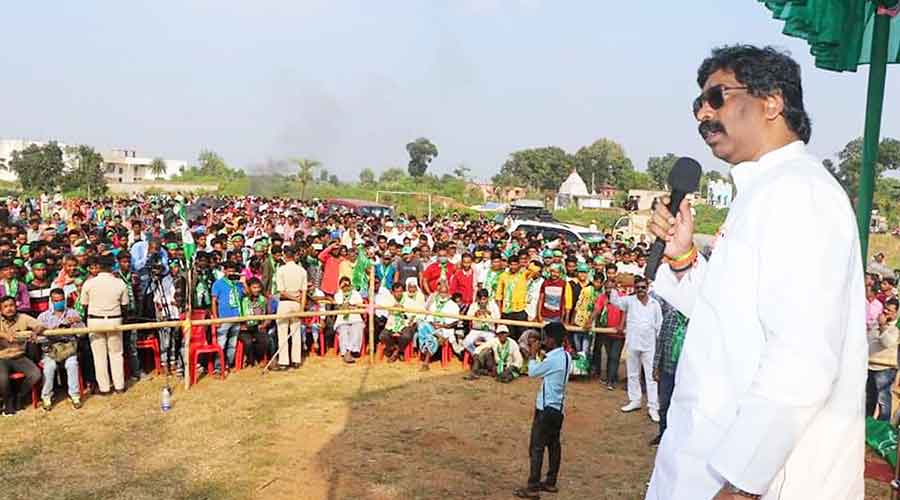 ---
|
Ranchi
|
Published 29.10.20, 05:20 PM
---
The November 3 byelections in two Assembly constituencies of Jharkhand are significant in that they are a test of popularity of the ruling JMM-Congress-RJD alliance, 10 months after it came to power ousting the BJP even though the saffron combine was able to offer the state its first full-term government since the formation of Jharkhand two decades ago. Faced with a depleting state exchequer amid a raging pandemic, it is crucial for the Hemant-Soren-led alliance to win in Dumka and Bermo and cement its position as a government that's here to stay.
For the BJP, it is an opportunity to regain lost ground. Of the two, a victory in Dumka — a seat reserved for scheduled tribes and considered a JMM bastion _ would open doors for it to expand its base among tribal voters, majority of whom turned hostile towards the former government of Raghubar Das for its attempts to amend age-old land laws (CNT/SPT) that safeguarded adivasi rights. As a result, of the 28 ST seats in the 81 Assembly segments, BJP could win only two in 2019 compared to its best ever tally of 11 in 2014.
With less than a week left for the byelections, both camps have stepped up campaigning, the JMM's adivasi-moolvasi asmita (pride) vs the BJP's legacy. The ruling alliance's campaign, led by chief minister Hemant Soren, is centred around issues of tribal and indigenous pride to safeguard "jal and jameen" and targeting the Narendra Modi-led Union government for "trying to destabilise Jharkhand" by creating resource foadblocks. It is also blaming the former government of Raghubar Das for having damaged the state's fiscal health by lavish spending at the cost of real, on-ground development.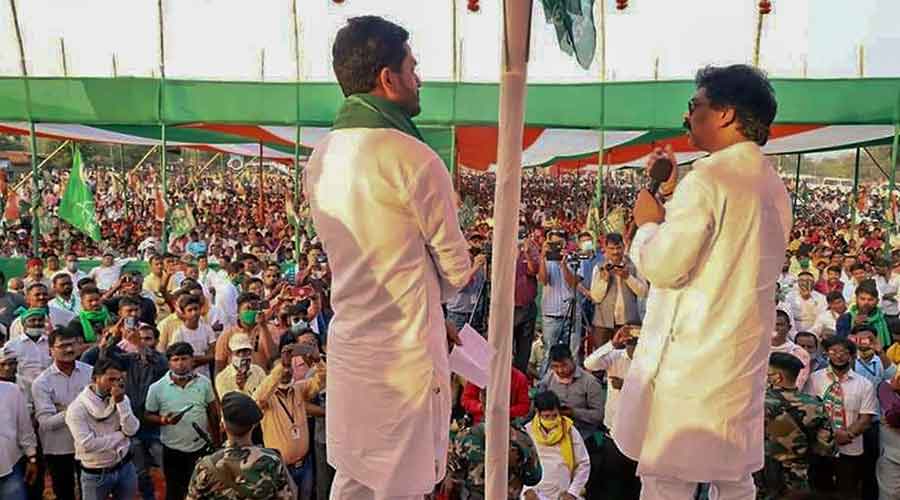 "Because of the BJP's faulty policies, like the local residents' policy, youths are unable to get employment. Now, it (BJP) is going all out to block our pending dues, impose financial penalties for the mistakes of its past government (DVC) to destabilise us," Hemant remarked at rallies in Dumka and Bermo on Wednesday.
The BJP on other hand is accusing the ruling coalition of promoting dynasts over governance, claiming how since the change of guard, the state was heading towards lawlessness. "The safety of women and children in Dumka and entire Santhal Parganas is under threat because of spate of rapes and sexual assaults. Rebel hit Santhal Parganas used to have better roads; but today roads are bad because of illegal sand and stone mining and transport by one single party. For them, development of the family is more important than welfare of people," BJP leader of the Opposition Babulal Marandi said referring to the JMM.
In Dumka, JMM has fielded chief minister Hemant's younger brother Basant Soren and in Bermo, the Congress has fielded Kumar Jaimangal, son of the grand old party's former MLA Rajendra Singh. BJP on the other hand is banking on old war horses — Louise Marandi and Yogeshwar Mahto Batul in Dumka and Bermo respectively — both lost their sitting seats in 2019.
The BJP's campaign is primarily led by three former chief ministers — Marandi (Dhanwara MLA), Arjun Munda (Khunti MP and Union tribal affairs minister) and Raghubar Das (BJP national vice president). The saffron camp is also upbeat after winning over estranged allies AJSU-P and JDU for the two bypolls.
"Marandi, a Santhali, is mainly camping in Dumka, overseeing the electioneering from there. Das, an OBC, is concentrating in Bermo, which has a considerable chunk of OBC voters. Even though Das campaigned in Dumka, we are keeping Marandi in the limelight for largescale canvassing to strike a chord with tribal voters," said a state BJP veteran.
The Dumka Assembly segment, part of the Dumka Lok Sabha constituency, covers Dumka town, Muffasil and Masalia blocks. The segment has a population of around 3,35,339 as per the 2011 census. Of this, 78.21 per cent is rural. Scheduled castes (SC) and scheduled tribes (ST) comprise 6.55 per cent and 43.41 per cent respectively. In an electorate of 2,46,712, the turnout in the 2019 Assembly polls was 67.2 per cent. The JMM got 48.86 per cent votes compared to the BJP's 40.91 per cent.
Bermo in Bokaro district is a part of Giridih Lok Sabha constituency. The Assembly segment has a population of 4,36,764, of which 63.79 per cent is urban. Scheduled castes (SC) and scheduled tribes (ST) comprise 13.79 per cent and 15.8 per cent respectively. Besides, Bermo has a considerable population of Mahtos, Rajputs, OBCs among its close to 3 lakh voters. By virtue of being in the coal belt, a sizeable number of colliery workers play a crucial role in the final verdict. The 2019 Assembly polls saw a turnout of 60.99 per cent. The Congress bagged 46.88 per cent votes while the BJP got 33.61 per cent.
Of late, the BJP is trying to impress upon the electorate that the outcome of the bypolls would ultimately pave way for a change in the government, but not immediately. Party insiders believe that victory in either seat would open avenues to woo disgruntled MLAs from the ruling alliance.
"During polls for the two Rajya Sabha seats of Jharkhand this year, we got 31 votes, three more than our cumulative MLA strength. This indicates that cracks exist in the ruling camp. Going by the current strength of the House, which has been reduced to 78 after the death of Haji Hussain Ansari (Madhepur), the majority mark stands at 39. The BJP-AJSU-P combine has 28 MLAs and, taking in account the trend in RS polls, three Independents will back us. If the BJP bags Dumka and Bermo, followed by Madhepur, then the tables can turn. Nothing is impossible in politics," said a BJP leader to explain why they were harping on a "change of guard" slogan while campaigning.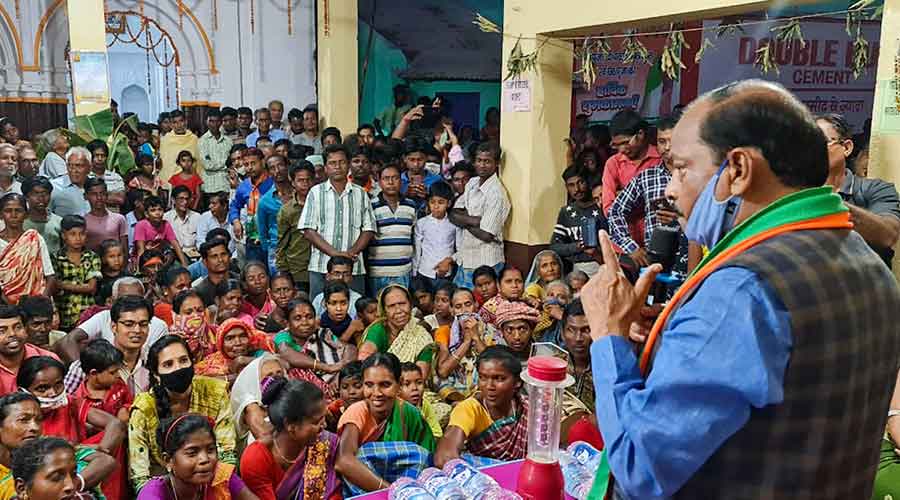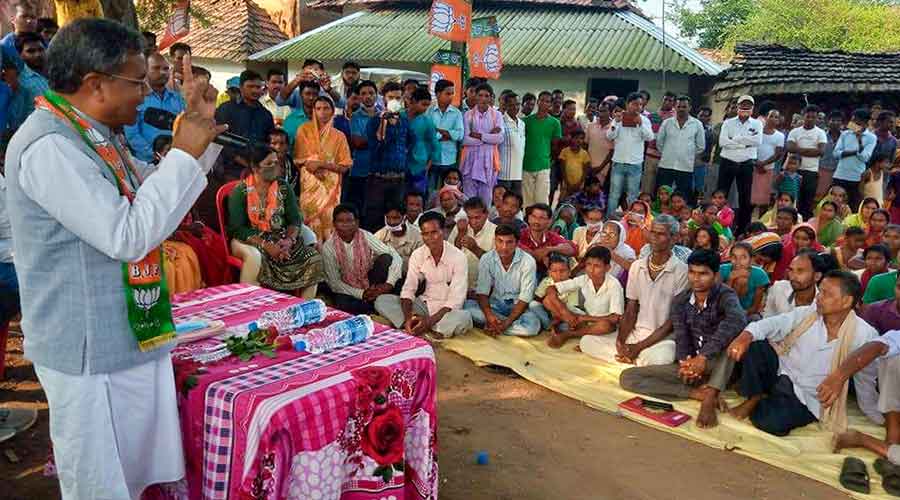 This somewhat aggressive strategy of the BJP's is playing in the mind of the ruling alliance. For instance, chief minister Hemant, in poll rallies in Dumka and Bermo, has been stressing on completing a full five-year term, appealing to people to vote for the state's "asmita (pride)" against the power-hungry BJP.
"The BJP is aware that it can never win the trust of voters after duping people of Jharkhand in the last five years and even prior to that. That is why it is offering fake threats of toppling the government after the bypolls. But this is your government that has been formed to safeguard and fight for the rights of adivasis, moolvasis and the people of this state," Hemant said in Dumka on Tuesday and iterated in Bermo on Wednesday.
JMM's general secretary Supriyo Bhattacharjee maintained that both seats would remain with the alliance. "In Dumka, we are winning with an even larger margin compared to 2019 as the real face of the BJP has got exposed after it lost power in Jharkhand. People are aware how the Modi government is now trying to financially destabilise Jharkhand by violating all norms of a federal structure even during the Covid-19 pandemic," he said.
State Congress president Rameshwar Oraon added that the bypolls would be a referendum on the good work done by the JMM-Congress-RJD alliance government in the last 10 months.
But the Opposition BJP is hoping against hope. "The bypolls will mark the end of dynasts both in Dumka and Bermo where JMM and Congress are only interested in furthering a particular family's political legacy rather than improve governance. This bypoll will also be a mirror to the incumbent government on how a change of regime led to a fall in standards of governance, transparency and law and order in the state," remarked state BJP president and Rajya Sabha MP Deepak Prakash.
The bypoll results, out on November 10, will ultimately prove who is right.