Business & BJP lock horns in Ranchi poll
FJCCI ex-chief's candidature reflects traders' fallout with party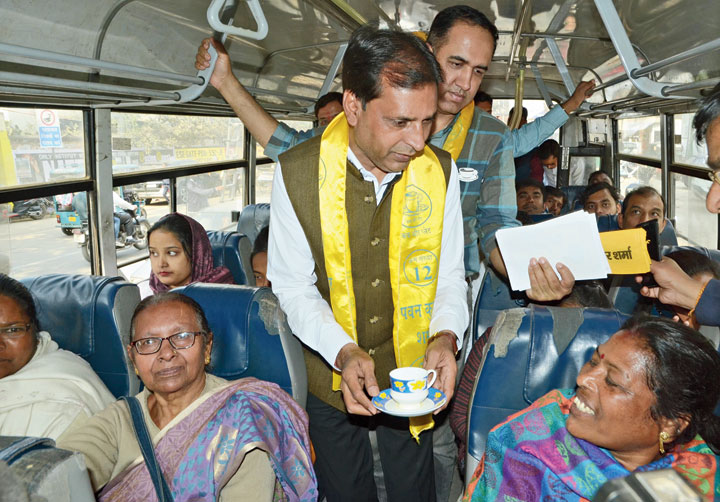 Pawan Sharma campaigns inside a city bus in Ranchi on Monday
Picture by Prashant Mitra
---
Ranchi
|
Published 10.12.19, 07:29 PM
|
---
His election symbol, cup and saucer, may be commonplace but Pawan Kumar Sharma, who is contesting from the Ranchi Assembly constituency as an Independent, is not your average candidate.
The election debut by the former president of Federation of Jharkhand Chamber of Commerce and Industries (FJCCI) has busted the myth that the trading community always sides with the BJP.
Sharma's candidature is an expression of the simmering anger of traders against what they referred to as the "insensitive attitude" of the state government towards their issues.
Fed up of trying the draw the attention of the government, the FJCCI had last month convened a meeting of the representatives of trade outfits affiliated to it. In the meeting, the apex trade body decided to field its own candidates in some of the constituencies to get its voice heard in the Assembly. Sharma was a unanimous choice from Ranchi.
"I didn't get much time and began campaigning from November 29. But the response I got from the trading community and general voters is overwhelming," Sharma said, adding that this support would help him sail through.
He is taking on state urban development minister C.P. Singh, who is seeking a sixth term from Ranchi.
"Pawanji has been working really hard and also getting a very good response from voters," said Deepak Kumar Maroo, another former FJCCI president and Sharma's immediate successor.
The traders, through the FJCCI, had been trying to get the government look into the problems that had slowed down businesses. But the power situation didn't improve, traders grew insecure following frequent attacks by criminals, and many small units closed down, forcing some to shift to other states.
The trading community has been a strong support base of the BJP and its anguish, as reflected through Sharma's candidature, could prove costly for the ruling party, many political observers maintain.
"The trading community plays an important role in the economy and contributes a lot to the state's exchequer, but the traders have been pushed to the wall," Maroo said.
Mahavir Sharma, president of Chirkunda Chamber of Commerce, who came from Dhanbad to campaign for Sharma on Monday, said the traders' voice needed to be heard. "Pawanji should get all the support he needs because he has been raising the basic issues of power for the industry and safety of people," Mahavir Sharma said.
"Ye jeet ka agaz bhi hai (It's also the beginning of the winning process)," he added.