Buses, trucks banned on Jamshedpur rail overbridge
Drop gates soon at both the ends of Burmamines bridge to block heavy vehicles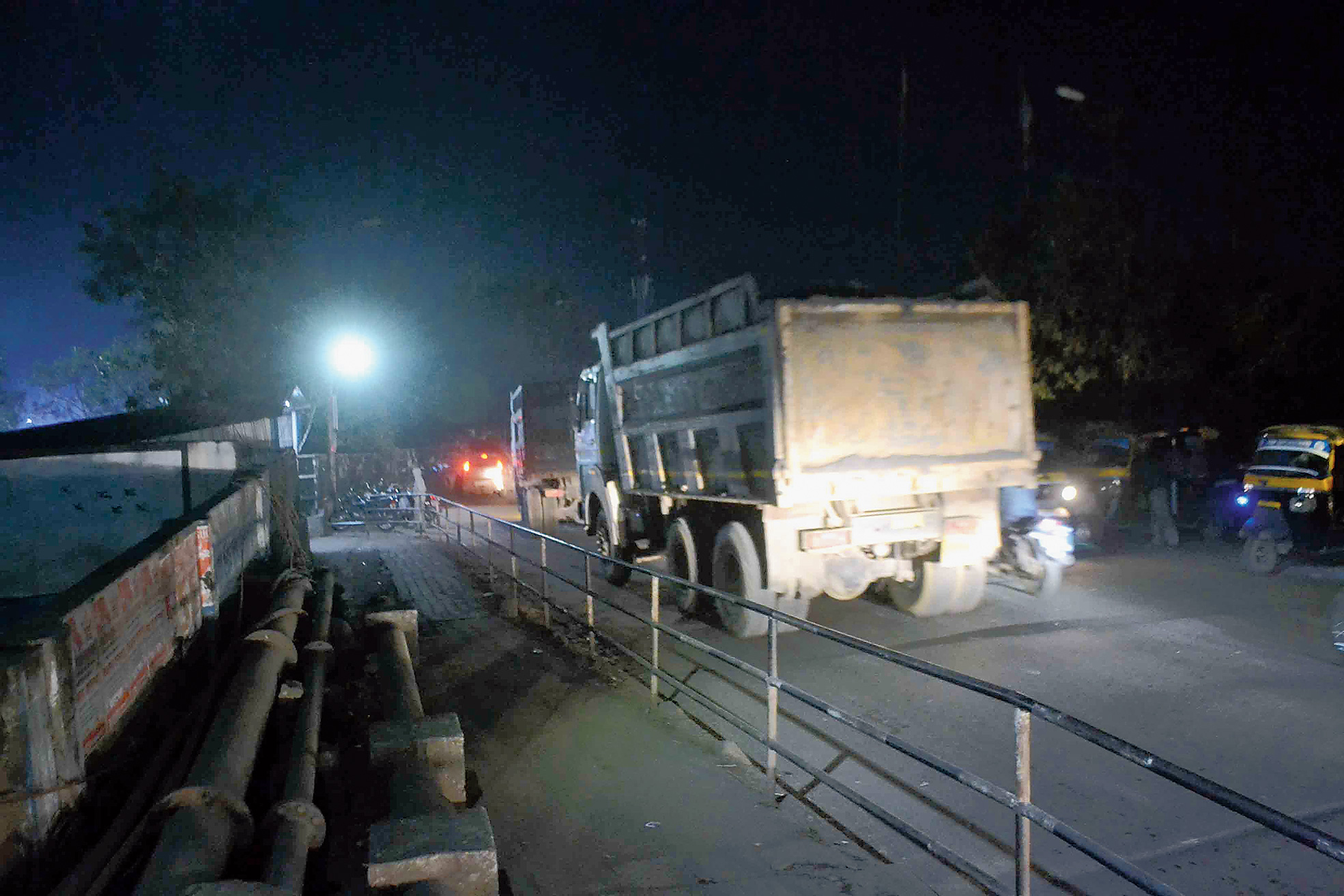 Truckload: A 10-wheel dumper plies on Burmamines railway overbridge in Jamshedpur on Friday night.
Animesh Sengupta
---
Jamshedpur
|
Published 15.12.18, 07:18 PM
|
---
Tatanagar railway authorities will install drop gates at both the ends of the 300-metre Burmamines railway overbridge in Jugsalai here to stop the movement of heavy vehicles having more than six wheels.
Tatanagar railway's senior section engineer R.K. Singh said, "We will place the gates at both the ends of the overbridge linking Burmamines with Station Road. A decision has already been taken and the process to set up the barriers is on."
Singh said they decided to take the step after the traffic wing of East Singhbhum district police approached them around a month ago with a request to stop heavy vehicles from using the overbridge.
Although Tatanagar railway had allowed six-wheel vehicles such as buses and small trucks to use the bridge, 16-wheel and 18-wheel trucks carrying more than 30 tonnes were plying on it even during no-entry hours from 10pm to 6am making the bridge vulnerable.
Every day, around 100 heavy vehicles, including dumpers, trailers, trucks, multi-axle trucks and trailers pass through the overbridge which was rebuilt 12 years ago.
A Railway Protection Force officer posted at Tatanagar said, "Plying of heavy vehicles will not only put the life of the overbridge at risk, it is also dangerous for commuters who cross it either on foot or in smaller vehicles."
DSP (traffic) Shrivendra said they had approached the Tatanagar engineering division requesting it to install metal drop gates to stop heavy vehicles from using the bridge.
"Since traffic police manage the vehicles, people think we allow heavy vehicles to ply through the bridge. After 10pm, traffic management becomes the responsibility of the local police stations. We therefore decided to approach the railway authorities and convinced them to install the barriers to prevent heavy vehicles from using the overbridge," Shrivendra told The Telegraph.
Burmamines OC Ram Yash Prasad admitted that it was their responsibility to check the entry of heavy vehicles through the overbridge. "We do carry out surprise checks and prevent heavy vehicles from using the bridge," Prasad claimed.