Bus drivers and staff stare at zero income with new restrictions
Suspension of operations affects over 2000 in Dhanbad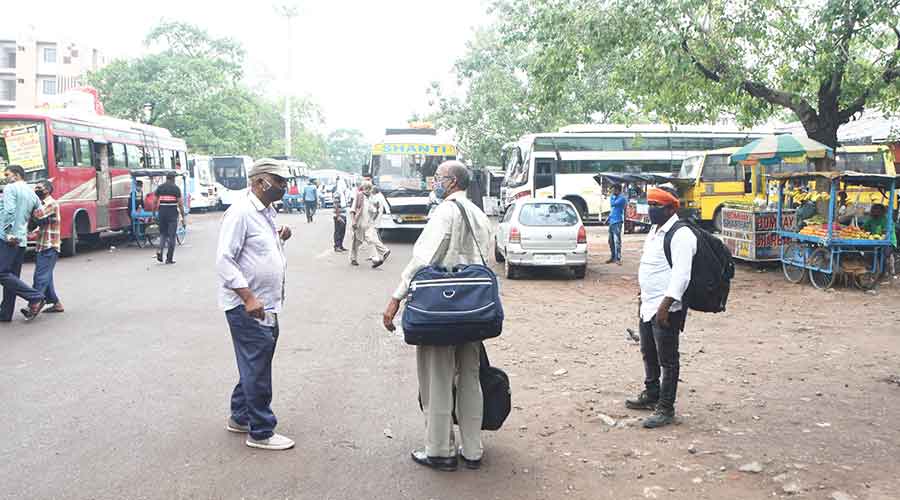 Bartand Bus Depot in Dhanbad on Thursday.
Gautam Dey
---
Dhanbad
|
Published 13.05.21, 08:26 PM
|
---
The state government's decision to suspend inter and intra state bus operations from May 16, has left more than 2000 drivers, conductors, cleaners, helpers and booking staff in despair.
The non operation of buses will affect their salary and perks for the second consecutive year after the nation-wide lockdown last year.
Around 50% out of the 350 buses including 150 interstate buses and 200 inter-district buses operating from Dhanbad have already suspended operations in a phase wise manner, since the imposition of lockdown in April due to lack of passengers and resultant losses.
At present, around 10 of total 70 buses are running between Dhanbad and Bokaro. Only two are operational between Dhanbad and Ranchi out of over 30 and four out of 20 buses were operating from Dhanbad to Hazaribagh.
Vimal Singh, a Jamshedpur based bus conductor said, "Though I am well aware about the seriousness of Covid situation due to which the decision to stop bus operation has been taken by government, but I am baffled that how will I manage the family expenses of four including my two school going sons."
"Though, I have the ration card but rice and wheat are not the only requirements to sustain life and we suggest that the government must have a backup plan to financially help people like us before initiating any lockdown measures," said Singh.
Md Najimuddin, a bus driver of Shiv Parvati travels, running between Dhanbad to Jamshedpur said, "I have a rented house at Mango in Jamshedpur and I am in frustration ever since I heard the news about the suspension of bus operation thinking how will I manage the house rent and food expense of family of eight including my six children without salary."
"We are not averse to the lockdown but we also want the government to provide help to all private vehicle drivers for the lockdown period and especially for those like us who are even deprived of ration cards, despite applying for the same several times."
Sumit Singh, owner of Bunela Travels operating 20 buses from Dhanbad to different districts of Bihar said, "We are helpless, even though we were somehow operating few buses despite incurring losses only for the sake of employees but it will be difficult to pay without operation of buses."