Burglar sieve near Jharkhand CM's residence
A special policing drive in Agrico after a spate of thefts and burglaries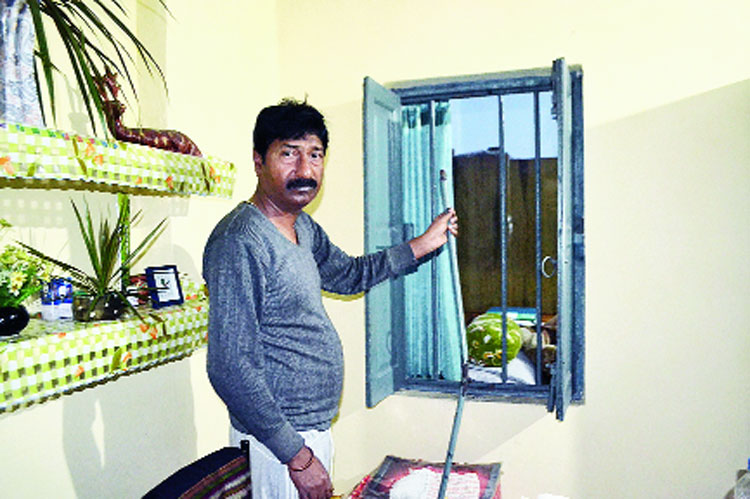 Subir Kumar Sutradhar shows a broken window at his burgled house in Agrico, Jamshedpur, on Thursday.
Pictures by Animesh Sengupta
---
Jamshedpur
|
Published 08.02.19, 10:02 AM
|
---
A special policing drive will soon be launched in Agrico under Sidhgora thana in the wake of routine thefts and break-ins near the chief minister's residence.
The decision has largely been spurred by a Wednesday evening burglary on Road 12, barely 300 metres from where Raghubar Das and his family live.
The intruders decamped with cash and gold ornaments worth over Rs 4 lakh from the house of Subir Kumar Sutradhar, a Tata Steel employee, who was out shopping with his wife at Sidhgora market. The couple had returned an hour later around 7.30pm to find the door lock tampered with, the almirah wide open and the valuables missing.
Earlier, on Saturday evening, unidentified persons cleaned out cash and gold worth over Rs 2.2 lakh from the residence of one Aman Mukherjee. The latter was also out shopping with his wife. The couple came home around 9pm to the find the door ajar and Rs 20,000 in cash missing from the almirah, besides jewellery whose estimated worth is over Rs 2 lakh.
On December 17, too, burglars had decamped with gold ornaments worth Rs 5 lakh from the residence of one Alok Kumar Sinha. His house is a stone's throw — 20 metres to be precise — from the CM's city office-cum-residence.
Sutradhar said he came to know from his neighbours that after they left home, a black car had pulled over nearby. "I suspect the role of an organised gang that can afford to move around in a four-wheeler. It must be the same gang that targeted the Mukherjees," he said.
City SP Prabhat Kumar conceded that thefts and burglaries were taking place in Agrico with alarming regularity. "We plan to intensify evening patrolling in the area. There are other measures being taken, which cannot be divulged. Also, efforts are on to bust the gang/s involved in the recent break-ins," he said.
Sidhgora thana OC Ashok Kumar said generating awareness among local residents against strangers was key to bolstering security in Agrico.
"We need people's co-operation to identify burglars who are penetrating a high-security zone. Residents will be asked to keep tabs on unidentified vehicles, bikes or cars, and strangers," Kumar added.