Budget cheer for farmers, jobless of Jharkhand
Hemant Soren govt announces slew of sops, BJP dubs it 'old wine in new bottle'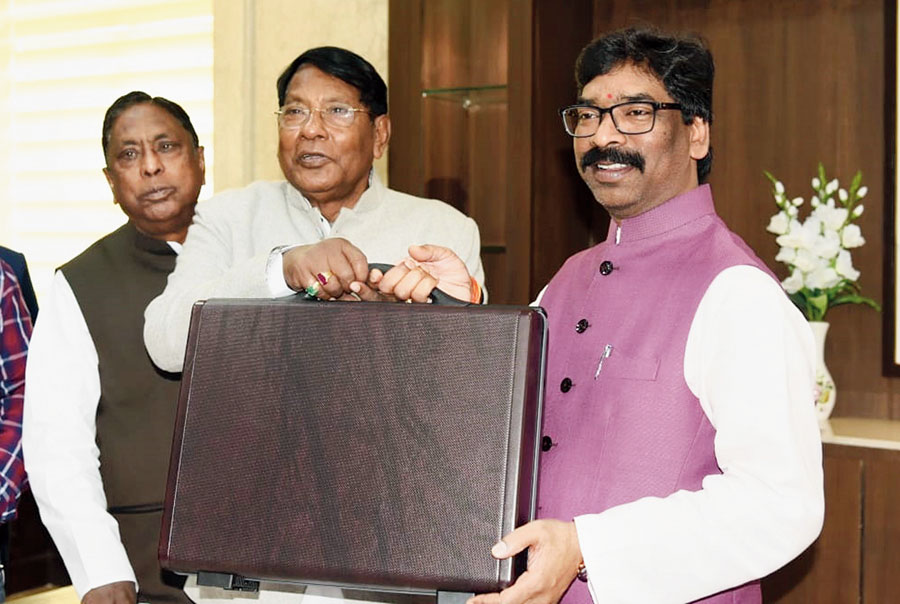 CM Hemant Soren and finance minister Rameshwar Oraon with the budget briefcase in Ranchi on Tuesday.
(Prashant Mitra)
---
Ranchi
|
Published 03.03.20, 06:48 PM
|
---
The Hemant Soren government on Tuesday tabled an estimated budget of Rs 86,370 crore for the year 2020-21 with sops ranging from universal health insurance to farmer loan waivers, from stipends for the jobless to lungis and saris for Rs 10.
The new government's budget was tabled by finance minister Rameshwar Oraon even as Opposition BJP boycotted the Assembly over re-inducted Babulal Marandi not being recognised as leader of the Opposition.
Dubbed a "pro-poor and inclusive" budget, it targets to take the state's annual growth rate to 7.2 per cent from the present 5.7 per cent growth rate and per capital income to Rs 65,802 from Rs 62,345.
The budget's biggest highlight is arguably farmer relief. The budget provides Rs 2,000 crore for farmers for short-term loans and waivers of loans up to Rs 50,000 per farmer.
Its universal health insurance with a Rs 5 lakh cap includes all Jharkhandis, excluding state and central government employees. The budget provides free treatment of cancer, kidney and serious liver diseases by noted doctors to individuals in families with an annual income up to Rs 8 lakh. This apart, 100 units of power will be given free to households that consume less than 300 units a month.
It also targets giving ration cards to 10 lakh people aged above 50 and makes provisions for dhoti, sari and lungi to 57 lakh poor families twice a year at a cost of Rs 10 each.
Scholarships given so far to ST/SC/ OBC students from Classes I to XII, will now be given to all, the budget says.
It gives an extra Rs 50,000 to each beneficiary for homes under the PM Awas Yojana and the freedom to build one's home based on geographic realities.
For every jobless graduate registered with the employment exchange, the budget gives Rs 5,000 per year for two years. The sum goes up to Rs 7,000 for unemployed postgraduates. The budget also promises free technical education to girls.
Broadly, Rs 73,315.94 crore comes under revenue expenditure and Rs 13,054.06 crore under capital expenditure. Rs 37,445.06 crore has been set aside for establishment cost, Rs 34,485.72 crore for implementation of state schemes, Rs 3,315.27 crore for central schemes and Rs 11,123.95 crore for expenditure on Centre-sponsored schemes.
Revenue includes Rs 15,839 crore from grants-in-aid, Rs 11,820.34 from non-tax revenue, Rs 21,669.50 crore from the state's taxes and Rs 25,979.91 crore from share in central taxes.
Calling it a pro-poor budget, CM Hemant Soren said: "The chariot of rulers has been directed towards huts. Attempt has been made to ensure that no one dies due to lack of food, water and healthcare, and children instead of grazing goats go to school. It is a revolutionary budget."
The Opposition slammed this budget as one "without vision". BJP Rajya Sabha MP Mahesh Poddar deplored that it had nothing for traders. "This budget borrows and glorifies many features of BJP-led government budgets," Poddar said. "Old wine in new bottle. But there's no relief or incentive for small entrepreneurs."
Ajsu MLA Sudesh Mahto said the government had been cribbing about fiscal mismanagement of the Das government but "nothing about this budget suggests course correction. The budget size is Rs 900 crore bigger than last year."