Bollywood discovers Chakulia's Lady Tarzan
Green crusader wants Sonakshi Sinha or Vidya Balan to play her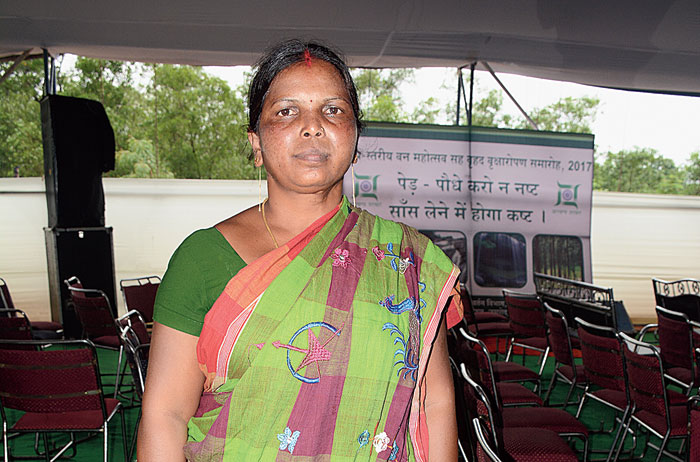 The life and struggle of Jamuna Tudu, green crusader from Muturkham village in Chakulia block of East Singhbhum, around 92km from Jamshedpur, is just like a movie.
Telegraph picture
---
Jamshedpur
|
Published 02.08.19, 08:42 PM
|
---
Fed up with timber mafia hacking trees in her forested idyll, an 18-year-old girl decides to fight back. She forms an outfit of likeminded women who vow to protect the green cover. They not only tie rakhis to trees to symbolise their bond, but also take up bows and arrows to combat and track timber mafiosi and report them to cops. Threats and danger don't deter them, and the leader becomes known as Lady Tarzan.

The life and struggle of Jamuna Tudu, green crusader from Muturkham village in Chakulia block of East Singhbhum, around 92km from Jamshedpur, is just like a movie. And next year, it will be one.
Mumbai-based filmmaker Chilukuri Prasad will produce and direct a full-length Hindi biopic of Tudu, 39, who was conferred with the Padma Shri earlier this year. It was the award and the consequent coverage that made Prasad, who has earlier made a Telugu film called Contract Killer, sit up and take notice.
"We were inspired by the struggle of Jamuna Tudu and how she has protected the forest from the timber mafia in a Maoist-infested area, and have decided to make a film so that the message of saving trees reaches a larger section of the society," Prasad said on Friday. "On Thursday we signed an agreement with Jamuna Tudu seeking her consent to go ahead with the biopic. We will be making the script and finalise shooting schedules along with casting of the film. We hope to start shooting tentatively by December this year."
Mumbai-based Dharmendra Baghel will be the writer of the film.
"I was fascinated with the character when I heard from the producer and director and went to interact with Jamuna Tudu during the signing of the agreement," said Baghel, whose Hindi film Bansal LLB is set to release in March 2020.
"As per talks with the producer and director, we will be signing a Bollywood actress for the lead role of Jamuna Tudu. The film will be shot primarily in the Ghatshila area. We will also be providing opportunity for local actors to show their talents in the film."
The lyricists and the music director will be from Bollywood, Baghel said.
"You will see a popular actress, lyric writer and director from Mumbai film industry. We will be finalising everything in a span of three-four months," said Baghel.
Tudu was in 2014 awarded the Godfrey Phillips Bravery Award in 2014 for fearlessly taking on the powerful timber mafia in the dense forest areas of Chakulia. She formed her outfit, Van Raksha Samity, in 1998, which now has 300 women vigilantes.
"I am thrilled and hope that after the film is released many more women and men will be inspired to protect the forest," Tudu said when asked how she felt about a movie to be made on her.
She had earlier told The Telegraph: "I was very young when I realised people chop trees almost as a matter of right, forests thin and disappear and no one says anything. Saving forests is my job and passion. There's no place for fear. I've also inspired many women to join me in the crusade to save forests, which I think was important because it made an impact on rural society and got people talking about our cause."
Who does she want to play herself on the big screen? "Either Sonakshi Sinha or Vidya Balan," Tudu said on Friday.