Bokaro students shine in CBSE Class X exams
Among the toppers, Aditya Kumar of DAV Public School-Dhori and Risita Ahana of Chinmaya Vidyalaya have scored 99.6%, the highest in the district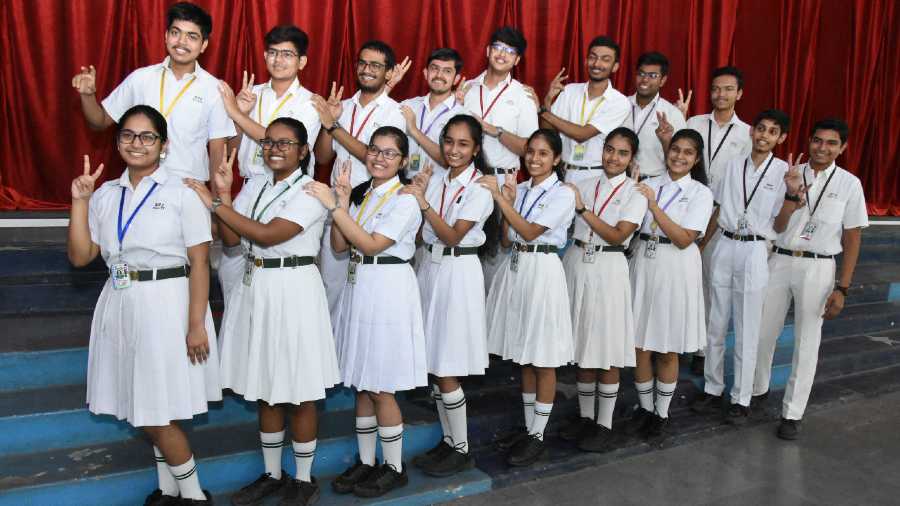 Students of DPS Bokaro celebrating after result of Class 10 CBSE was announced on Tuesda.
The Telegraph
---
Bokaro
|
Published 03.08.21, 09:09 PM
|
---
Covid-19 pandemic created difficulties for the students, but still many overcame the challenges to their perseverance and academic excellence this year. As many as seven students in the district have scored 99 percent and above marks in the CBSE class X examinations. Meanwhile over 252 students have secured above 95 percent marks in their board examinations. The results were announced on Tuesday.
Atleast, 760 students scored above 90 percent marks in about a dozen of CBSE schools across the district. It is to be mentioned that the class board exams had been cancelled due to Covid-19 second wave. The board chose to prepare the results through an alternative means of assessment.
The schools credited the collective hard work, consistency and sincerity of both the teachers and the students for the remarkable result. Of the toppers, Aditya Kumar of DAV Public School, Dhori and Risita Ahana of Chinmaya Vidyalaya have scored the highest 99.6 percent in the district. Meanwhile, Saurabh Kumar Pandey of DAV Public School, Dhori achieved 99.4 percent marks followed by Anwesha of Pits Modern School, Gomia with 99.2 percent.
The Delhi Public School (DPS), Bokaro got their three students – Anamika, Prince Kumar and Tanushree – scored 99 percent marks in the results of Class X Board announced by CBSE today afternoon. There were 98 students in DPS, Bokaro who scored above 95 percent marks while 169 students achieved above 90 percent.
Similarly, 103 students have got above percent in Chinmaya Vidyalaya while 15 of them obtained 95 percent and above marks. "It is not difficult to bag the perfect score if students cancel out all the distractions from life wholeheartedly and concentrate on their goal," said Mahesh Tripathi, secretary of Chinmaya Vidyalya.
Aayush Kumar Singh of Pentecostal Assembly School scored 98.8 per cent marks followed by Sujal Kumar, Anurima and Kirti Kumar who obtained 98.4 per cent. There are 31 students of this school who scored above 95 per cent while 64 of them obtained above 90 per cent.
In Guru Gobind Singh Public School (GGPS) Nafisha Khatun and Unnati, both, scored 97.8 per cent marks. There were 99 students who scored above 90 percent while 34 of them achieved 95 per cent and above. Another MGH Higher Secondary School has also claimed 89 students bagged above 90 per cent marks. Of them, 33 students scored above 95 per cent.
In Sree Ayaappa Public School, seven students achieved above 95 per cent marks while 43 students have scored above 90 per cent. The students of other schools including Holy Cross School, BSL-run Schools, Saraswati Vidya Mandir, Dav Public School, Kendriya Vidyalaya, Cresent Public School, Aadarsh Vidya Mandir, Bokaro Public School have also performed well.