Blackmail whiff in lawyer's murder as police arrest three
Land dealer linked to mafia claims extortion, uses two local residents for killing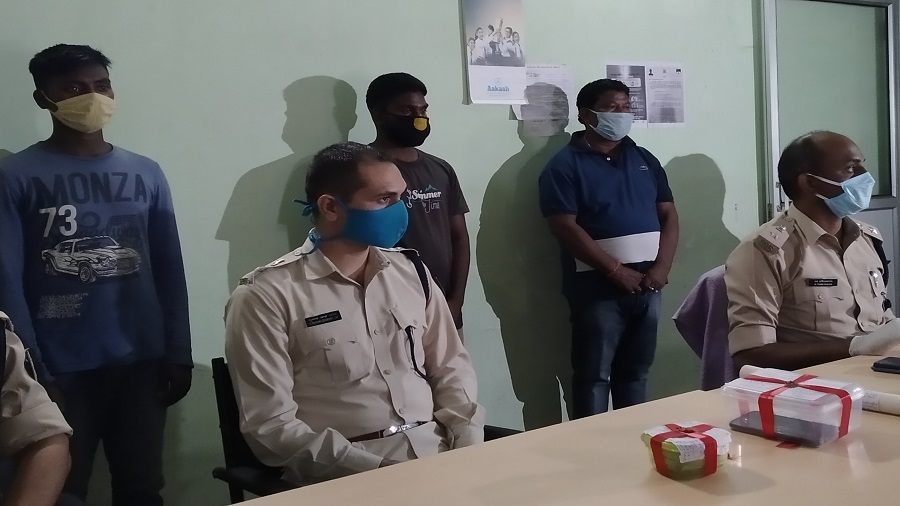 ---
---
Prakash Yadav, the 29-year-old lawyer was killed not so much for his crusade against the land mafia, but for apparently black mailing them with litigation, the police said on Thursday after arresting a land dealer and two of his associates for his murder two days ago.
According to East Singhbhum senior SP M. Tamil Vanan, Prakash would extract a cut for every land deal that Amulya Karmakar would strike. This prompted Karmakar to engage two persons from the Birsanagar neighbourhood, Ram Ravidas (24) and Vishwanath Munda (21), to kill him for a fee.
All three, Karmakar (49), Ravidas (24) and Munda (21) have been arrested.
Vanan, who set up an SIT led by city SP Subhash Chandra Jat, t probe the Prakash's murder on Wednesday, said they had recovered an iron rod used for the murder, blood-stained clothes of assailants Ravidas and Munda, Rs 19,500 in cash and Karmakar's cell phone.
The police revealed on Thursday that they had taken Karmakar into custody the night Prakash was murdered and revised their earlier account of how the murder occurred. Vanan said that upon interrogation, Karmakar who ran a racket of selling government land for house building purposes, gave in and confessed his crime.
"He told us Prakash was coming in the way of his business for the past five-six years. He (Prakash) would apparently demand money against every land deal. And if Karmakar refused, he would submit a petition against him with the local police station or with the sub-divisional office demanding an enquiry," Vanan said.
The senior SP told the media that Karmakar had been planning to eliminate the lawyer and chose two of his neighbours, Ravidas and Munda whom Yadav had apparently humiliated several times using caste slurs, to join the scheme.
Karamakar, the senior SP revealed, had promised to pay Rs 3 lakh to Ravidas and Munda and had paid Rs 30,000 as advance.
"Prakash would visit the place near Hari Mandir every evening and remain there till late night. At 10.30 pm on Tuesday, when he was alone there talking on his cell phone, Ravidas and Munda struck. They first hit him on the head with an iron rod and then slit his throat with a knife and fled. They concealed the iron rod in a bush and threw the knife in the nearby Subarnarekha river," senior SP Vanan said.
He said the assailants had also tried to burn their blood-stained clothes, something they found out after the two took the SIT to the scene of the crime. The police have recovered the iron rod and their partially blood-stained clothes. The knife could not be retrieved from the river.
All the items would be sent for forensic tests to Ranchi and be used as evidence while framing the case against the three. A case of murder has ben registered against them on the basis of an FIR lodged by Prakash's elder brother Dinesh Yadav on Wednesday.