BJP to target JMM govt on mutation bill, poor law and order
Marandi hosts MLAs at home to plan aggressive Assembly strategy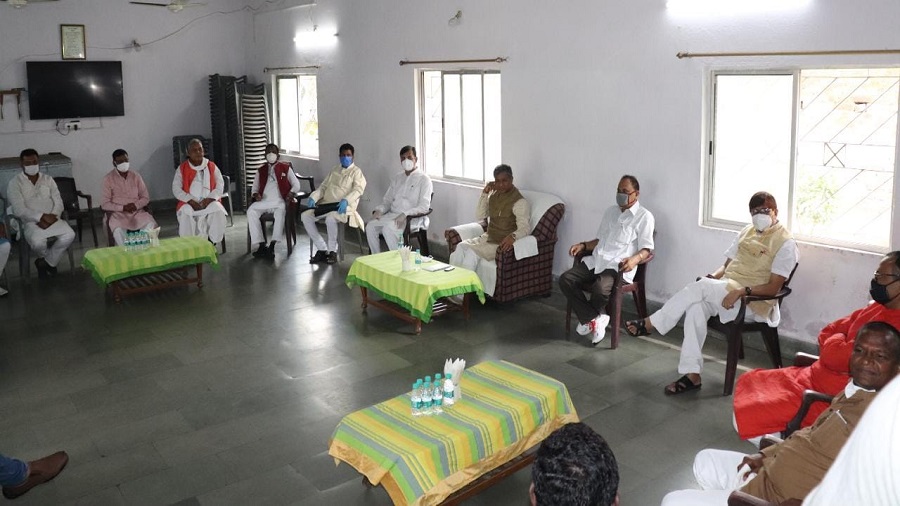 ---
|
Ranchi
|
Published 18.09.20, 06:23 PM
---
The Opposition BJP has decided to take on the JMM-led state government over the proposed Jharkhand Land Mutation Bill, 2020, and deteriorating law and order when the Assembly reconvenes on Monday for the monsoon session.
Leader of the BJP legislature party and Dhanwar MLA Babulal Marandi has set the tone for the Opposition's stance in the House following a meeting with party MLAs at his residence on Friday.
After the meeting, BJP's Sahebganj MLA Anant Ojha said, "All party MLAs are on the same page over the controversial land mutation bill. The party has decided to go all out to corner the government on this anti-people bill. The party will hit the streets with full force to block this bill, if the government still decides to table it without bringing in required amendments."
Notably, the Congress, an ally in the ruling dispensation, has also developed cold feet over the bill and is now calling for amendments to strike out a clause which offers protection to land and revenue officials from civil or criminal cases in case of wrongdoing.
Ojha said that all party MLAs were equally concerned about the state's deteriorating law and order ever since the Hemant Soren government was sworn in. At least two BJP leaders—one in Dhanbad and another in Palamau were killed in the last six months.
"Almost every day, one can hear and read news regarding rape, dacoity, police excesses and so on. The situation is such that there is now a feeling among people that criminals and Naxalites have got a free hand to operate under the current regime," said Ojha.
He said BJP leaders have met the governor over the law and order issue twice, but the state government seemed indifferent.
BJP is currently without a leader of the Opposition even though it is the single largest Opposition party in the state assembly with 26 MLAs. While BJP has chosen Marandi, Jharkhand's first chief minister who had merged his JVM-P with the BJP after the Assembly polls as leader of Opposition, the appointment is yet to be okayed by the Speaker.
Ojha said the BJP would raise the issue in the House on Monday. "Election Commission of India (ECI) has recognised Babulalji's merger with BJP and by virtue of it, he was included in the BJP's voter's list during the Rajya Sabha polls held in June this year. But despite this, his formal appointment as leader of Opposition in the Assembly is not being endorsed by the Speaker at the behest of the state government," said Ojha.