BJP tees and caps as ammo for Lok Sabha polls
Brand NaMo merchandise makes a splash among youths, Opposition alliance harps on 'real issues'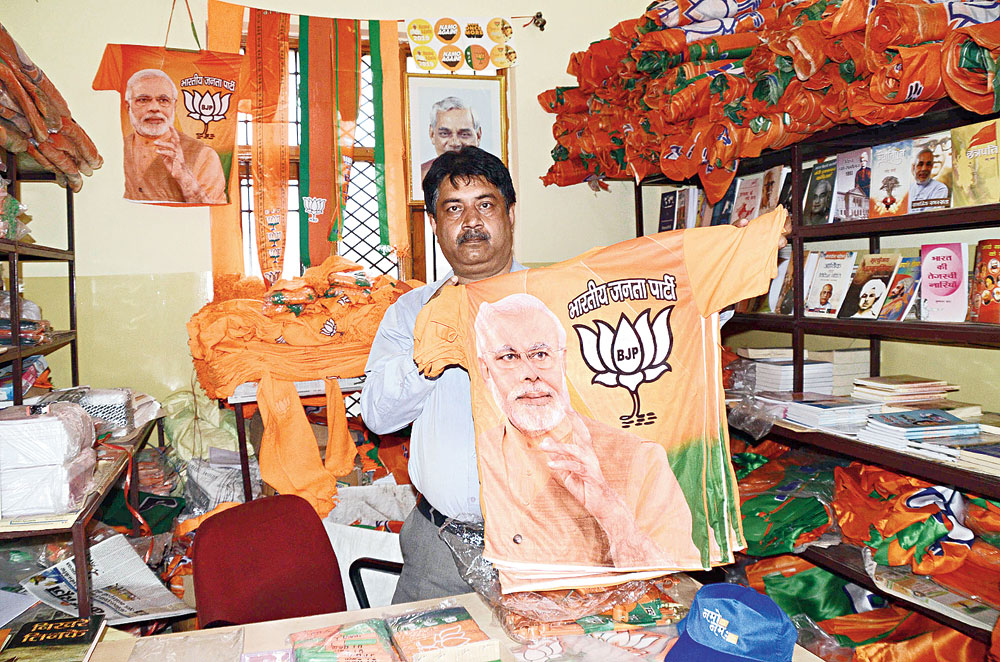 ---
---
The BJP has already stolen a march over the Opposition Alliance in Jharkhand, at least in terms of branding and merchandise, ahead of this crucial Lok Sabha polls where the party seeks a second term for Prime Minister Narendra Modi.
Apart from NaMo Again merchandise available through Modi's personal mobile application, NaMo app, on the platform Flykart, the state BJP has procured tee shirts, caps, mugs and long scarves from Delhi for sale among party workers and supporters. These are available at a shop adjoining the party's state headquarters near Harmu bypass, Ranchi, from Monday.
"The merchandise has arrived from Delhi recently and more stocks will arrive shortly. We will also procure key chains and kurtas," said BJP state office-in-charge Hemant Das.
Each costing Rs 100, the tees are a best-selling item, especially among young voters, said BJP functionaries. The blue caps with Namo Namah written in white cost Rs 30 while blue coffee mugs again with Namo Namah in white cost Rs 50 each. Saffron long scarves with the party symbol lotus flower in white cost Rs 30 each.
"Affordable and eye-catching, our merchandise is a huge success with youths. The proceeds of sales will be used to clean river Ganga," said BJP general secretary Deepak Prakash. "The BJP is well ahead of other political parties in traditional campaigning (cadres interacting with people), on the digital medium with our IT cells propagating party manifesto across social media platforms."
A staff at the NaMo merchandise store claimed that on an average nearly 100 pieces of merchandise were being sold daily since the items started arriving at the outlet a week back.
"The merchandise stores are being opened at almost all state BJP headquarters. Earlier, supporters used to download the NaMo app from Google Play Store and order tees, notebooks, stickers, caps, pens, key chains and mugs with slogans such as NaMo Again and Trust NaMo. Party supporters using the merchandise in their daily routine would lead to publicity for the party during the elections," said the staff.
Asked what the main Opposition parties in Jharkhand, the Congress and the JMM, are doing to counter the BJP's merchandise onslaught, state Congress spokesperson Kishore Nath Shahdeo said they were planning to get RaGa tees from Delhi with inscriptions such as RaGa This Time and key chains with Rahul Gandhi face. These will arrive shortly at the party's state quarters soon," he said.
The Congress spokesperson refused to admit they were lagging behind in publicity. "Our candidates have already started discussing real issues and problems of people. Merchandising can happen later."
The JMM said they had no plans for merchandise. "We know how to get in touch with our people. All our party leaders at block and booth levels are highlighting the misrule of the BJP. Party candidates after announcement of names can on their own level push merchandise if they want, we do not want to waste money on such things at the moment," said JMM general secretary-cum-spokesperson Supriyo Bhattacharya.