BJP at governor door over Babulal Marandi
Meeting in connection with alleged dilly-dallying in appointing former CM as leader of Opposition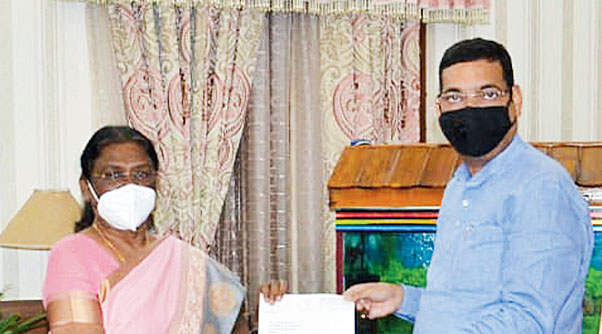 BJP state president Deepak Prakash (right) hands over the memorandum to governor Draupadi Murmu.
Manob Choudhary
---
Ranchi
|
Published 08.08.20, 12:59 AM
|
---
A three-member BJP delegation led by its Jharkhand unit president and Rajya Sabha MP Deepak Prakash met governor Draupadi Murmu on Friday and submitted a memorandum seeking her intervention in appointing Babulal Marandi as leader of the Opposition in the Assembly.
"In disregard for democratic norms, chief minister Hemant Soren wants that the House runs without a leader of the Opposition," Prakash said after meeting the governor.
He said they "met the state's constitutional head after being fed up with the lackadaisical attitude of the ruling combine".
Prakash alleged that the Speaker had been dilly-dallying in appointing Marandi as leader of the Opposition though the BJP, with 26 MLAs, is the largest Opposition party in the Assembly.
Before joining the BJP, Marandi was the supremo of Jharkhand Vikash Morcha (Prajatantrik) that won three seats in the Assembly elections in December 2019.
Subsequently, Marandi merged his party with the BJP on February 11 this year and the BJP immediately declared him as the leader of its legislature party. While Marandi chose the BJP, the two other JVM (P) legislators, Pradeep Yadav and Bandhu Tirkey, went to the Congress.
The Election Commission accepted the merger of the Marandi party with the BJP on March 6 but it did not recognise its two MLAs as belonging to the Congress during the Rajya Sabha election in June and they voted as Independents.
Prakash said "there was absolutely no problem in doing it", and they urged the governor to intervene so that Marandi was declared as leader of the Opposition without further delay and given his constitutional rights.
Meanwhile, the BJP continued its criticism of the ruling JMM-Congress-RJD dispensation. State BJP secretary and Rajya Sabha MP Samir Oraon alleged that the state government had sent Prakash to quarantine when he returned to Ranchi after taking oath in the upper House of Parliament last month as well as Marandi but Umang Singhar, joint in-charge of the Jharkhand unit of the Congress had been allowed to attend party programmes in the state without following the quarantine protocol.
When contacted, Congress spokesperson Alok Dubey said: "Singharji came to the state on Wednesday after obtaining proper permission from the state government and was supposed to stay till August 9 (Sunday)."
He said Singhar returned on Thursday evening after the permission was withdrawn.
BJP spokesperson Saroj Singh, in a statement issued on Thursday evening, alleged the state government was treating former Bihar chief minister and RJD chief Lalu Prasad Yadav as a state guest and not as a convicted prisoner. He alleged that Lalu Prasad, unlike a prisoner, was shifted to a posh bungalow from the hospital to protect him from coronavirus infection.