BJP appeals to governor for justice on Hul Diwas eve, boycotts celebrations
Party delegation submits a memorandum, demands CBI probe into murder of Sidhu Murmu's descendant, while Congress prepares to pay tribute to tribal icons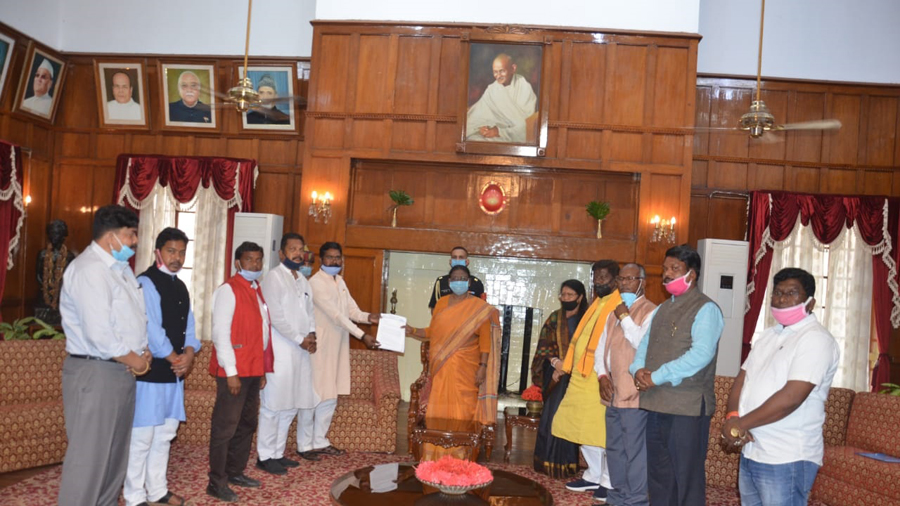 ---
|
Ranchi
|
Published 30.06.20, 02:59 AM
---
The Jharkhand BJP, on the eve of Hul Diwas, appealed to governor Draupadi Murmu on Monday, seeking a CBI inquiry and death sentence in the murder case of freedom fighter Sidhu Murmu's descendant, Rameshwar.
Hul Diwas is observed in memory of tribals Sidhu and Kanhu Murmu, who led the Santhal rebellion, and is observed annually on June 30 at Bhognadih in Sahebganj district.
While the BJP has announced that it will boycott Hul Diwas in solidarity with Murmu's family, the Congress has drawn up elaborate plans to celebrate it across the state.
Murmu, 28, was found dead in a field at Bhognadih in Barhait on June 12.
Four days later, his family members filed a murder FIR in the local police station, accusing one Saddam Ansari of the crime.
The deceased had protested against Ansari for allegedly passing lewd remarks against a village girl.
On June 23, Ansari surrendered in court and was sent to judicial custody.
However, citing the post-mortem report, the police said Rameshwar died because of alcoholism and heart attack.
The BJP accused the Hemant Soren government of covering up the murder through a shoddy police probe.
Last week, the party sent a 10-member fact-finding team to Bhognadih to "unearth" the truth and to interact with the deceased's family.
On Monday evening, a 10-member delegation met the governor at Raj Bhavan to submit a memorandum and their findings.
Rajya Sabha MP Sameer Oraon said in a statement, "We have demanded a CBI inquiry, death sentence to the accused, Rs 10 lakh to the wife of the deceased, state-sponsored education to his kid and a speedy trial."
Former health minister and senior party member, Hemlal Murmu, said, "The JMM, which claims to be a party for tribals, is trying to cover up the death of the kin of a tribal freedom fighter. Ahead of Hul Diwas tomorrow, we seek justice for the deceased's family."