BJP accuses Lalu of trying to influence Bihar Speaker election
State party launches online campaign based on Sushil Modi's tweet alleging RJD supremo was making calls to MLAs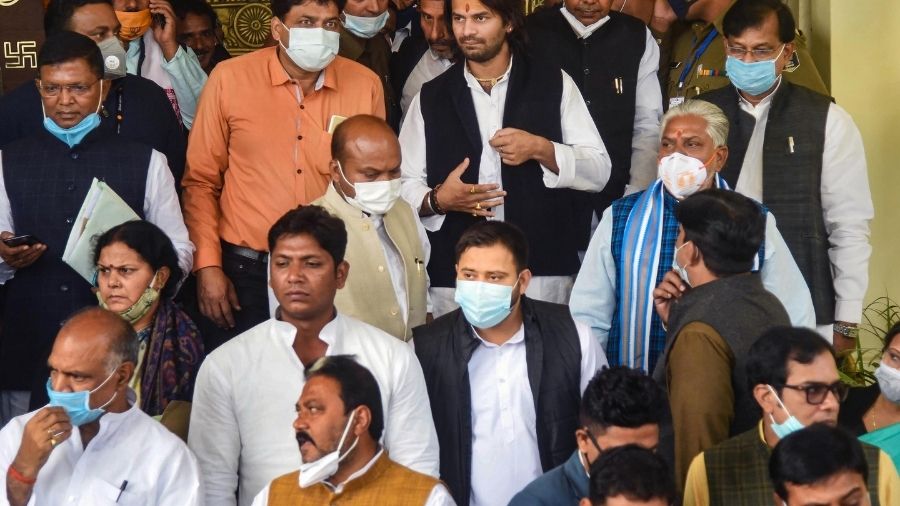 ---
|
Ranchi
|
Published 25.11.20, 03:39 PM
---
In the backdrop of Wednesday's election for Bihar's Assembly Speaker, the BJP unleashed an online campaign against incarcerated RJD supremo Lalu Prasad for allegedly attempting to lure party MLAs by telephoning them from Ranchi.
On Tuesday night, former Bihar chief minister Sushil Modi tweeted: "Lalu Yadav making telephone calls (8051216302) from Ranchi to NDA MLAs & promising ministerial berths. When I telephoned, Lalu directly picked up. I said don't do these dirty tricks from jail, you will not succeed."
The number mentioned in the tweet belonged to Lalu's aide—Irfan Ansari.
Lalu, who is serving prison terms for being convicted in fodder scam cases, has been lodged at Rajendra Institute of Medical Sciences (RIMS) for about a year now, undergoing treatment for various ailments.
Since Wednesday morning, Jharkhand BJP launched an online campaign using an audio clip, purportedly of Lalu asking a ruling NDA MLAs to skip the House proceedings for the election of Speaker and, in return, promising him a ministerial berth.
Leader of the BJP legislature party in Jharkhand Babulal Marandi used the clip in a tweet. "Lalu Prasad Yadav isn't getting bail from the court, but under the patronage of the Jharkhand government, he has access to mobile phones to horse trade MLAs. While the instances of rape, crimes and lawlessness is on rise, but the state government is busy serving a convicted prisoner," he wrote.
Jharkhand BJP president Deepak Prakash added, "Why is the honorable CM Hemant Soren keeping his eyes shut on this matter?"
Jail IG Birendra Bhushan did not answer calls for comments.
State BJP spokesperson Pratul Shahdeo said they have been alleging brazen violation of the jail manual in case of Lalu ever since the JMM-Congress-RJD government has come to power. "This is just a testimony to our claims of how Lalu Prasad has been violating jail manual day in and day out. A jailed person who is convicted of looting public money is being given preferential treatment by the Hemant Soren government. The government must answer why it is scared of Lalu Prasad? Do all convicted prisoners get treated the same way in Jharkhand?" he said.
Shahdeo cited how the newly appointed RIMS director, Kameshwar Prasad, was running the show without staying in official quarters. "He (Kameshwar) is living in a guest house since his appointment because the government has lodged Lalu in the RIMS director's bungalow," he pointed out.
Lalu, who is being treated for multiple ailments at RIMS, was shifted out of the paying ward to the director's bungalow, also known as Kelly's Bungalow, in August following doctors' advice as a precautionary measure in the wake of the Covid-19 pandemic.
NDA's Vijay Kumar Sinha was reported to have won the Speaker's election in Bihar Assembly after defeating the RJD-led grand alliance's nominee, Awadh Bihar Chaudhary, on Wednesday amid Opposition claims of rigging. Sinha got 126 votes against Chaudhary's 114.