BIT-Sindri hosts special training for poor students
Rs 10 crore has been allocated to tech institute for soft skill activities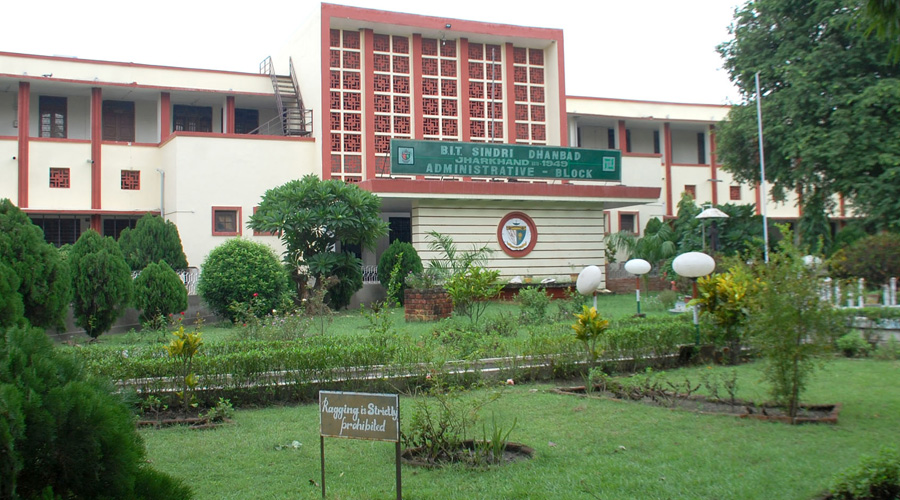 The administrative block of Birsa Institute of Technology (BIT) in Sindri, Dhanbad on Monday.
Picture by Gautam Dey
---
Dhanbad
|
Published 07.12.20, 06:51 PM
|
---
BIT-Sindri has lined up a host of soft skill activities to enhance confidence levels of engineering undergraduates from villages, underprivileged students and first-generation English learners and boost their employability. 
The activities being carried out at the lone state-run tech institute include conducting diagnostic tests, holding remedial classes, carrying out curative courses, organising special lecture series, entrepreneurship workshops, etc.
The activities are planned under the equity action plan of Phase III of central government-sponsored – Technical Education Quality Improvement Programme (TEQIP). It will be executed by different agencies and will begin with the diagnostic tests for 1st year students of underprivileged background in January 2021 to ensure their successful conversion (promotion) in 2nd year of B.Tech course by clearing all the subjects of 1st year.
Talking to The Telegraph Online, Director of BIT-Sindri, Dharmendra Kumar Singh said, "As classroom activities are suspended in the institute since March 17 this year, some of the activities will be organised online. In fact, the series of special lecture series, entrepreneurship workshops are already under progress."
Dean of Academics of BIT-Sindri, Upendra Prasad said, "We entrusted the responsibility of conducting various soft skill development programmes to different departments. We also appointed separate coordinators for each of the module but for one module titled - Knowledge hold forth series - we will be hiring an external agency to guide students."
"Under the 'Knowledge hold forth series' we will be training on Indian Constitution; law and women rights; women and health issues; entrepreneurship and girls; food and nutrition for girls; yogasana and meditations; workshops; seminars; training; psychological and sports training," further added Prasad.
Upendra Prasad is also the coordinator of Phase III of TEQIP at BIT-Sindri under which the institute has been provided with a fund of Rs 10 crore for carrying out some soft skill development programme for the students and teachers besides carrying out some civil construction work.
Teachers from respective departments will provide guidance in subject matter, as well as pedagogy, will be organised on a quarterly basis in order to ensure the teaching of weak students, helping students in learning their goals and to develop an understanding of equity and equality of rights.
Notably, both top engineering colleges of Dhanbad BIT-Sindri and IIT (ISM) Dhanbad have been selected under Phase III of TEQIP. IIT (ISM) has also been made the mentor institute for BIT-Sindri and both the institutes have also signed an MoU for sharing of resources and infrastructure.