Bison born in Betla National Park, birth kept secret so as not to invite ill-luck
Numbers dwindling, three have died this year, says PTR deputy director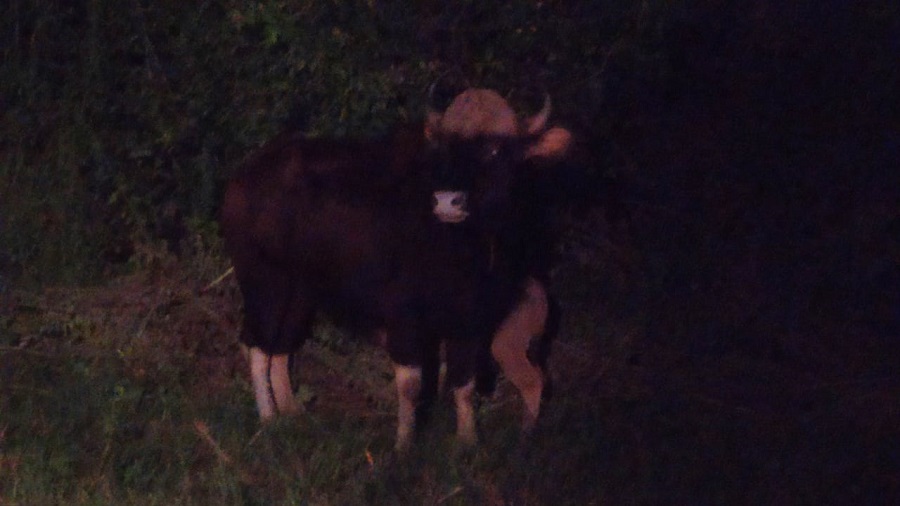 Mother bison with her newborn female calf hiding behind her
Sourced by the Telegraph
---
Daltonganj
|
Published 22.10.20, 05:19 PM
|
---
A bison gave birth to a healthy female calf at the Betla National Park of the Palamau Tiger Reserve (PTR), an event that was kept secret from local scribes for 20 days so as not to jinx the newborn.
PTR deputy director north division Kumar Ashish on Thursday confirmed that the bison was born near Bairya Nullah.
Forest guard Mukesh Oraon was the first to see the newborn calf on October 2 around 5am. Thereafter, sources said PTR officials decided to keep the birth a secret.
"Three bison had died in the Betla National Park in the months of April and May this year. It was a terrible loss. We were in great shock," said Ashish.
"These deaths had made us shaky and scared for their health and longevity. When this female bison calf was born, we tried to keep this news secret. We did not want any prying eyes," he said, adding that this was done out of their love and concern for the newborn calf.
"Despite being on leave during Druga Puja, I am keeping myself updated about the calf. I am told she is doing fine. She is learning to live a life of her own with her mother," said Ashish.
Asked if the calf had any problem from other adult bison, Ashish said the mother provides the calf with a Y-type security cover.
"There are three more bison here who have befriended the mother and calf, and act as a protective shield for the calf," he said.
Ashish has also employed 4 trackers to shadow the mother and her calf day and night.
There are around 50 to 60 bison in the park, who drink water from troughs located within the park.
"In 1990, there were 400 bison in the PTR. Now, the number has depleted to 50 or 60, with the population restricted to the Betla National Park," said Ashish.
Environmentalist DS Srivastava said the park is the only abode for bison in Jharkhand.
"Thus, all efforts are being made to increase its progeny, as they are a priceless gem among the wildlife of our state," said Ashish.