Bisarjan water under heavy metal lens
JSPCB introduces new test parameter to pave way for standard protocol with penalty provisions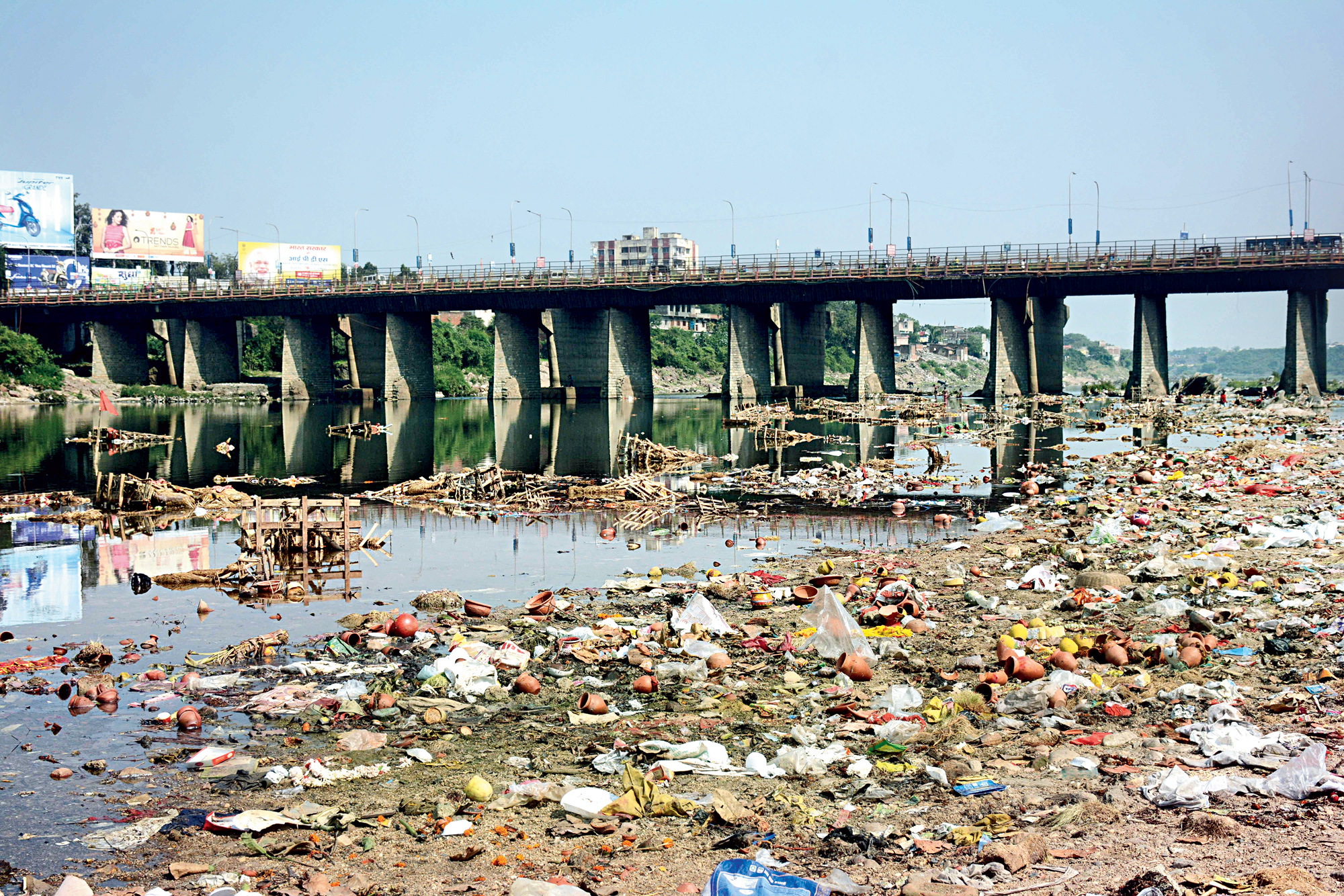 ---
---
The Jharkhand State Pollution Control Board (JSPCB) has, for the first time, asked its regional offices to conduct heavy metal test of water samples collected from various immersion points in addition to regular parameters such as pH value, dissolved oxygen level, biochemical oxygen demand and total dissolved solids.
The dual objective is to detect more accurately if toxic chemicals like lead and mercury were used in Durga Puja celebrations and to facilitate a pollution control protocol armed with provisions for penalty.
The report cards from regional offices in Adityapur, Dhanbad, Hazaribagh and Dumka, besides Ranchi, which will be clear indication
of river/pond/lake health before and after idol immersions, are expected to be published by the JSPCB in 10 days from now.
Copies will be sent to the Central Pollution Control Board (CPCB) and National Green Tribunal (NGT) with recommendations for punitive measures from next year.
In Ranchi, water samples have been collected from five immersion points, including Bada Talab, Line Tank Pond and Dhurwa Dam. In Jamshedpur, water from Kharkai, Domuhani and Subernarekha (near Mango bridge) will be tested. In Dhanbad, samples have been collected from nine ponds where most immersions have taken place.
Member-secretary of JSPCB Rajeev Lochan Bakshi said the heavy metal test had been ordered following directives from the central pollution watchdog and the green tribunal.
"We had issued detailed guidelines (to Puja organisers) this year. Use of artificial colours, plaster of Paris and baked clay was prohibited to keep pollutants under check. The lab tests will reveal if the guidelines were adhered to," Bakshi told this newspaper on Monday.
Based on the water reports, the JSPCB plans to prepare a standard protocol that will be implemented from next year. "It will have provision for penalty," the member-secretary added.
Three days after Dashami, riverbanks and pond ghats continued to bear tell-tale signs of abuse despite civic authorities, Puja organisers and civil society representatives swearing that the pollution demon had been defeated.
The Ranchi Municipal Corporation claimed it had engaged 100-odd workers, besides earthmovers and tractors, to clear the mess at various immersion sites.
"The cleaning operation has begun. It will take another two-three days for workers to remove all the paraphernalia left behind by 100-odd
Puja committees," said deputy mayor Sanjeev Vijayvargiya.
In Jamshedpur, riverbanks remain an eyesore although Tata Steel subsidiary Jusco, which looks after municipal and allied services, has promised action.
"We have identified eight river ghats and Dimna Lake for our cleaning project. Workers will remove idol frames, plastic and organic paraphernalia," said Jusco spokesperson Rajesh Rajan.
In Dhanbad, cleaning work began on Monday at some of the 110 ponds that witnessed immersions.
Youth group Samadhan took up the cudgels for Pampu Talab. Founder member Chandan Singh said, "We carry out cleaning every year after Durga immersions to ready the pond for Chhath Puja."
The municipal corporation too has launched a drive in different parts of the coal town. Municipal commissioner Chandramohan Kashyap reviewed ponds in Jharia, Dhanbad and Chatatand on Monday. He had inspected cleaning work at Raja Talab in Jharia on Sunday.
Additional reporting by Praduman Choubey in Dhanbad