Birsa airport to resume daytime flights from Saturday
Number of daily flights to and from Ranchi will be increased to 20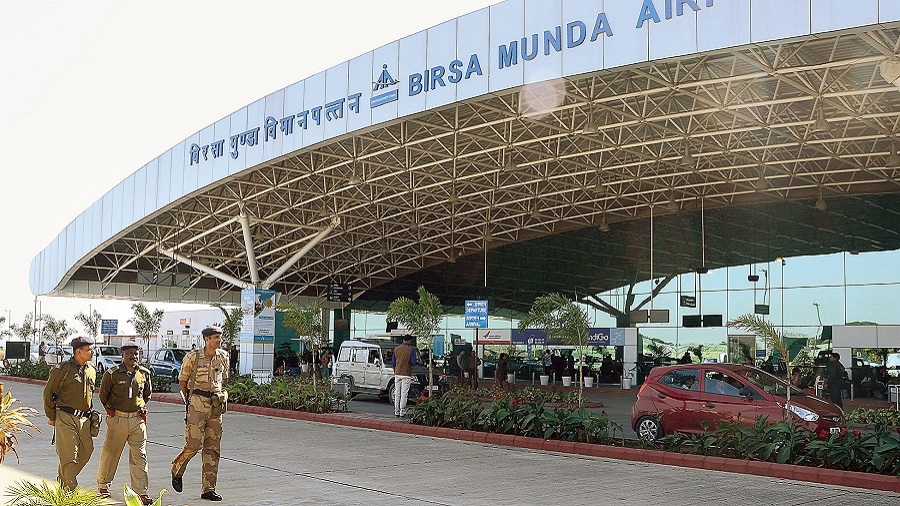 ---
Ranchi
|
Published 14.01.21, 04:33 PM
|
---
Birsa Munda Airport in Ranchi will resume regular flight services from Saturday after keeping day flights suspended for two months due to maintenance of the airstrip, airport authorities said on Thursday.
However, the largest airport in Jharkhand is yet to achieve the volume of pre-lockdown air traffic, which reduced drastically in the wake of the Covid-19 pandemic last year, officials added. 
Flights remained suspended from 10.30am to 5.30pm here from November 16 to keep the runway free for carpeting. The suspension of flights during this time led to rescheduling of several flights and left travellers with no option but to either take early morning flights or flights post-sunset, officials said. 
"Despite the suspension of flights during the daytime, we managed to ply 17 flights daily during the past two months," said Deputy General Manager (Air Traffic Management) at Birsa Munda Airport, Wilfred Kerketta. 
Kerketta said the number of flights flying to and from Ranchi will be increased to 20 every day from January 16. "We had at least 30 flights before the lockdown was enforced. The number had increased gradually, but we are still 10 flights short of our pre-lockdown traffic," Kerketta added. 
Ranchi started new direct flights to Chennai last month and the response has been positive, airport authorities said. "We are in talks with the state government to increase the number of flights from Ranchi as travel restrictions have been eased now," Kerketta said. 
Passenger footfall at the Birsa Munda Airport in Ranchi has tripled since June, the Airport Authority of India (AAI) stated in December 2020. However, the passenger footfall here was still less than half of what it used to be in pre-Covid times, local airport officials said.
The AAI stated that passenger traffic at the Ranchi airport had dropped to 57,749 in June when travel restrictions were relaxed after a strict lockdown since March. The passenger traffic shot up to 1,41,268 in November 2020 when more flights were allowed to ply, the AAI stated.
The airport has expansion plans in the pipeline. It is likely to extend its runway, increase the length of basic strip and construct an isolation bay on extra land that will be allotted to the AAI once the Cabinet gives its nod to the plans.
At present, Birsa Munda Airport has a 75 meter basic strip, which is the minimum length required for any airport. The length of the basic strip, the airport director said, will be increased to 140 meters once the expansion plan is approved.