Bird flu alert in Jharkhand
A high-level team of the animal husbandry department collected the tracheal and cloacal swabs from the dead crows at Jubilee Park on Thursday morning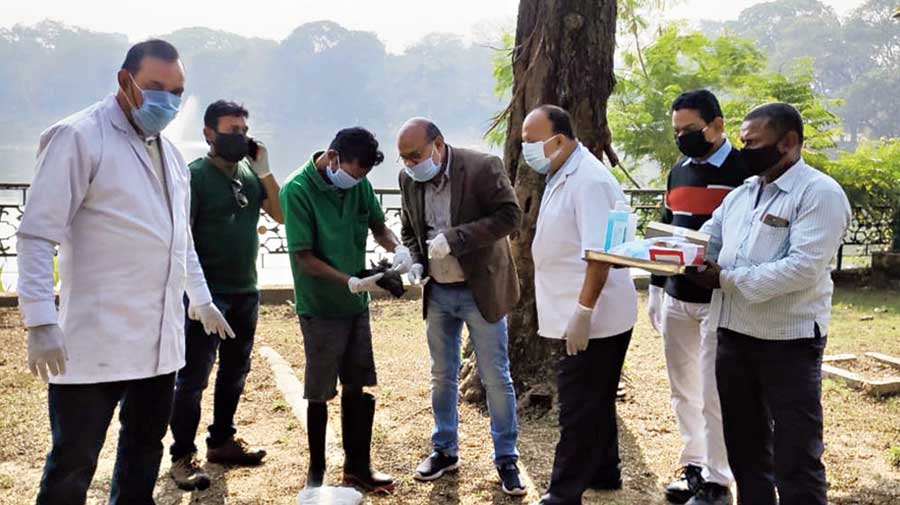 Animal husbandry officials collect samples from crow carcasses at Jubilee Park in Jamshedpur on Thursday.
Bhola Prasad
---
Jamshedpur
|
Published 08.01.21, 12:34 AM
|
---
The recovery of carcasses of four crows at Jubilee Park in Jamshedpur has put the Jharkhand animal husbandry department on high alert for a possible outbreak of avian influenza (bird flu).
A high-level team of the animal husbandry department, comprising senior veterinarians Dr S.K. Sinha and Dr S. Kumar and deputy director of Tata Zoological Park, Dr M. Palit, collected the tracheal and cloacal swabs from the dead crows on Thursday morning.
"We got information about the recovery of the carcasses of the four crows from our East Singhbhum district animal husbandry officer yesterday (Wednesday) evening. On Thursday morning, our team collected the samples which will be tested at the livestock research centre lab (at Kanke in Ranchi). 
"The samples would again be sent for confirmation at the Regional Disease Diagnostic Laboratory in Belgachia (Calcutta). If the reports are positive for avian influenza, the samples would be sent for final confirmation to the National Institute of High Security Animal Diseases laboratory in Bhopal to identify the strain of the virus," said Nancy Sahay, director, animal husbandry department.
The director, however, tried to downplay the incident.
"It might be a stray incident as apart from Jubilee Park there have not been any deaths reported in the same district or other parts of Jharkhand. We should not panic but should not be callous too. Following the Union government directive, we would be going for a massive awareness drive on bird flu by issuing advertisements and hoardings throughout the state. 
"The district animal husbandry officers have already been directed to be on alert in this regard and constantly be in touch with poultry owners and sellers," said Sahay.
The awareness drive would inform about symptoms of avian influenza in poultry and means to stop the spread of the disease. 
On Thursday evening (5pm), the state government appointed a dedicated nodal officer for bird flu (Dr Alok Kumar Singh) and issued a 24x7 number (9835152390) for any emergencies on bird flu.
The Centre had on Wednesday confirmed about the bird flu outbreak reported at 12 epicentres across four states — Kerala, Rajasthan, Madhya Pradesh and Himachal Pradesh — and issued advisories to contain further spread of the infection.
Of the 12 epicentres, bird flu has been reported in crows in Baran, Kota and Jhalawar region of Rajasthan as well as Mandsaur, Indore and Malwa areas of Madhya Pradesh. 
In Himachal Pradesh, the infection was found in migratory birds in Kangra region and in poultry ducks in Kottayam and Alappuzha (four epicentres) in Kerala. 
Presence of the H5N8 virus (a variant of avian influenza) was found in the carcasses of crows in Mandsaur and Agar Malwa districts.
The Union ministry of fisheries and animal husbandry has asked other states to keep a vigil on any unusual mortality amongst birds.
On Monday, the Jharkhand animal husbandry department had directed the respective district officials to keep ready PPE kits, required chemicals and JCB and provide monthly reports on bird flu and immediately collect samples of bird carcasses in any part of their region. 
Meanwhile, a large number of migratory birds flocking to the state from across the globe during winter has also kept the authorities on their toes.