Betla elephant gets surprise visit from friend
Betla elephant gets surprise visit from friend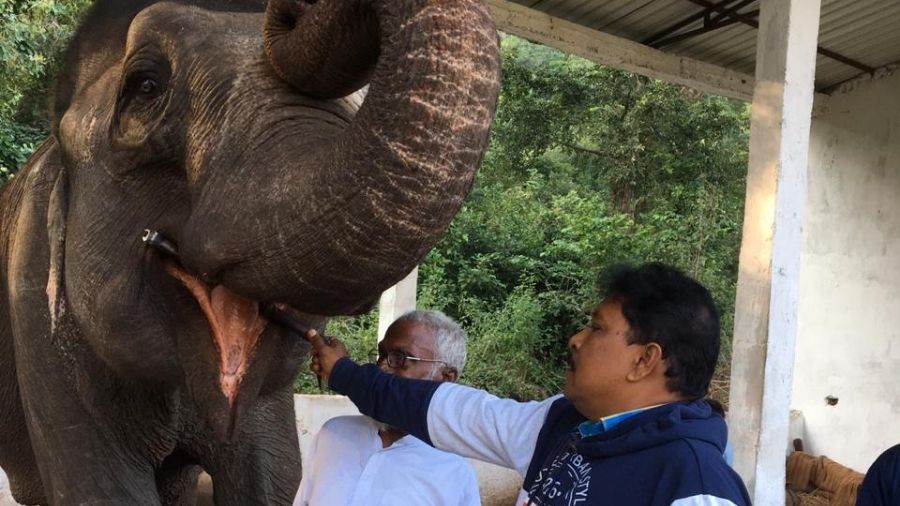 Juhi, the oldest elephant of Betla National Park, with her long time ranger Arjun Baraik on Tuesday.
Telegraph Picture
---
Daltonganj
|
Published 25.11.20, 06:31 PM
|
---
Juhi, the 70-year-old elephant at the Betla National Park, had a surprise visitor on Tuesday -- her old caregiver Arjun Baraik. The oldest captive of the national park was undoubtedly delighted as she hugged Baraik passionately with her trunk upon his arrival.
Baraik, who was a ranger of Betla's Palamau Tiger Reserve till 2004 before leaving for Dalma sanctuary, had a sweet rapport with Juhi until he was there.
As soon as the 57-year-old called the elephant by her name on Tuesday, she ran to him "like his daughter".
While talking to The Telegraph Online, Baraik dubbed elephants as the most beautiful and intelligent animal, and said that Juhi had wit par excellence.
Boasting of the elephant, he said she had an outstanding memory as she recognised him by just his voice. He added that Juhi befriended his wife and daughter as well.
Juhi, although given fruits to eat, never left her eyes off him, Baraik said, as she knew he would be gone soon.
According to him, while many people think wild animals are raw and untamed, they will return the love with vigour and strength if they receive the same.
Talking about his sorrows, the former ranger, who became one at 23 and was the youngest at the time, said he would have been a divisional forest officer by now but that was being denied to him. It is remembering the wild creatures that still make his life better when he feels sad, Baraik said.
Baraik, an assistant conservator of forest at Khunti, Jharkhand, recounted his old days at Betla, saying that there was a time when the forest had just three female elephants. All three were named after Bollywood heroines such as  Rajni Juhi and Anarkali, he reminisced.
He said Rajni and Anarkali died of natural causes and Juhi is the last surviving female elephant of the trio.