BCCL notice to vacate market irks traders of Kendua-Karkend area
'Company asks us to evict due to subsidence threat, but does not recognise hazards of mining'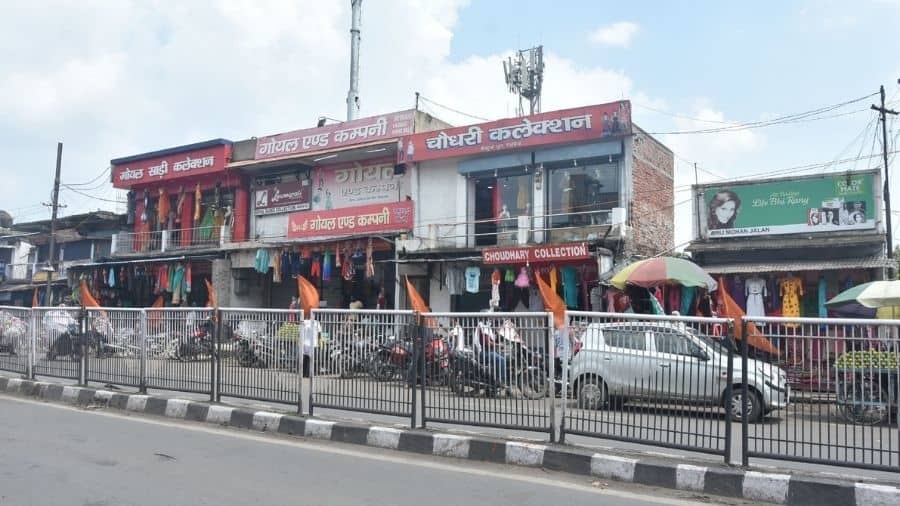 Kendua Bazaar in Dhanbad.
Picture by Gautam Dey
---
Dhanbad
|
Published 29.06.21, 06:45 PM
|
---
A public notice served by Goapalichak colliery management of BCCL to residents of localities of the underground fire-affected Kendua- Karkend area has irked over 125 wholesale garment traders there.
The notice, directing to vacate the area in view of subsidence threat, was served to residents of Farm Dhura, Bauri Basti, Gopalichak Basti and especially the Karkend Bazar.
Talking to The Telegraph Online on Tuesday, Umesh Heliwal, former president of Dhanbad Dhanbad Jila Thok Vastra Vikreta Sangh said, "The wholesale cloth market operating  from Karkend since over 150 years is the destination retail garment sellers of Dhanbad as well as adjoining districts like Giridih, Bokaro, Hazaribagh, Ramgarh etc."
"Such an abrupt action from the BCCL authorities at a time when the trading community is in deep crisis due to reduced sales reminds of the colonial mindset," said Heliwal.
"More than 125 wholesale garment traders who cater to the needs of retailers of 200 km radius generate huge revenue to the government in the form of GST and any shifting of the market will adversely affect the revenue itself," said Heliwal, who is also the secretary of Jharkhand Industries and Trade Association.
"While we are being given abrupt notices to vacate the area, the reckless mining being carried out by the company has on the other hand adversely affected the health of common people due to the pollution caused due to open cast mining," further said Heliwal.
"If areas like Karkend Bazar which are just situated on National Highway 32 are evacuated then what about other places. We don't understand the dichotomy as on one hand the highway was broadened last year while the market situated in its vicinity has been declared unsafe,"  said another wholesale garment trader of Karkend Bazar requesting anonymity.
Notably,  a similar public notice was issued by BCCL on August 12, 2020, during which the residents of Karkend Bazar, Pasidhaura, Bauri Tola, etc. were asked to vacate the area  due to increased subsidence threat during the monsoon.
Contacted, General Manager (Safety) of BCCL, AK Singh said that the notices are often issued by different operational area management of the company as part of routine exercise to apprise the resident of risks of living in such areas but these are specific.
"All areas of BCCL are also prepared for carrying out any temporary rehabilitation in view of any eventuality," said Singh.