Baton charge on protesting job-seekers in Ranchi
Birsa Chowk turns battleground as hundreds prevented from holding sit-in at CM House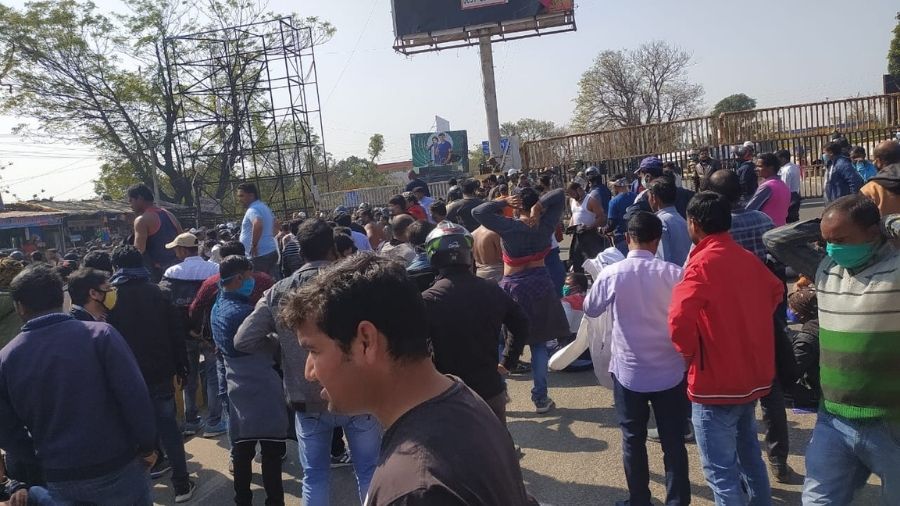 Protestors at Birsa Chowk after a police lathicharge in Ranchi on Friday.
Telegraph Picture
---
Ranchi
|
Published 22.01.21, 07:05 PM
|
---
Birsa Chowk was the centre of a clash between protestors and police on Friday noon when hundreds of job-seekers, who were on way to chief minister Hemant Soren's residence 12km away to demand extension of services, had to be dispersed with batons
At least half a dozen protesters sustained injuries, serious enough for them to be treated at Sadar Hospital. But others managed to continue their protest at HEC Gate, demanding that unless police allowed them to meet the chief minister they would not budge.
City SP Saturabh did not take journalists calls for comments. But a DSP ranked officer at Birsa Chowk dubbed the police action mild. "It was a mild lathicharge. We didn't have orders to allow anyone to lay siege on CM House. We pleaded them to leave… but many turned rogue. Hence, a lathicharge was necessary," he said. As per a communiqué issued from chief minister's office in the evening, a high-level meeting under the aegis of chief secretary Sukhdev Singh was held on January 6 to decide on modalities for service contractors under the 15th finance commission.
"The chief minister has given his nod to the decision taken at the meeting and rural development department will soon issue detailed guidelines for hiring," read the communiqué.
Since January 1, around 1,600 people employed on contract in various capacities, like a computer operator, junior engineer, etc, at panchayat bodies under the 14th finance commission were on an indefinite stir at Birsa Chowk to protest against their termination.
As per plans announced earlier, they began marching towards CM House around 12noon, but police blocked their way by closing the HEC Gate. As many tried to scale the gates, police had to resort to lathicharge, leading to a commotion. Several protesters were injured.
Protester Piyush Pandey said at least six persons, including a pregnant woman, sustained severe injuries. "Are we Naxalites or terrorists? We are Jharkhandis seeking jobs. This was the government which promised us during Assembly polls that our contracts would not be terminated and that our services will be extended as per the 15th finance commission too.
"Suddenly in December (2019) the government changed track, first by claiming that it had to seek permission from the Centre. Now when the Union government has agreed that the state can continue engaging us on contract basis if required, the state government is talking of fresh recruitments," he said.
Pandey said all 1,600 protesters were working on a meagre salary of Rs 10,000 (computer operator) and Rs 17,000 (junior engineer) per month to help the state government implement its welfare plans at the grassroots level. "Now, the government has abandoned us," he said.
Accusing the state government of apathy, another protestor said, "The state government only talks of giving opportunities and creating jobs to local youths. But here, 1,600 local residents are staring at uncertainty due to the government's abrupt decision to hire afresh."