Basement fire at Jamshedpur apartment
Firemen arrive quickly, no one hurt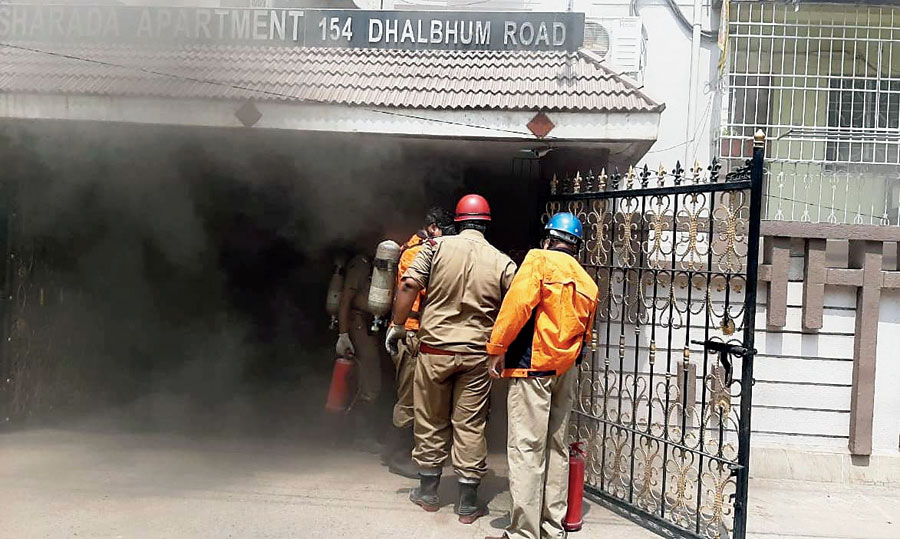 ---
---
A fire broke out in the basement of a six-storey apartment at Aambagan under Sakchi police station area on Saturday morning.
The fire, which began at the electrical cable joint box due to short circuit, was doused by timely arrival of a fire tender from Tata Steel fire service.
The incident occurred around 11am when the residents noticed plumes of black smoke rising from the basement.
The residents, including women and children, rushed out of their flats in panic. One of the residents informed Jharkhand Fire Service in Golmuri and also Tata Steel fire service. The latter reached the spot within 10 minutes.
As the basement was filled with smoke, the fire-fighters had to enter the basement with oxygen masks. They doused the flame within 15 minutes. The anxious residents returned to their flats after the smoke cleared.
Meanwhile, separate teams of police officials from Sakchi police station as well as Tata Steel Utilities and Infrastructure Services Ltd (TSUIS) reached the spot and inquired about the reason behind the short circuit and the fire.
'No one was injured in the fire which was controlled by the timely arrival of the Tata Steel fire service personnel," said Sakchi police station officer in-charge (OC) Kunal Kumar. "Had it been a bit later, then the fire might have spread to the upstairs."
A resident of the Sarda Apartment and Sitaramdera OC Anjani Kumar Singh said the smoke triggered panic.
'As soon as we could know that a fire broke out in the basement of the building, all in my house came out to a safe place outside,' said Singh.
According to him, the fire gutted electrical equipment and cables worth over Rs 3 lakh.
Another fire broke out at in a garbage heap along the Sakchi-Burmamines road under Burmamines police station area around 10am on Saturday.
Though there is no residential area close to the fire spot, many trucks and trailers parked on the road were exposed to the fire. Golmuri fire station officer Rabindra Thakur, whose team doused the flame, said a truck driver had informed them about the fire.