Back on the road for two months, auto drivers still face penury
Dhanbad operators jostle with each other for passengers as permit charges weigh heavy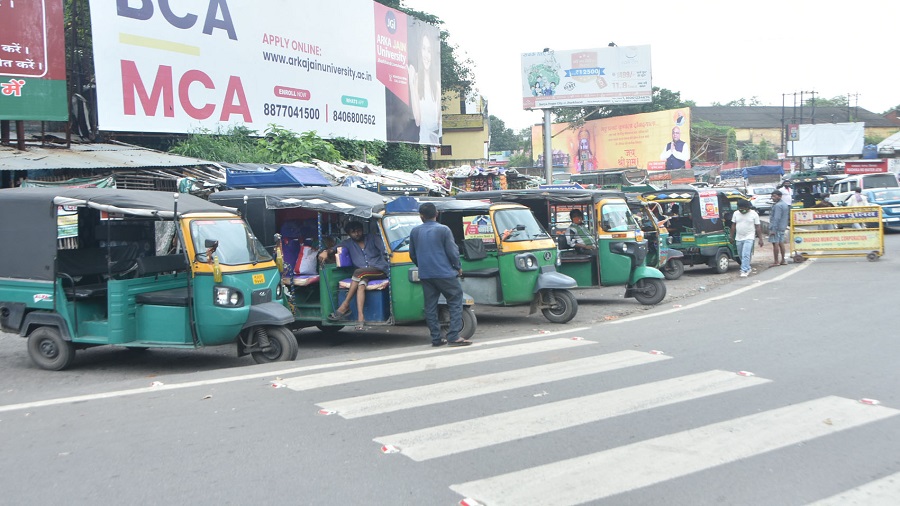 ---
|
Dhanbad
|
Published 10.08.20, 05:02 PM
---
Two months after the district administration granted permission to operate auto rickshaws, no significant improvement has taken place in the financial condition of auto rickshaw operators, who still face extreme penury.
Passengers are unwilling to dish out higher fares fixed for the lockdown period, and operators are facing a crisis, as they have to pay hefty fines for permit charges and other fees.
Owing to the lack of proper monitoring, many auto drivers are also ferrying more than the allowed limit of two passengers, thus violating social distancing norms.
Talking to The Telegraph Online Sunil Singh an auto driver of Dhanbad who is also president of the auto driver association union Jharkhand Pariwahan Mazdoor Union, said that nothing much has changed for them since the time that auto rickshaws lay stranded during the lockdown.
"You can see auto rickshaw drivers jostling with each other when there are only a few passengers," he said.
"With the rise of Covid, very few people are taking the risk to travel in public vehicles. Furthermore, the high charges of fares fixed for the lockdown are deterring passengers. We are also facing losses
as we have to wander from one stoppage to another, spending fuel in search for passengers and then returning empty handed," said an auto rickshaw driver, Shravan Kumar.
"Though the transport department has waived off the fitness charges, other charges like permit charges are weighing too heavy on us at a time when we are facing extreme decline in our income" said Sunil Singh.
The fine on permit charges renewal is a vexing issue since operators could not renew their permit during the three-month lockdown and are now being compelled to pay fines for non-renewal.
"Public transport facilities like buses are still closed. How can we be expected to visit the Regional Transport Authority office at Hazaribagh," said Singh.
District transport officer, Om Prakash Yadav said, "Though the state has relaxed fitness charges for the lockdown period to an extent, there is no provision for the relaxation in permit charges from same, so we can't allow any relaxation at the district level also".