At inauguration of Deoghar airport road, blame game
Marandi claims state government did not help with land, Ansari accuses BJP MP of favouring Bhagalpur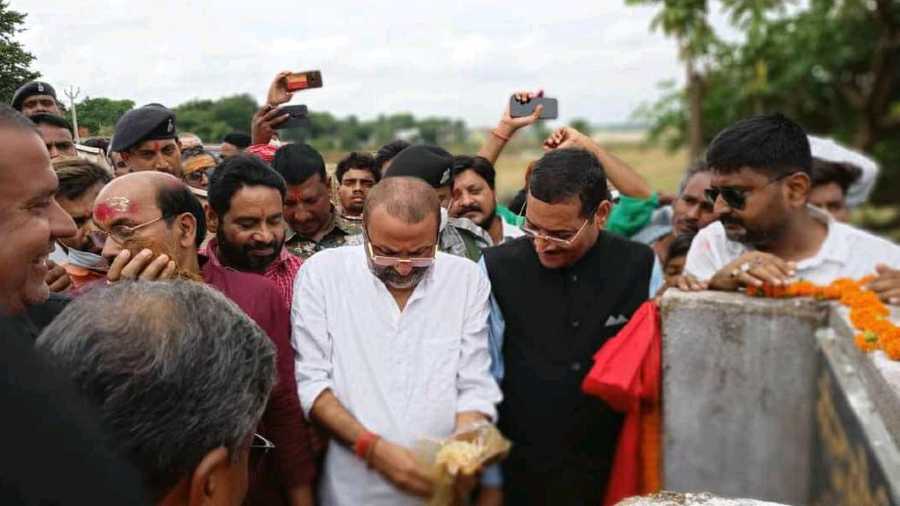 Godda MP Niishikant Dubey during the inauguration of approach road of Deoghar Airport today.
Telegraph picture
---
Published 28.09.21, 06:37 PM
|
---
The inauguration of several infrastructure upgrades for the Santhal Pargana region by way of new trains and an approach road for the newly developed Deoghar airport on Tuesday led to political mudslinging between the BJP and the Congress.
While inaugurating the Narendra Modi Airport Approach Road, BJP leader and former chief minister Babulal Marandi called it a gift from the party to the residents of Santhal Pargana. He claimed the road had come up without any support from the state government.
"The state government is not at all concerned about development of Jharkhand. Those who are at the helm of affairs believe in the development of their own family," he said in the presence state BJP chief Deepak Prakash, Godda MP Nishikant Dubey and Deoghar MLA Narayan Das.
"The Deoghar Airport, despite being ready since long, is awaiting launch of flight services due to lack of an approach road. It is because of the utter apathy of the state government that it could not acquire land for the road. At the behest of BJP workers led by Dubey, local residents donated funds for completing the road," said Marandi.
He also blamed the Congress, saying that despite ruling the country for more than 60 years it didn't pay any heed to developing roads   due to which majority of the villages remained unconnected.
He gave credit to the Centre and local MP Dubey for introducing new trains that would now ensure Santhal Pargana remained connected to the rest of the country. These new trains would connect the region to Pune, Ahmedabad, Goa and Ranchi.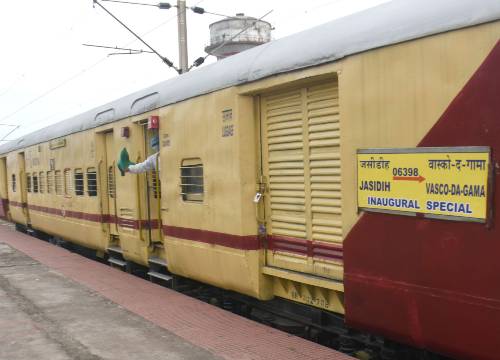 Later, Marandi and Prakash boarded the Jasidih Vasco Da-Gama train which was flagged off on Tuesday from Deoghar at 1.15 pm. The train was scheduled to reach Ranchi at 8.55 pm.
On Monday, Jamtara Congress MLA Irfan Ansari blamed the Godda MP for apparently insisting that the new Godda-Ranchi train go via Bhagalpur which was a detour. "As Dubey belongs to Bhagalpur, he is favouring Bhagalpur by ignoring Godda residents. We won't allow the train to be flagged off on its inaugural journey on Wednesday," he said.