Asur Radio gets invitation from AMARC to share experience
Asur language figures in the Unesco list of 'definitely endangered languages' and is among 119 Indian languages listed as belonging to 'critically endangered' categories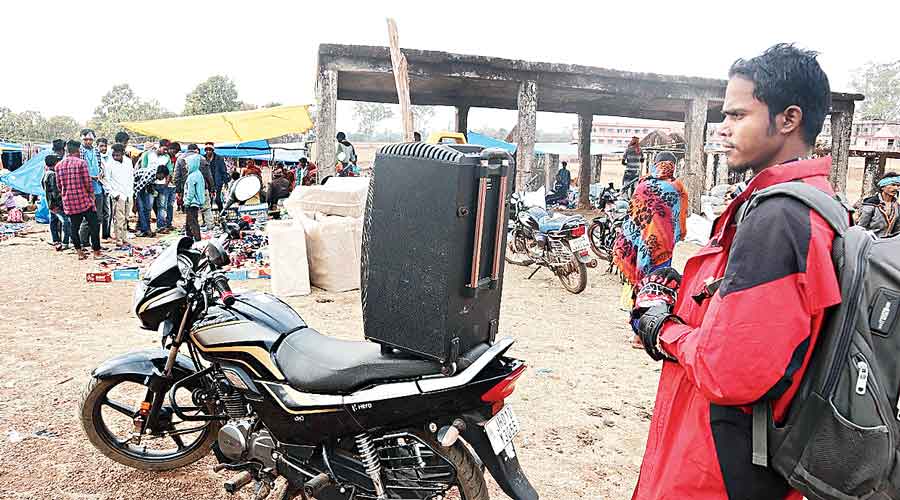 An Asur Radio volunteer 'broadcasts' their medley of music, messages and local news at a haat in Netarhat, Jharkhand.
Telegraph photo
---
Ranchi
|
Published 01.10.21, 02:12 AM
|
---
Asur Radio, a unique community radio initiative devoted to preservation of the endangered language of the Asur tribe and their culture in the Netarhat area of Jharkhand, has received an invitation from the World Association of Community Radio Broadcasters (AMARC) to share its experience.
"Suman Basnet, regional director of AMARC Asia-Pacific, spoke to us from Nepal to invite Asur Radio for sharing its experience and efforts for saving the culture and language of the Asurs," said Vandana Tete, coordinator of the initiative.
She said the invite was for a nine-day webinar, which began on Thursday, where representatives from India, Bangladesh, Nepal and Bhutan are participating.
"It was just an introductory session today while the working sessions will begin tomorrow (Friday)," she further said.
She said the forum would provide them an opportunity to throw light on the Asurs, a particularly vulnerable primitive tribe residing in Gumla and Latehar districts of Jharkhand whose language and culture is endangered.
Asurs are known as ancient "metallurgists" who had the indigenous skill of iron-making centuries ago and a few of them can still do it.
"But not many of them  (Asur community) speak their own language," Tete said, adding that this was the reason that she and others at the Jharkhandi Bhasha Sahitya Sanskriti Akhara, a cultural outfit, got involved to help protect the Asur language.
Asur language also figures in the Unesco list of "definitely endangered languages" and is among 119 Indian languages listed as belonging to "vulnerable", "definitely endangered", "severely endangered" and "critically endangered" categories.
Attracting people towards their own language was the best way to save it, Tete said and hence the outfit started popularising it through Asur Radio in January last year.
Radio Asur is, however, not a conventional radio channel that broadcasts content. It is instead a pre-recorded infotainment audio capsule of about half an hour duration that would be played at weekly haats (rural markets) in areas which have significant Asur population.
"We couldn't afford (conventional) radio broadcasting that involves a huge cost and also legal clearances," Sushma Asur, one of the volunteers, said, adding that this was why they started reaching out to people by playing a pre-recorded infotainment capsule comprising a medley of music, messages and local news.
The Akhara helped them get financial assistance for buying voice recorders, microphones and sound box.
Volunteers like Sushma and Vivekanand Asur travel to the weekly haats and set up their instruments before playing the signature tune "Dahan dahan turrrrrr......", a call in Asur language for singing and dancing.
This draws the people who usually hang on for the entire duration, they said, adding that things were going on well till the lockdown was clamped across the country last year.
They prepared such capsules during the lull period and planned to play them again in village haats after monsoon, they said, sounding hopeful that their efforts would help save a language from extinction.