Arrival of coronavirus brings fear to Jamshedpur
The streets of the city bore a completely deserted look on Tuesday — for the first time since the lockdown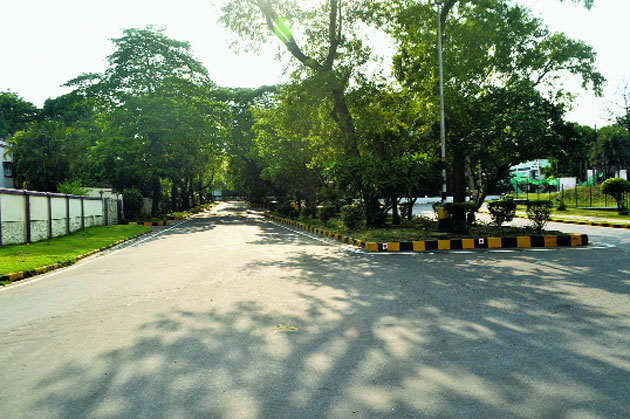 A deserted street at Northern Town in Bistupur, Jamshedpur, on Tuesday.
Picture by Animesh Sengupta
---
Jamshedpur
|
Published 13.05.20, 10:47 AM
|
---
Engineering student Chandra Shekhar has decided to be extra vigilant, now that Tata Main Hospital has two Covid-19 patients.
"I wear mask regularly, sanitise my hands and take other precautions, but from today onward I will also wear a pair of clinical gloves now that coronavirus patients are finally in our district and have been admitted to Tata Main Hospital," said Shekhar, 21, who lives in Bistupur.
He said he came to know through social media that two young people, including a girl, have tested positive on return to their home in Chakulia in Ghatshila subdivision.
"Okay, the coronavirus can strike anyone, but why are patients from as far away as Chakulia being treated at TMH, which is located in the heart of a densely populated city?" Shekhar asked.
Shekhar is not the only one spooked at the dreaded virus arriving in the steel city.
Another resident, Subhash Chaudhury, a shop-owner in his thirties, seemed equally apprehensive.
"There seems to be no point in rushing the two persons infected with coronavirus 90km from Chakulia to TMH for treatment. The duo could also be put up at a hospital in Ghatshila. Moreover, TMH is the only viable hospital in the city and people tend to go there as a first preference in any major ailment or medical emergency,' said Chaudhury, a resident of Bhatia Bustee in Kadma.
Many others were so scared that they have decided to confine themselves at home and eschew the evening stroll and sending children for tuition within the neighbourhood, something they had been doing even during the lockdown.
"We are reading about how doctors, nurses and other medical staff are getting infected with the coronavirus while treating such patients. The doctors at TMH may also get infected and the disease may spread in our steel city," said Om Prakash, an advocate in his fifties, who lives in Adityapur. "People should follow the necessary precaution if they go to see their near and dear ones admitted at the hospital and maintain social distance while visiting the hospital."
The streets of the city bore a completely deserted look on Tuesday — for the first time since the lockdown was imposed.
East Singhbhum district civil surgeon Dr Rameshwar Prasad said there was no reason for steel city residents to be apprehensive.
"The two patients from Chakulia are also residents of this district and are admitted at TMH, which is a designated Covid-19 hospital. People should maintain a minimum 3m distance from each other and follow other precautions while visiting the hospital. Then there would be no risk of anyone getting infected," Dr Prasad told The Telegraph.