Members of the Catholic Church, including priests, nuns and citizens, formed a 5km-long human chain in Ranchi on Friday, holding posters denouncing the arrest of Stan Swamy, a 83-year-old Jesuit priest, for alleged links with those involved with the 2017 Bhima Koregaon violence.
Many of the over 1,000 protestors, who had lined up along Albert Ekka Chowk, Kantatoli Chowk, Sarjana Chowk and Dangratoli from 4.30pm, also lit candles, terming it a symbol of hope against the attempts to silence intellectuals and rights activists.
Friday's congregation, part of ongoing protests by various groups, was led by Archbishop of Ranchi Felix Toppo and auxiliary bishop Theodore Mascarenhas, who stood outside the church at Purulia Road, holding banners and wearing masks in accordance with Covid-19 protocol.
Toppo's banner read: "We demand justice". Among the other slogans printed on posters were "Stop terrorizing activists", "Stan is a worker for Dalit and Adivasi rights and not a terrorist", "Everyone has human rights, stop branding them as terrorists" and "Release Stan Swamy—the voice of the oppressed".
"The way such an elderly person was arrested by NIA at night last week on false charges is beyond condemnation," said Mascarenhas. "We demand his release," he said.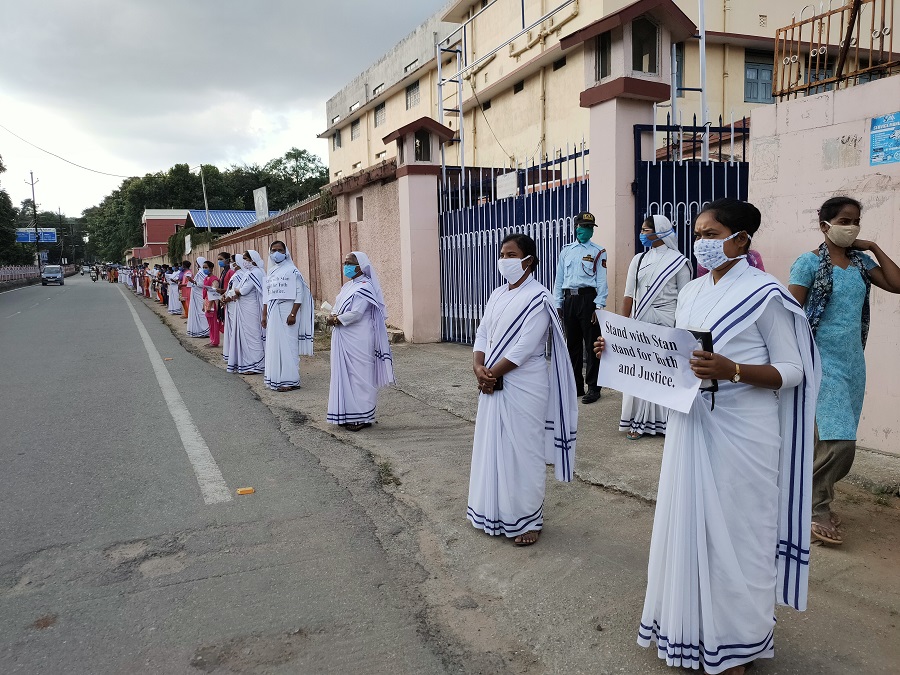 Nuns join the human chain at Purulia Road in Ranchi on Friday Manob Chowdhury
Tribal rights activist Dayamani Barla said, "Stan's body of work for the cause of tribals is well documented. The recent action against him is a strategic attempt to silence all such voices who stand for the cause of the marginalised."
Nadeem Akthar of Lalu Bolega, another social outfit, added, "There is a need for another uprising against the Union government for using central agencies for its anti-people and anti-poor agenda."
Later, special prayers were also held for Swamy at St Mary's Cathedral from 5.40pm onwards.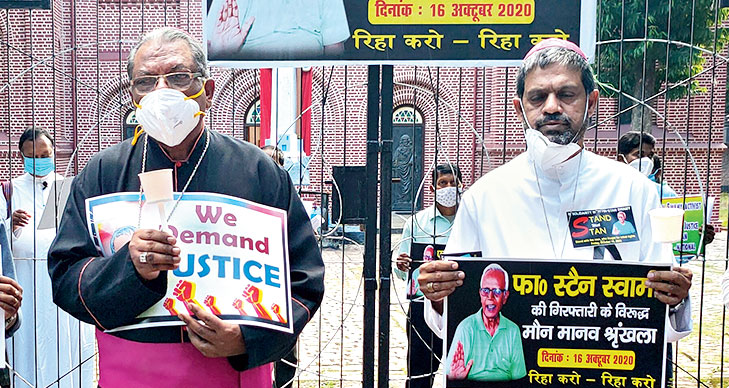 More than 5,000 people formed a 4km human chain in Ranchi on Friday to express solidarity with octogenarian Jesuit priest and tribal rights activist Father Stan Swamy, arrested and jailed in Mumbai for alleged Maoist links. Ranchi Archbishop Felix Toppo (left) and auxiliary Bishop of Ranchi Archdiocese Theodore Mascarenhas (right) were among those who joined the human chain. Manob Chowdhary
But the Opposition BJP accused the Church and its affiliates of questioning the Constitution and the judicial process. "The way missionaries and the Church are criticising a democratically elected government testifies that they don't have faith in the judicial process. They are trying to interfere in an independent probe conducted by NIA," said party spokesperson Pratul Shahdeo in a statement.
Swamy was picked up from his residence in Bagaicha in Namkum last Friday and was flown to Mumbai the next day. The central agency in its chargesheet in connection to the ongoing probe in the Bhima Koregaon case has charged him with harbouring links with CPI (Maoist) groups.