App-based cycles in Jharkhand by 2020
Public cycle sharing is poised to make its debut in Jamshedpur and Dhanbad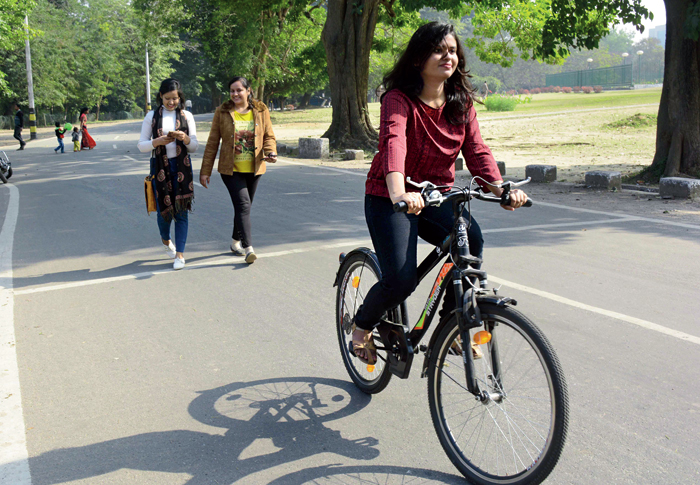 Fume-free ride: A cyclist in Jamshedpur's Jubilee Park area earlier this year
Picture by Bhola Prasad
---
Jamshedpur
|
Published 18.09.19, 07:17 PM
|
---
The app-based public cycle sharing is poised to make its debut in 2020 in two more urban centres of Jharkhand, namely, Jamshedpur and Dhanbad, after its relative success in the state capital.
State urban development authority (Suda) director Ameet Kumar said a directive had been issued to civic officials of Jamshedpur and Dhanbad earlier this month, asking them to prepare feasibility reports along with the Institute of Transportation and Development Policy (ITDP), an NGO working for urban mass transit, for the public bicycle sharing system.
"We have had success with the app-based bicycle sharing system in Ranchi. Now, we'd like to replicate the model in Jamshedpur and Dhanbad at the earliest. I have directed civic officials in Jamshedpur and Dhanbad to prepare the feasibility report so that we can start the tender process for the project under PPP mode," Kumar said.
Elaborating on the benefits of the app-based bicycle project currently underway in Ranchi, Kumar said: "It would be a significant step towards last mile connectivity and provide an alternative eco-friendly, pollution-free and cheap mode of transport for the urban populace. It will also help them keep fit."
The director has advised officials of Jamshedpur Notified Area Committee (JNAC) and Dhanbad Municipal Corporation (DMC) to take feedback from the Ranchi operating agency (Chartered Bike Private) so that technical snags are removed from the start.
Civic bodies of Jamshedpur and Dhanbad will identify docking stations for bicycles and also draw up routes while conducting a joint survey with the ITDP.
Tata Steel utility wing Jusco had started an app-based bicycle service in Jubilee Park area earlier this year. There is no such facility in Dhanbad.
Ahmedabad-based Chartered Bike is executing the app-based bicycle sharing project as a part of the Ranchi Smart City project. The first phase was launched in March with 600 German-made cycles from 60 docking stations along Kanke Road-Chandni Chowk-Suchana Bhavan-Main Road and Kokar-Lalpur-Circular Road-Kutchery Chowk-Morabadi.
The second phase is likely to kick off later this year with 600 cycles between Karamtoli Chowk and Kokar via Booty More, Ratu Road to Project Bhavan via Shahjanand Chowk, Argora Chowk and Birsa Chowk, Birsa Chowk and Main Road and Shahjanand Chowk and Main Road via Kadru.
On an average, 800 people use the app-based system in Ranchi. The Chartered Bike app is available on Android and iOS platforms. Subscription fees are Rs 35.40 a day, Rs 236 a month and Rs 1,180 a year. There are nominal user charges (Rs 5), but first 30 minutes are free. People who do not have access to smartphones can buy tickets to use cycles.