Animal census to begin at Dalma Wildlife Sanctuary
Foresters expecting number of elephants, barking deer, boars and rabbits to go up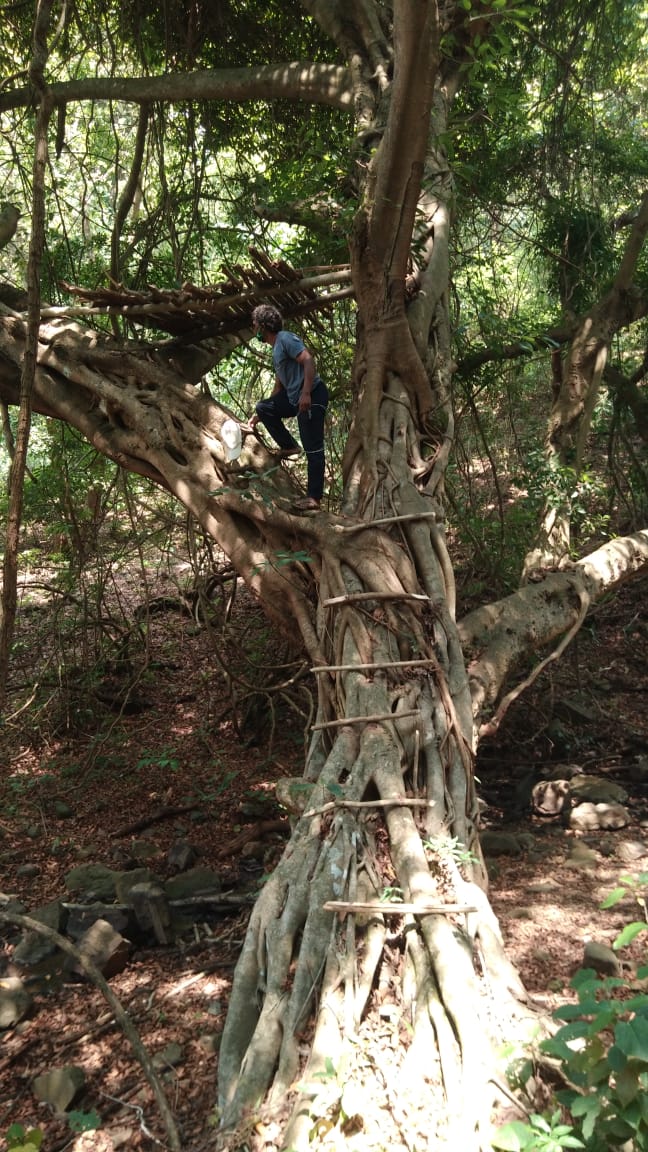 A villager fixes up a machan at the Dalma wildlife sanctuary on Tuesday.
Animesh Sengupta
---
Jamshedpur
|
Published 09.06.20, 12:25 PM
|
---
 The day-long animal count at Dalma Wildlife Sanctuary will begin on Wednesday and will be carried out by around 200 foresters and village youths.
The exercise, which was scheduled for last month, had to be postponed in view of the coronavirus pandemic. It is usually done a week after the annual Bishu Shikar, a hunting festival, which was held on May 4.
The animal census will be based on field surveys and actual sightings near watering holes.
Foresters and trackers (village youths recruited as daily wagers to keep a tab on animals) have already ventured into the 192 sq km elephant abode, 30 km from Jamshedpur, to set up machans near the watering holes. The census will commence at 5.30am and end at 6.30pm.
Over 50 new machans have been set up and those on duty will be equipped with cameras, mobile phones, GPS and binoculars. The men on duty will also be provided with lunch packets and water bottles.
Dalma divisional forest officer (DFO) C.M.P. Sinha said the machans have been set up near the watering holes where there are no hideouts or watchtowers.
"Watchtowers and hideouts will also be used for the census. Some of them are situated near the watering holes," he added. Foresters seem confident of an increase in the number of elephants as eight calves have been sighted at the sanctuary. Three calves were spotted at Jamdih and Jhunjka jungles near Patamda in East Singhbhum district in December last year. The calves, all less than a year old, were part of two separate herds. Five more jumbo babies were later sighted in the same forests.
The elephant count stood at 130 during the last animal census.
The DFO said elephants are moving animals and it is difficult to locate herds in the sprawling sanctuary. "Some jumbos may have left the sanctuary and moved towards farmlands located outside. But we are hoping for the best results," Sinha added.
Sinha, however, said they were optimistic about an increase in the number of barking deer, boar and rabbit. Bird population, especially bulbul, was also expected to go up.
According to him, foresters and trackers will stay overnight at the sanctuary and report for duty the next morning. "We intend to complete the exercise in a hassle-free manner. We are fully geared up for the census," Sinha added.
He said they would pay attention when it comes to repetition of sightings. "We will collate the photographs (of the sightings) after the census so that the sightings are not repeated," Sinha said.