An artist's tribute to Kargil heroes
Ajay Shankar makes sand sculpture on damodar banks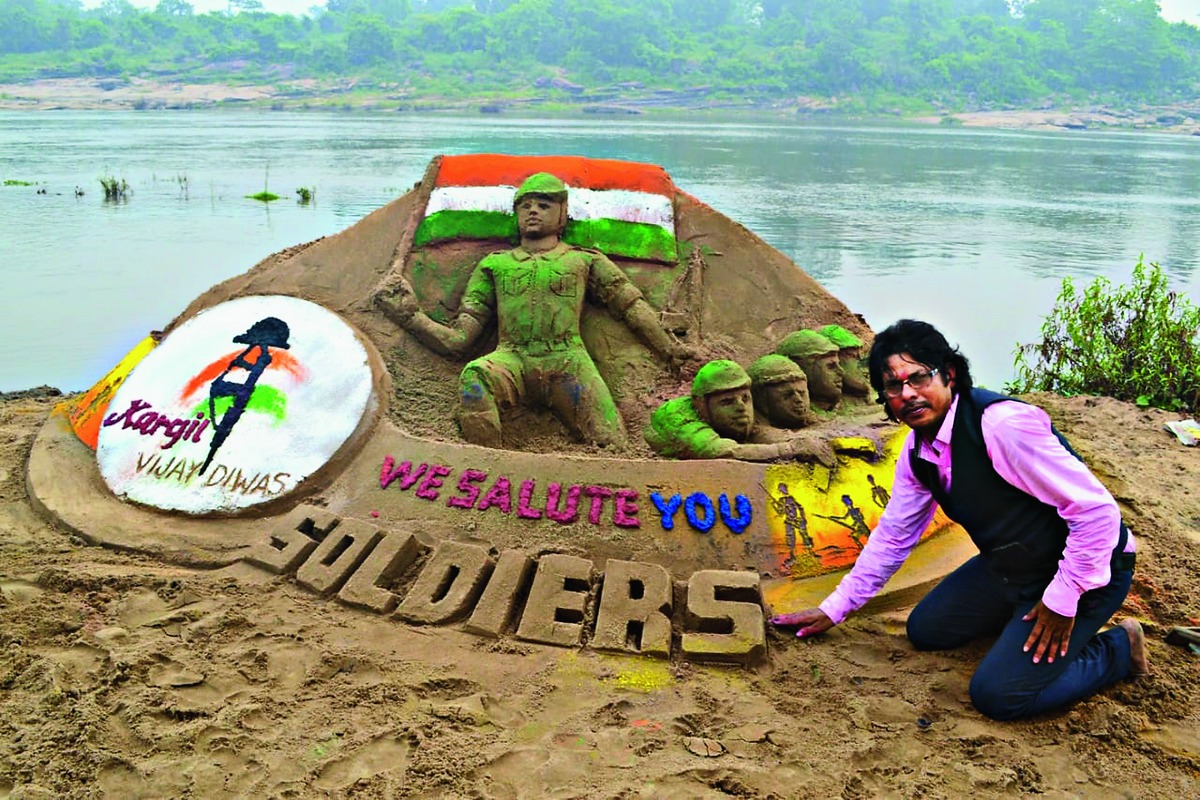 ---
Ranchi
|
Published 27.07.18, 12:00 AM
|
---
Ranchi: An immaculate sand sculpture depicting the Kargil heroes adorned the banks of river Damodar in Bokaro district, 140km from the capital, on Thursday.
Thanks to Bokaro-based sand artist Ajay Shankar Mahto who paid homage to the brave soldiers on the occasion of Kargil Vijay Diwas.
"I create such sculptures on various occasions and today my art was in the honour of the Kargil soldiers," said Mahato over phone.
Kargil Vijay Diwas, named after the success of Operation Vijay, is celebrated on July 26 every year in the honour of Kargil War heroes who got India victory in the 1999 war against Pakistan.
The 5ft sculpture on Kapat Ghat depicts a high altitude post where four soldiers are seen peeping from their bunker while another is coming out with a Tricolour in hand. There are pictures of soldiers at the base and a message saying 'We salute you soldiers'.
The 41-year old sand artist from Shilfor-Suyadih village of Bokaro has a diploma in fine arts from Prachin Kala Kendra, Chandigarh. He has been creating innovative sand sculptures for the last seveen years.
"I do such sculptures regularly. The recent ones were made on occasions like Mother's Day, Shivratri and International Yoga Day," said Mahto, who currently teaches fine arts at a private institute near Mahuda and also works as a freelance painter.
When asked about whether he has heard of the famous sand artist Sudarshan Pattnaik from Puri, Odisha, Mahto said, "Of course I have heard of him and I admire his art as well. But I never met him in person and have seen his work only in newspapers and social media."
Mahto further said the sand on the sea shores in Puri was of better quality as compared to the ones on the banks of Damodar river. "The quality of sand here is generally coarse and I often have to look for space where the river bends as the sand there is comparatively of better quality to work with," he added.
Unlike Pattnaik, Mahto is not so widely known for his work. "I am happy with whatever appreciation I have received so far. Large number of people from Bokaro, Dhanbad and adjoining towns and villages do visit in large numbers to see my work," he added.