Amnesia pills for Jharia MLA accused in 2017 murder case
The MLA underwent a series of tests to confirm the degree of memory loss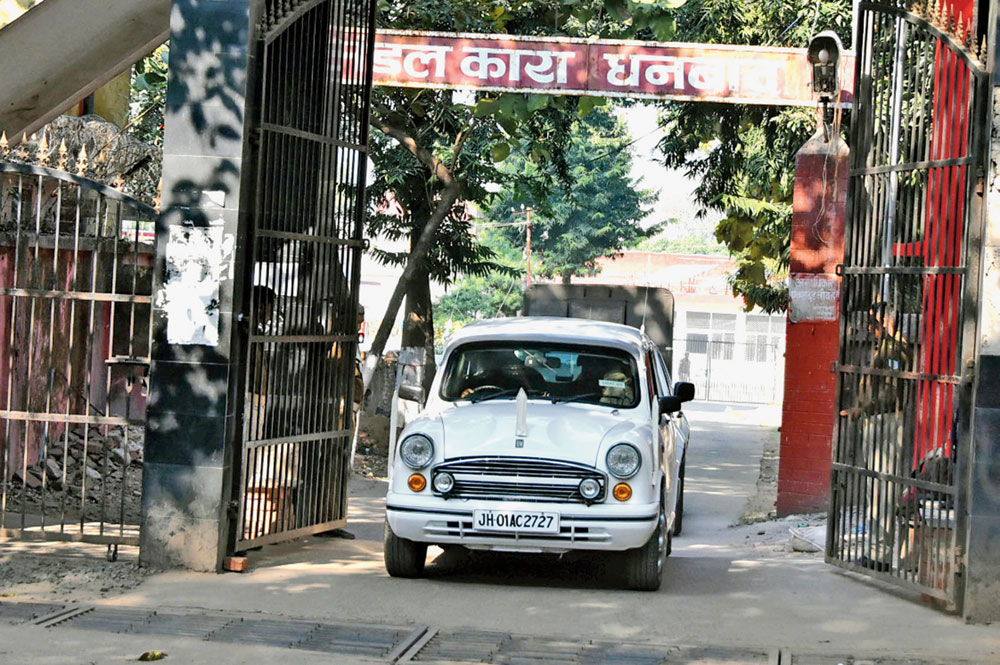 Jharia MLA Sanjeev Singh being taken to Rinpas in Ranchi from Dhanbad jail in a bulletproof car on Monday
Picture by Gautam Dey
---
Ranchi/Dhanbad
|
Published 07.01.19, 06:33 PM
|
--- Jharia MLA Sanjeev Singh, the prime accused in the 2017 murder of his cousin and Congress leader Niraj Singh, was examined for amnesia (loss of memory) at Ranchi Institute of Neuropsychiatry and Allied Sciences (Rinpas) on Monday.
The court of a Dhanbad additional district judge had on January 5 directed the BJP MLA's treatment at Rinpas after divisional jail doctors found him medically unfit.
Sanjeev, behind bars since his arrest on April 11, 2017, was brought 150km to the mental health institute in Kanke, near the capital, around 1.15pm amid tight security and in a bulletproof car. He was examined by a panel of three doctors till 4.45pm before being escorted back to jail.
A Rinpas insider said the MLA underwent a series of tests to ascertain the degree of memory loss, if any.
"Sanjeev Singh was brought here following complaints of amnesia, besides insomnia, restlessness and loss of appetite. Three doctors examined him and he underwent tests. He didn't require admission and was only prescribed medication," the source said.
Rinpas superintendent P.K. Sinha confirmed that the MLA was examined by doctors at the institute, but refused to share details. "Patient information is confidential. We are under oath not to divulge anything," he said.
Sanjeev's lawyer Mohammed Javed said they were glad the court had heard their petition to send the MLA "to a higher centre" for medical treatment. "We had submitted a petition on January 3 and the court on January 5 ordered his transfer to Rinpas. He was examined at Rinpas and is expected back in the coal town by late evening," Javed said.
Former Dhanbad deputy mayor Niraj Singh, along with his four aides, was shot dead in Saraidhela on March 21, 2017.
Arrested on April 11, 2017, the MLA was shifted to Birsa Munda Central Jail in Ranchi a week later on the order of then IG (prisons) Suman Gupta for security reasons. He was brought back to Dhanbad divisional jail on February 28, 2018, following a high court order.
Dhanbad police had submitted charge sheets against 11 accused last year and on January 4, framed charges against six including Sanjeev.