Almost 65,000 residents get vaccinated in Jharkhand
60,000 Covaxin doses distributed among districts, Ranchi gets 5,000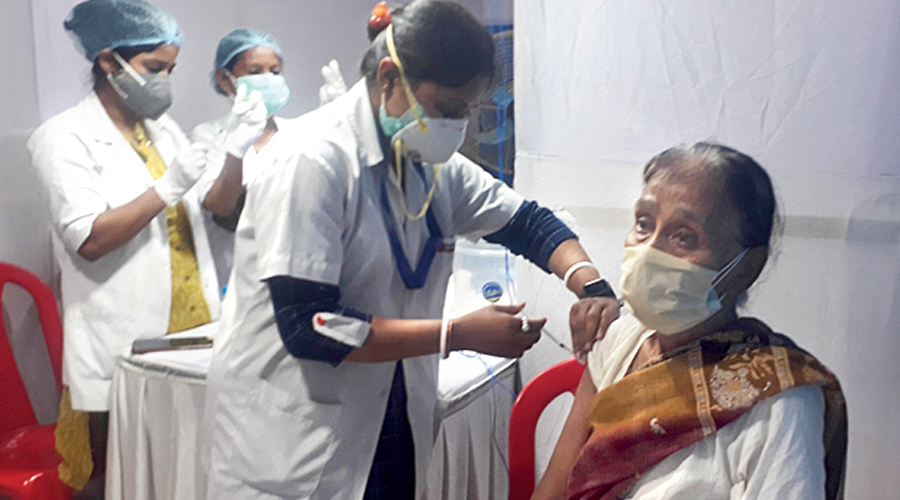 ---
Ranchi
|
Published 03.08.21, 12:08 PM
|
---
Jharkhand on Monday administered the first dose of vaccine against Covid-19 to at least 43,888 residents, while the second dose was administered to 21,652 beneficiaries, provisional data released by the National Health Mission (NHM) highlighted. 
At least 45,000 residents who got the jabs were below 45 years. The state, as per data released by the health department on Monday evening, has received over 1 crore doses of vaccines from the Centre and utilized 97,22,066 of them. The state had about 4.4 lakh doses of vaccines in stock to continue the immunisation drive until fresh supplies arrive from the Centre.
Jharkhand also distributed at least 60,000 Covaxin doses among the 24 districts on Monday. As per vaccine allotment figures of the health department, Ranchi received the highest share of 5,000 vaccines, while 4,000 doses were sent to East Singhbhum as well as Dumka. Palamua received 3,900 doses of Covaxin, while 3,200 doses were sent to Dhanbad.
Covid cases continued to drop in Jharkhand on Monday. As per a bulletin released by the NHM, the state on Monday reported 23 fresh cases of infection against 38 Covid recoveries, which brought the active caseload down to 239.
While none of the 24 districts reported a double-digit-spike, Bokaro, Lohardaga and Deoghar reported four cases each – the highest among the districts. At least five Covid recoveries against three cases brought the active caseload in Ranchi down to 46, while the active caseload in East Singhbhum dropped further down to 12 as the district reported zero cases against four recoveries, NHM data highlighted.
At least 16 Jharkhand districts did not report fresh cases of SARS-CoV-2 infection on Sunday. No casualties caused by the viral infection were reported in the state on Monday. So far, the deadly virus has claimed at least 5,129 lives in the state.
Jharkhand on Monday tested swab samples of 41,744 residents and 0.05 per cent of them were found infected by coronavirus. Of the 3.47 lakh people infected by the virus in the state, at least 98.45 per cent patients have recovered, while 1.47 per cent of the patients could not survive.
The state did not report fresh cases of Covid-induced mucormycosis on the day, while the black fungus toll remained 31. So far, at least 104 confirmed and 58 suspected cases of the fungal infection have surfaced in Jharkhand. At least 108 patients have been discharged from hospitals after being treated for either suspected or confirmed mucormycosis.