Agnipath stir: Protesters block railway tracks, services hit
Rail blockade disrupted train movement between 8.15am and 9.30am before the youths were driven away by RPF and city police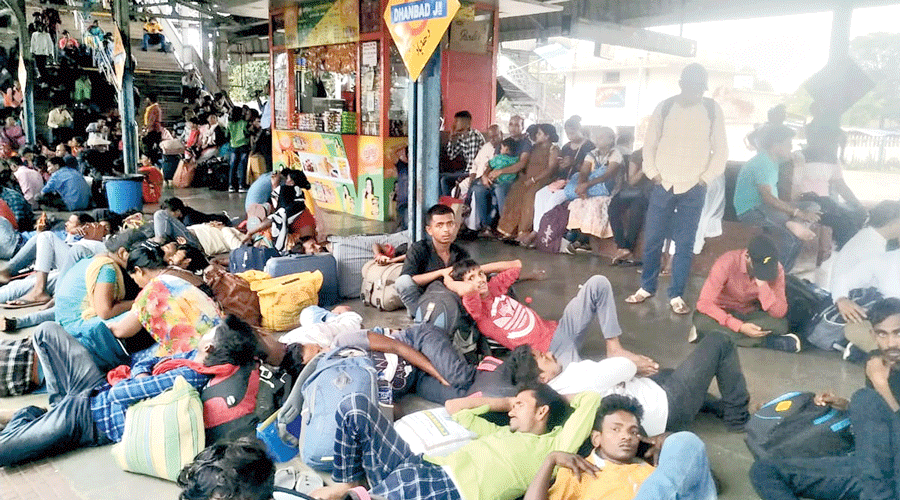 Job seekers protest in Dhanbad railway station on Friday.
Shabbir Hussain
---
Jamshedpur
|
Published 18.06.22, 12:59 AM
|
---
Protest against Agnipath recruitment scheme in armed forces spread from Jharkhand capital Ranchi to almost all major cities of the state, disrupting train services and police forced to resort to mild lathicharge at two places to disperse agitators.
Though there were no protests at Ranchi on Friday, which witnessed agitation on Thursday, there were protests at Bokaro, Dhanbad, Jamshedpur, Palamau and Deoghar by army job aspirants who carried the Tricolour along with placards against the central government.
Nearly 200 youths blocked the NH-75 at Redma Chowk in Medininagar in Palamau on Friday morning. When the police persuaded and exerted mild force to drive them away from the NH-75, the youths converged at the Daltonganj railway station raising slogans against the Centre for playing with the future of the youths.
The rail blockade disrupted train movement between 8.15am and 9.30am before being driven away by the RPF and city police.
Over 300 youths squatted on the railway tracks at Bokaro in the morning. When all persuasion failed RPF and Bokaro police resorted to lathicharge to drive away the youths which resulted in stone-pelting by the protesters. Police detained six youths in Bokaro who were released on PR bond in the evening.
Over a thousand youths sat on the railway track of coal town of Dhanbad station under East Central railway zone for over an hour disrupting train movement.
The youths marched for over 10km carrying placards and shouting slogans against the Central government to reach the station.
However, persuasion of the local administration and heavy rains prompted the agitators to leave the tracks.
Protesters also blocked NH-100 and NH-33 by burning tyres and sitting on the road. The youths carried placards alleging that the Agnipath scheme has been brought to please the big corporate groups.
Protests were also held along the Jugsalai railway crossing near Tatangar railway station under the South Eastern Railway zone in the industrial city of Jamshedpur by over 100 protesters.
The protesters were persuaded by senior police officials for a talk at the nearby Jugsalai police station where deputy commissioner Vijay Jadhav and senior SP Jamshedpur M. Tamilvanan tried to pacify the agitators and advised them to place their demands at the right forum.
The protest had its worst sufferers in the form of railway commuters as several trains originating from Jharkhand were delayed and those coming from outside states were cancelled. Some of the major trains that were short terminated or diverted include Gaya-Asansol, Burdwan-Hatia among others. Major trains, which were cancelled include Calcutta-Jammu Tawi Express, Dehri-on-Sone-Barkakhana Express, Dhanbad-Asansol and Dehri-On-Sone–Dhanbad Express. Trains that were delayed include Dhanbad-Alleppey, Jhargram-Dhanbad Express among others.