Ten-year old boy falls into crater, seriously injured
He suffered burns and is being treated at a hospital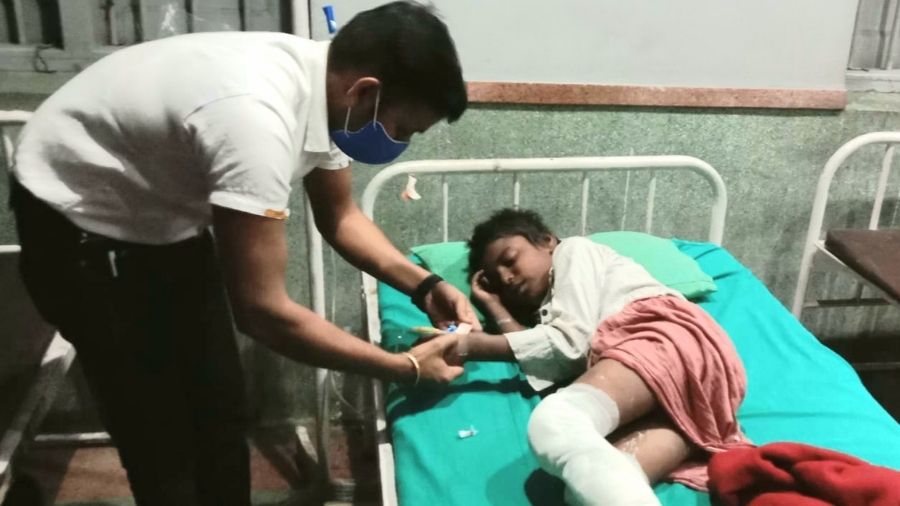 Sashi Kumar under treatment in a hospital
Shabbir Hussain
---
Dhanbad
|
Published 18.02.22, 06:18 PM
|
---
A 10-year old boy was seriously injured this morning after falling into a crater in the underground fire affected, Mohribandh locality under Ghanudih police outpost of Jharia. 
Sashi Kumar, son of a daily wage earner, Dilip Kumar fell into a five feet deep crater of around one feet diameter while going towards his house.
As gas and smoke emitted from the crater situated in the fire zone, Sashi suffered burn injuries in both his legs and lower portion of the body.  A girl who was washing clothes at a nearby public tap was a witness and started crying after which local residents rushed to the site and brought out Sashi from the crater.
As the family members of the injured boy were not able to manage the treatment expense, some local residents pooled money to admit him in Lifeline Hospital, a private nursing home of Jharia.
Though no officer of BCCL or police reached the site, the project officer of Lodna Area of BCCL, KK Singh after being informed by local residents and media donated Rs 2000 for the treatment of injured boy
Ragini Singh, BJP leader who also reached Jharia on Friday held a telephonic talk with General Manager of Lodna area of BCCL but he on other hand said that BCCL has already declared the area, dangerous.
Talking to media at the site, Basant Kumar a neighbor of the injured held BCCL administration and Jharia Rehabilitation and Development Authority (JRDA) responsible for the incident and said, "The demographic survey in area has been conducted by JRDA several times earlier but the house allotment is yet to be conducted in safer places due to which we are compelled to live here amidst continuous fear of subsidence."
Ruby Devi, another resident said, "We don't have any other house to stay in and are compelled to live amidst smoke and fire."