90-year-old beats Covid in Ranchi
Hospital accords nonagenarian Bela Rani Samanta a warm send-off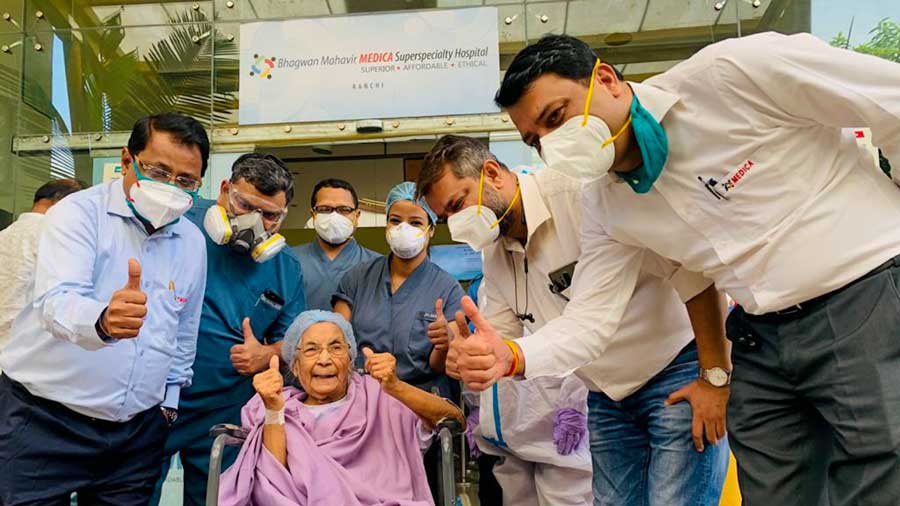 Bela Rani Samanta at the time of her discharge.
Manob Chowdhary
---
Ranchi
|
Published 14.10.20, 11:45 PM
|
---
A 90-year-old Lalpur woman has become arguably the oldest person in Ranchi so far to have defeated Covid-19 since the outbreak of the pandemic in Jharkhand. 
On Wednesday, Bhagwan Mahavir Medica Superspecialty Hospital, a private hospital in the city, accorded nonagenarian Bela Rani Samanta a warm send-off. At a time when the state's number of Covid-19 fatalities is looking to cross 900, and that in Ranchi having crossed 150, the successful recovery is also seen as a boost for the medical fraternity.
Talking to The Telegraph Online, Dr Vijay Kumar Mishra, head of Medica's critical care unit and director of the hospital, said the elderly patient had come to them on October 6 after getting infected with the coronavirus. 
"She had come to us with moderate Covid-19 pneumonia. Her CT scan report had many pneumonia patches and required her to be put on complete oxygen in an intensive critical care unit for two days. Thereafter, her condition improved and we shifted her to a normal ward. Gradually, with intense care and routine medicines, she overcame the virus. As far as medicines are concerned, we gave her Remdesivir, dexamethasen, heparin, Vitamin C and zinc."
As per the state health department's analysis, more than 50 per cent of fatalities in Jharkhand have been because of comorbidities and old age. 
Mishra agreed, adding that the timely administration of proper care at the hospital has led to the cure. "Treating a patient of this age is often a great challenge and lots of risks are involved because of age-related ailments. This patient had a history of high blood pressure and dementia. These apart, she has been in a constant state of confusion, which occurs mostly because of age," he said, adding that one of the biggest challenges the medical staff faced was the patient's problem of forgetting things. 
The elderly woman's son, Surojit Samanta, 60, speaking from Delhi said that it was a Durga Puja gift for the family. "We were tense after she got Covid-19... But for the next 15 days, post-Covid-19 care will be crucial," he said, second among four siblings. Surojit's elder brother too lives in Delhi while their two sisters are in Calcutta. 
In Ranchi, the elderly woman lives at the family's sprawling house at Burdwan compound. Surojit suspects that his mother may have contacted the virus from her caretakers. "Two of her caretakers had first got infected. It is from them that she may have got infected," he said.