7 accused in Tabrez case get bail, widow vows fight
20-year-old shaista undeterred by prospect of long legal battle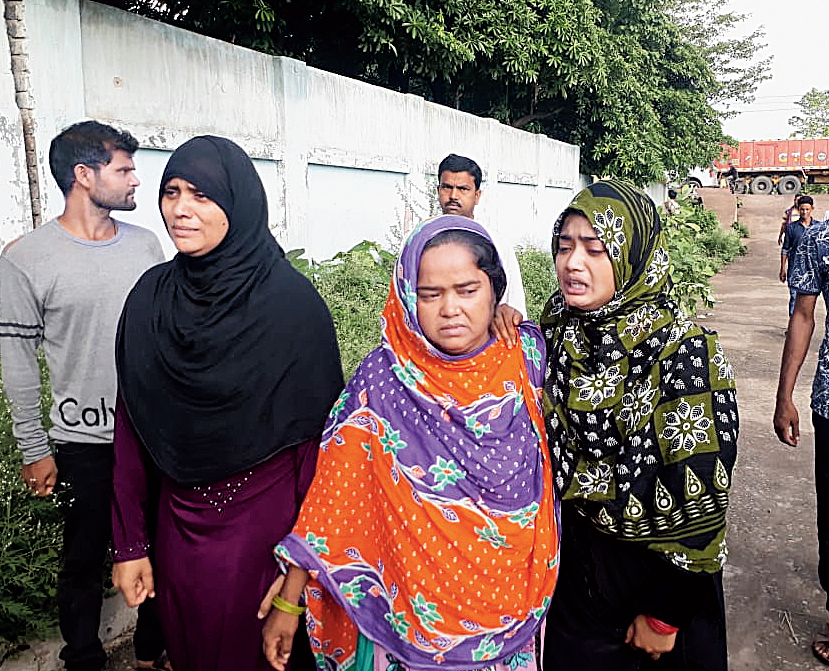 ---
---
The young widow of lynching victim Tabrez Ansari on Wednesday said she was not deterred by Jharkhand High Court granting bail to seven of the 13 accused of killing her husband and vowed to fight right up to the Supreme Court.
The high court granted bail to seven out of the 13 named accused, six on Tuesday and one on Monday.
A. Allam, legal counsel on behalf of Tabrez's widow Shaista Perveen in the high court, told The Telegraph that the case was heard in the court of Justice R. Mukhopadhyay. "The court gave bail as it was not clear from the police report and evidences that Tabrez received grievous injuries from a particular individual or individuals (in the mob). The police case diary also had a general allegation that did not specify the role of individuals accused. We feel that as things stands the remaining six might also get bail soon," said Allam.
Shaista, 20, speaking to The Telegraph on Wednesday over phone from her home in Behrasai village in Kharsawan block of Seraikela-Kharsawan, some 53km east of Jamshedpur, said she was aware that some people had got bail in her husband's lynching case.
"Hum Supreme Court tak jayenge, mujrimo ko saza dilayenge…. (We will go to Supreme Court, we will ensure the culprits are punished)," she said.
She added that the prospect of a long legal battle did not scare her. "We are prepared.... Everything is clear, there is video (footage)… audio (clips). We won't sit idle till punishment is awarded to the accused. They should be hanged," Shaista said in a steady voice.
She and Tabrez, 24, had been married barely two months when Tabrez, who worked in Pune as a welder and was home to celebrate Id and take her with him, was brutally beaten up by a mob at Dhatkidih village in Seraikela. The mob suspected he was part of a trio that tried to steal a motorcycle on June 17. In the intervening night of June 17 and 18, Tabrez was beaten by the mob for hours. He was taken to police custody and then to a Seraikela government hospital, and when his condition worsened, to Tata Main Hospital where he succumbed on June 22.
Video clips showing Tabrez tied to a pole with people thrashing and forcing him to chant Jai Shri Ram and Jai Hanuman surfaced on social media, leading to outrage.
Among those who got bail were Kamal Mahato, also a complainant in the theft case against Tabrez. It was from Kamal's house that Tabrez and the two other youths allegedly tried to steal a motorcycle. The six others who got bail are Bhimsen Mandal (a pakoda-seller), Satyanarayan Nayak (daily wage labourer), Mahesh Mahali (a sporadic daily wage labourer in Ranchi), Madan Nayak (daily wage worker and nephew of Satyanarayan), Chamu Nayak (a farmer) and Bikram Mandal (Dhatkidih resident).
Allam added that they would try to expedite the trial process in the district court (Seraikela-Kharsawan). "A chargesheet has been filed and cognisance has been taken and now deposition of witnesses will start. We will try our best to expedite the trial process so that punishment is meted out to the accused at the earliest," he said.
Tabrez's uncle Md Masroor Alam said they would not sit idle. "We had forced the police to reinstate the murder charges after they had been dropped earlier this year. Our legal battle will last till the culprits are punished."