5000 home guards denied training
900 selected youths of Ranchi district await work for over a year now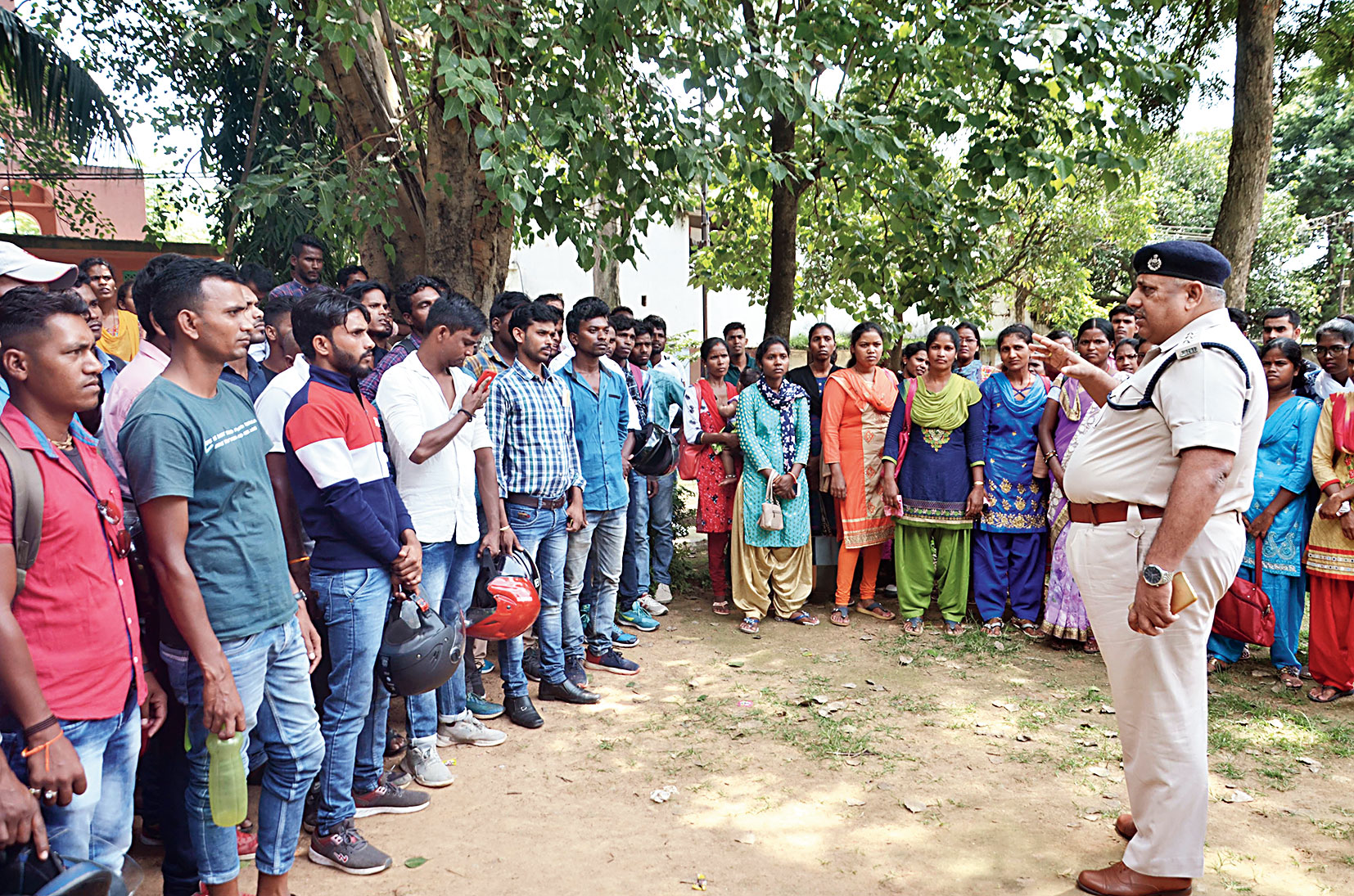 Youths selected as home guards demand training at the home guard office in Harmu in Ranchi on Monday.
Telegraph picture
---
Ranchi
|
Published 16.09.19, 07:22 PM
|
---
Over 5,000 youths, selected as home guard jawans, are awaiting mandatory training without which they are unable to join the force at a time when Assembly elections are due soon and more boots on the ground is the need of the hour.
Of these, 900 youths of Ranchi, who were selected in September last year, have been idling.
Some of them held a demonstration at 11.30am on Monday at the district headquarters of the Jharkhand Home Guard at Harmu where district commandant Binay Kumar Jha had a tough time replying to their queries.
"How long do we have to wait for training? We appeared for the physical test between January 28, 2017 to February 9, 2017. Our names appeared in the merit list in September last year. By the first week of October last year police verification formalities were complete, " a youth from Mandar, Nafis, told the home guard district commandant.
"None of us has got any information about our training schedule. When can we undergo training that will make us eligible to join the force and go on assignments and earn some money," he asked.
Jha promised the new recruits that training would begin within a fortnight.
"Our senior officials had posed some questions on the selection process. We have replied to those queries. Now, we hope to begin training within a fortnight," he told the agitated youths.
But the youths weren't convinced. "We are poor. We had appeared for recruitment rallies for home guard jawans at JAP-1 ground in Doranda between January 28, 2017 to February 9,2017 with a lot of hope in response to an advertisement published on January 1, 2016," said Anand Kumar, who had come from Bundu.
"We are worried as we have got nothing so far. Only when we are given training will we be eligible for duty. Only then can we earn a livelihood," he told The Telegraph.
A home guard jawan gets Rs 500 a day when he is assigned work.
An official confided that there were certain procedural problems regarding youths from other parts of the state. There was no problem regarding the youths of Ranchi district.
"Not 900, but over 5,000 youths are awaiting training across the state. All attempts are being made to start training. We will require lots of home guards in view of the coming Assembly elections," he said on condition of anonymity but did not elaborate.